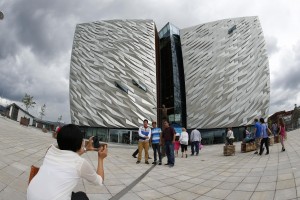 The Northern Ireland Tourist Board (NITB) has put together a list of 10 exciting things to do in Northern Ireland over the next week (February 10 – 16).
For more details on these and other events click on www.discovernorthernireland.com/events, visit your local tourist information centre or log onto http://www.facebook.com/discovernorthernireland
The Stray Birds, Black Box, Belfast, February 12. Moving On Music is delighted to present The Stray Birds as they take flight in Belfast for the very first time. Formed in friendship honed on the road, The Stray Birds sound is drawn from the richness of American folk music traditions, spun with a stirring subtlety and grace.
After Hours – Valentine's Day at Titanic Belfast, Belfast, February 14. Explore the amazing Titanic Belfast galleries, enjoy a theatrical performance which will bring the Titanic to life and relax in the atrium which will be transformed into a bar with live music.
Al Grant – Jim Reeves 50th Anniversary Concert, The Market Place Theatre, Co. Armagh, February 14. Al Grant has established himself as one of the biggest attractions on the Irish and UK concert scene. As 2014 is the 50th anniversary of the death of Jim Reeves, Al presents a unique insight into the life and times of Jim with a wonderful concert of classic hit songs.
Valentine's Can-oo-dle, Share Village, Co. Fermanagh, February 14. Looking for something special to do this Valentine's Day? Why not enjoy a romantic paddle around Enniskillen Island with your loved one. You will also release a Chinese lantern while you sip complimentary bubbly under the full moon.
I Love Rock 'n' Roll, Waterside Theatre, Co. Londonderry, February 15. The Soda Popz is a sensational seven piece band featuring some of Northern Ireland's top musicians and vocalists. This show will pay tribute to some of the best-loved hits from the fabulous 50s and 60s as well as some modern tunes with a rock 'n' roll twist.
Magical Mystical Mill, Mossley Mill Civic Square, Newtownabbey, Co. Antrim, February 15. Go on a fantastical adventure to a place inhabited by fairies and magical creatures. Come see this other world come to life, as the magical characters tell their stories and reveal the enchanted world that surrounds the Mill.
Horse Ploughing and Country Skills, Ulster Folk and Transport Museum, Cultra, Co. Down, February 15. Watch the horses at work as ploughmen from throughout the country compete in the annual Folk Museum Ploughing Match. Try your hand at straw rope making, horse shoe throwing or watch the skilled craftsmen.
American Wrestling Roadshow, Town Square, Omagh, Co. Tyrone, February 15. The wrestling superstars will invade Omagh for a night that will leave your hair standing and heart pumping. Cheer on your favourites but don't be fooled there will be plenty of bad guys to keep you on the edge of your seat.
Flash Harry: the music of Queen, The Burnavon, Cookstown, Co.Tyrone, February 15. When it comes to a night of rock defining entertainment, there is no better tribute than Flash Harry. Party to classic tracks including Bohemian Rhapsody, I Want To Break Free, A Kind of Magic and Radio Ga Ga – a guaranteed good night out.
Bird Box Day, Springhill, Magherafelt, Co. Londonderry February 16. Help to rejuvenate Springhill's bird boxes, learn how to build your own nest and make some bird feeders to take home. Watch while our staff and volunteers demonstrate how to make a bird box from scratch.