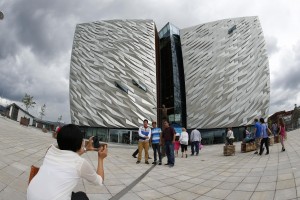 TWO new film studios are being planned at Titanic Quarter in Belfast.
And those behind the £14 million move believe work can start in the coming months, if planning permission is approved, putting the city on the map as a European venue for film set work.
The studios would give an extra 100,000 square feet of facilities -nearly doubling the current production space at Titanic Studios, which incorporates Harland and Wolff shipyard's former Paint Hall building.
Titanic Quarter  chief executive David Gavaghan said the HBO TV series Game of Thrones is driving demand for additional space in Belfast.
The series uses the existing facilities and also films at locations in Northern Ireland.
"The planning application is a measure of Titanic Quarter's intent to ensure Northern Ireland's film industry continues to grow," he said.
"The planned extension will help establish Belfast as one of Europe's largest film production locations with eight stages."
First and deputy first ministers, Peter Robinson and Martin McGuinness, have used trips to the US to promote the studios.