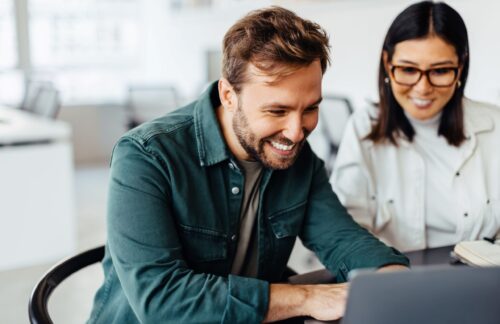 Local Jobseekers are optimistic about the job market in NI as recruitment levels have begun to moderate according to leading hiring platform NIJobs.
The Job Report from NIJobs with Ulster Bank, signals a moderation in recruitment activity during the second quarter of the year following the unprecedented highs of recent years. Listings are steady, dropping slightly by 1% in Q2 2023 compared to the previous quarter.
Alongside the Job Report, NIJobs commissioned research on attitudes and preferences to job seeking in Northern Ireland.
The research revealed that 30% of people are actively looking for a new job with respondents ranking Higher salary (21%), Improve work-life balance (9%) and Improve skills (8%) as their top motivators when looking for a new role.
The top two preferences remain unchanged from the previous quarter, signalling that the cost-of-living crisis continues to have a strong impact on job applicants.
The level of recruitment activity in the latest quarter still exceeds anything that occurred prior to the pandemic and was 38% above the corresponding quarter in 2019.
Overall, 35 out of the 38 categories have higher levels of recruitment activity in the second quarter of 2023 than they had in the corresponding quarter in 2019 (pre-pandemic).
Many of the big employer categories such as Health and Catering are below their pandemic peaks but are still significantly above the level of vacancies that pre-dated Covid-19.
Other sectors still outperforming pre-pandemic levels worth noting include Construction, Cleaning, Retail, Engineering and Manufacturing.
The independent research commissioned by NIJobs is enhanced further by a Jobseeker Snapshot Survey with around 800 people examining trends and motivation in the local market.
Snapshot Survey Key takeaways
49% of jobseekers are optimistic about the job market in Northern Ireland
76% are more likely to apply for a position that explicitly outlines the company's policy on hybrid working
Health insurance and extra annual leave are the preferred benefits when applying for a role
65% would feel comfortable discussing benefits/ salary if it didn't meet their expectations
Hybrid working (33%), and flexible working (37%) remain the most suitable options for NI employees
Orla Moran, Managing Director of NIJobs and Stepstone Ireland commented on the latest report: "Our data from the Jobs Report indicates recruitment levels are healthy with roles available across many employment categories. Businesses continue to invest in talent although recent NISRA figures suggest a slight drop in employees on company payrolls.
"Confidence around recruitment is bolstered with independent NIJobs research revealing that 30% of those interviewed are actively looking for new roles. There is an air of optimism amongst jobseekers keen to progress their career. If we delve a little further into this research, the main motivation for job hunting is a higher salary, followed by improving work-life balance and enhancing skills. The continued focus on work-life-balance, in spite of ongoing inflationary pressures, demonstrates that jobseekers are also looking beyond financial considerations when considering a job move.
"In our twice-yearly Jobseeker Snapshot Survey, we got the views of 800 jobseekers who use the platform regularly to examine trends around motivation and sentiment within the NI market. Almost 50% remain optimistic about the market which correlates with business confidence as they continue to recruit.
"We know that the cost of living is prompting employees to push for higher salaries, but more than half of our jobseekers don't believe their current salary reflects their skills, qualifications, or levels of experience. Interestingly, 55% of the people we surveyed say they have received a pay rise in the last year, which would indicate that employers understand the importance of retaining talent and boosting employee confidence and productivity against a challenging backdrop of sky-high inflation rates.
"One thing that should resonate with recruiters is the need to be explicit about their hybrid working policies. 76% of jobseekers told us they would be more likely to apply for a position if the job posting contained clear information about how they are expected to work. "
The quarterly data and job listings from NIJobs are viewed as a leading indicator of labour market performance, giving insight into recruitment trends, the economic environment and the types of roles job seekers are searching for online. 
Ulster Bank's Chief Economist Richard Ramsey adds further insight to the Q2 data; "The strength of the local labour market has defied expectations for the last few years. So far 2023 has witnessed further record highs in employment, and unemployment is tracking close to its historic lows. However there have been some signs that labour demand is softening. For example, HMRC payrolls fell in April and June from what now looks like an employment peak in March. Meanwhile June saw the highest number of proposed redundancies since the first lockdown three years ago and the third highest monthly total in 23 years. Budgetary difficulties within the public sector are likely to put increasing pressure on staffing levels. This will also impact on those companies reliant on public expenditure / procurement in due course. In the meantime, Ulster Bank's Northern Ireland PMI signalled that robust rates of hiring have continued during the second quarter.
"For NIJobs once again, the moderation in recruitment activity was broad-based with 18 of the 39 categories recording a quarterly decline in job vacancies in Q2 2023. Interestingly, however, all but three of the 38 categories still have higher levels of recruitment activity in the second quarter of 2023 than they had in the corresponding quarter in 2019 (pre-pandemic). Three exceptions are IT (-2%), Education (-33%) and Sales (-14%). Nevertheless, IT still accounted for the largest share of overall vacancies (7.5%), just ahead of Management, Skilled Trades and Catering. The latter three categories all accounted for over 7% of total vacancies.  
"Three employment categories recorded their highest number of vacancies to date.  These were Construction, Customer Service and Arts & Entertainment. Despite falling demand, construction firms are still recruiting hard to fill longstanding vacancies. 
"The number of construction vacancies in the second quarter of 2023 was double that of the corresponding period in 2019.
"Skilled Trades listings remained close to its series high in Q2 2022 and the level of vacancies is 73% above pre-pandemic levels.
"Skilled trades are now the third largest category for job vacancies."