BY TIM HEDGLEY, GROUP TRAVEL EDITOR
Nestled along Cornwall's picturesque north coast, Newquay is a captivating seaside town that blends its rich history with a vibrant, modern allure effortlessly.
As the sun-kissed beaches beckon and the crashing waves create a symphony of surf, it's easy to see why this coastal gem has become a popular destination for travellers seeking an idyllic coastal escape.
Aer Lingus Regional Airlines have recently commenced direct flights from Belfast City Airport. The flight leaves around 11-20 am daily and returns at approx. 5-20 pm. It's nice to know that you will be landing at Newquay Cornwall Airport in just over an hour and ten minutes.
My transition through the Belfast City Airport was seamless. I did have to do a quick check on the parking arrangements at Belfast City Airport as they have recently changed, but all in all, it was an excellent process, and my passage through security was seamless. Newquay Airport is a small regional airport, and as I only had carry-on bags, I was straight out into the Cornwall sunshine.
A 20-minute taxi ride took me to the Oceanside Hotel; the
 Oceanside is a second-generation, family-run, fiercely independent Newquay hotel and has operated in the surf-crazy seaside town since it acquired the premises in 1983. Oceanside is a chilled-out space, and they don't get too precious, as they describe it; it's for like-minded locals and visitors to hang out and soak up an eclectic, ocean-infused, salty vibe, watching the waves roll in whilst enjoying a hand-roasted coffee or fruity cocktail.
My room on the second floor was beautifully equipped with a very clever Velux window which doubled as a mini veranda. Cool grey and white colours matched with sparkling clean furniture and accessories made this a very comfortable, relaxing space. Excellent quality linens made for a very nice stay indeed.
The Oceanside gives you everything you want from a coastal hotel; it is contemporary, clean, laid-back, and super welcoming. The place for laidback surfers, tired urbanites, mini-breakers, stay-vacationers, families, tourists, and nature lovers to meet, mingle and celebrate the ocean.
Breakfast is generally a good indicator of a hotel's quality; Oceanside excelled here.
Delightful continental breakfast was available with lovely Greek-style yoghurt and berries topped off with a trickle of lovely honey. Their eggs benedict was faultless. Cereals, and if you want it, a full English breakfast.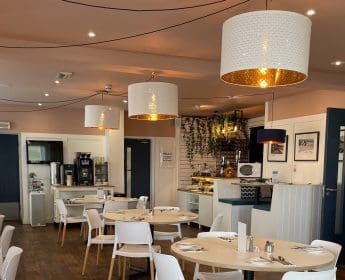 With its beach-chic décor, light and bright colour palette, fresh and airy spaces and salty-social vibe, the Oceanside is ultimately a very comfortable place for friends and family to come together and hang out, relax, and enjoy delicious local food and drink, and engage with nature and the sea.
The Oceanside Hotel is a second-generation, family-run, fiercely independent Newquay hotel and has operated in the surf-crazy seaside town since 1983.
Oceanside is everything you want from a coastal hotel; it is contemporary, clean, laid-back and super welcoming. A place for laidback surfers, tired urbanites, mini-breakers, stay-vacationers, families, tourists, and lovers of nature to meet, mingle and celebrate the ocean.
With its beach-chic décor, light and bright colour palette, fresh and airy spaces and salty-social vibe, Oceanside is ultimately a comfortable place for friends and family to come together and hang out, relax, and enjoy delicious local food and drink and engage with nature and the sea.
With rooms from  – £140, Oceanside is a superb place to stay in Newquay
Address
Headland Road
Fistral Beach
Newquay
TR7 1HN
Website: Oceanside Lifestyle Hotel | Newquay | Welcome to Cali- Cornwall (oceansidehotel.co.uk)
Tel no: 01637 872 519
Leaving the hotel after breakfast, I had a dilemma. To my right was the entrance to the world-renowned surfing paradise that is Fistral Beach.  Or to the left was a short walk down into the town centre.
Like most travellers, when you know you are heading to a holiday spot, you check out the socials, trip-advisor and local tourist information. As a result of my studying, I created an itinerary as I wanted to see what there was to do as a family in this beautiful Cornwall town.
I set off into town with my backpack, sun cream and my Panama hat as it was 26oC.
There was a gentle slope down to the main shopping street, and as my wife was with me, she spotted Sunny Days.
Sunny Days Est 1980 specialises in Ladies' & unisex fashion, beach, surf & Homeware Boutiques.
Run by Josh Midgley, this shop is glowing with great service, vibrancy, and some amazing clothes for the beach in California or Cornwall.

My wife spent a few minutes, well an hour there, but the good thing they have is a little bench seat for the husbands to gaze through the window, longing for the next shop to appear. You know what I mean, chaps! If you need that un-crease-able smart wear for the beach in the evening, this is your spot. If you go in, tell Jason you heard about him here. And British Telecom, please sort out his Wi-fi; he's been waiting for months now! Check out Sunny Days at 32 Fore Street, Newquay,  +44 7900 890913. www.instagram.com/sunnydaysnewquay or search Facebook for sunnydaysnewquay.
Having made a purchase or two, it was time for a spot of lunch, and this is where the good old sprout comes in. Not the Christmas marmite vegetable but the café come deli. Sprout is a health food shop and cafe offering ethically sourced food, coffee, and goods.
Sprout seeks to promote the health and happiness of its customers and the wider Newquay community. Providing friendly and attentive service, stocking excellent products, including specialist items for restricted diets, sharing their passion for healthy foods, and organising fun and informative events for the community are some of the ways they aim to achieve this. So, I was drawn in by the delicious Tofu Fariniata, delicious and scrumptious; all washed down with sparkling water.
Sprout is situated down a little entry and is worth hunting out.
Inside is a delightful shop crammed with local goodies. And outside the back door is a little haven where you can have lunch in peace and quiet.
Address
The Old Printhouse
Newquay
TR7 1FZ
Website: Sprouthealth.co.uk
Evening Eats
Our evening gave us a multiplicity of options, and again we researched all the social sites to see what was "hot" for dinner.
Reviews that were hands and feet above the rest were The Boathouse Street food on the beach.
The boat house is an amalgamation of various street food vendors, all located in the same venue. As the name suggests, they're a relaxed street food market and bar located on the beach in Newquay Harbour.
Home to a gathering of local street food traders serving up fresh Cornish seafood and a varied selection of global fare.
They also offer delicious sweet treats, ice creams and barista coffee from their fabulous desert traders. Behind the bar, they serve a menu of Cornish lager, cider and ale, good wines, cocktails, spirits, and refreshing chilled soft drinks.
Open daily 10 am – 10 pm with food served 12 pm-9 pm for dine-in and takeaway.
They don't take bookings.
It's a case of "Just come down, and we'll find you a table". We did just that: a quick saunter down to the Boathouse and quickly found a table overlooking the sea.  We scanned the QR codes on the table to get the menus of all the food vendors on site, and we were away. Seeing as we were in a beautiful location, we started with cocktails from Sunny and Beau. Uniquely Sunny and Beau make all their own cocktails from scratch.
Lashings of fruit go into their syrups, and each batch is made fresh. By hand by them, to bring you beautiful, fresh, old-school cocktails made the right way. And that's just how we like them.
Suitably refreshed, I was in the mood for some Indian Street food, and that's where I found Achar Indian Street Food.
Talking to the owner Terry, I detected a tiny accent; as it turned out, his dad lives in Ballymena and hails from the McClintock family. Now down in Ballycarry near Islandmagee, there lies the family seat of the McClintock Family called Redhall House.
John Dalway arrived in Carrickfergus in 1573, married Jane O'Neill, and was given a large land grant in this area. It is presumed he built a house and that he coined the name Redhall. Sir William Edmonston from Duntreath in Scotland bought the estate of Redhall from Dalway in 1609, and this is the first documented record of Redhall. In 1927 it was bought by Vice Admiral J W L McClintock, grandfather of the present owner. So, you never know Terry, you just might be……….
Anyhow back to the food. I ordered the Chicken Masala and the Onion Bhaji, delightful and delicious; we both scoffed the lot. Delicate flavours and beautifully cooked.
As Tracey, a reviewer on Facebook, said:
"Quick and easy order for collection at The Boathouse on Harbour Beach Newquay.  We all had the Kashmiri Kebab from Achar Street Food, which was stunning and so full of flavour with the slaw, chilli, chutney, and raita. Highly recommend the chicken tikka kebab. Have visited in previous years, and it's a lovely, picturesque setting for casual eating out"
We didn't have room for desserts, and after a glass or two of wine, we grabbed a taxi back to the Oceanside Hotel for our second night.
Day two
Whilst in town, we visited the Old Counting House.
Aptly named this former bank is now a Café and quality shop selling local produce, deli items, wine, spirits, meat, cheese, charcuterie, snack items and food-related homewares. All products are 100% made and sourced in Cornwall. While having a coffee, I noticed the manager send some food to two gentlemen sitting in the rear of the café.
Clearly, the gents were living on the street. I enquired how their food would be paid for as I wished to contribute.
Then the manager told me of a pay-it-forward scheme they run whereby members of the public can pay in a sum of money at the café or at the local civic centre.
The Café doubles the amount donated and ensures local people who need assistance get some decent food.
This works especially well in the winter when the need is greater.
What a great idea. So, we donated a sum to the scheme.
So, if you're in town, pop down to The Old Counting House, and buy a coffee or two. Address 9 Bank Street, Newquay TR7
Now when in Cornwall, you must try a pastie, and if you give into the desire, I recommend the Cornish Oven Bakery on the main street.
Not only did I get a great pastie I got some wonderful local advice.  The kind ladies who were serving told me about the local open-top bus to Padstow.
They explained it ran from the bus station behind the Bakery to Padstow. A snip at £2 each way, this open-top bus journey hugs the coast for some spectacular views. The first day of service is Sunday, 28 May, and it runs daily until Saturday, 5 September. The bus runs on the hour from Newquay. For a timetable, click here
As Newquay's historic story unfolds, the Romans left only faint imprints in this corner of Cornwall, but one must go back in time to the medieval era, and you'll find a humble fishing village that bore witness to the daily toil of farmers and fishermen. Known as "Towan Blystra" in the Cornish language, a term meaning "blown sand dune,"
Newquay's ancient name vividly depicts its geography and the windswept beauty that still captivates visitors today. Continuing a nautical theme, I suggest visiting the Aquarium on the beach in Newquay town, teeming with fascinating marine life. This is definitely a family event.
With over 40 living displays, the Aquarium reveals the sheer variety of life in the deep: from tropical sharks and lobsters to seahorses and tropical fish. If in the event it rains this is the spot for a visit. Open every day, including weekends and bank holidays, except for Christmas Day.  Website: bluereefaquarium.co.uk
But it is down to the latter half of the 20th century when Newquay embraced its destiny as a surfer's paradise. Drawn by the siren call of rolling waves, thrill-seekers from around the globe flocked to its shores. The surf culture thrived, casting a spell on visitors who couldn't resist the allure of riding the mighty swells that crash along Newquay's coastline.
In the present day, Newquay is a testament to its remarkable journey, a vibrant tapestry woven with the threads of history, natural beauty, and a thriving tourism industry.
With its golden beaches, a kaleidoscope of events and activities, and an infectious sense of adventure, this coastal haven entices travellers of all ages.


And finally, I mention the world-famous Fistral Beach.
The amazing Fistral Beach is situated a few hundred metres from the Oceanside Hotel. Fistral is renowned for its consistent surf and beautiful sandy beaches.
This world-renowned beach offers consistent surf throughout the year, making it suitable for surfers of all skill levels. The beach faces west, which means it receives a good amount of Atlantic swell, creating powerful waves that are perfect for experienced surfers. There are also smaller waves and more forgiving sections suitable for beginners.
Fistral is also known for its national and international surfing competitions. One of the most notable events is the Boardmasters Festival, which combines professional surfing contests with live music performances. These events attract some of the world's top surfers and a large crowd of spectators.
Surf Schools and Rentals:
If you're a beginner or want to improve your surfing skills, several surf schools are located near the Beach.
The beach is well-equipped with amenities to cater to surfers and beachgoers. There are public restrooms, showers, and changing facilities available. Additionally, you'll find cafes, restaurants, and surf shops close to the beach, providing everything you need for a day of surfing and relaxation. The famous chain of Rick. Stein restaurant is the along with "The Fish House."
Newquay offers an irresistible invitation, whether you yearn for lazy days basking in the sun, the thrill of riding the waves or exploring a town steeped in history. Lose yourself in its sandy embrace, surrender to the rhythm of the tides, and let the spirit of this captivating coastal town leave an indelible mark on your soul. And this is what this amazing town does best.