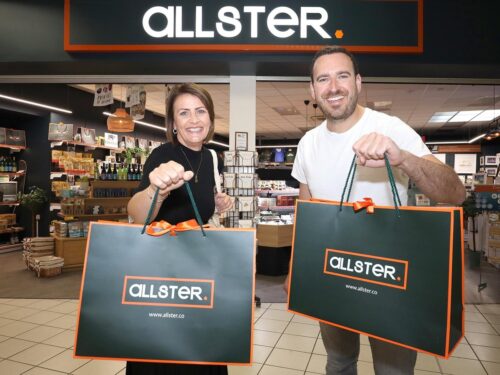 Belfast International Airport, member of the VINCI Airports network, is delighted to be celebrating a year of success with local retailer Allster, which has a prime retail unit
in the airport's departures showcasing amazing local products and brand that aligns
with VINCI Airport's sense of place ambition.
Since they began working together a year ago, Allster and Belfast International
Airport have supported more than 300 local artisans, food producers and
manufacturers, while promoting the creativity and quality that the region has to offer
to the over six million passengers who travel through the airport each year.
The retailer's presence in the airport has provided a unique opportunity to discover
authentic home grown products and support the local economy.
Since its opening, the store has become a popular destination for travellers seeking
authentic Ulster products.
From locally made crafts and jewellery to artisanal food and drink, Allster offers a diverse selection of items that highlight our unique culture and creativity.
"We are thrilled to have Allster at Belfast International Airport," said Belfast
International Airport Managing Director Graham Keddie.
"Supporting local businesses is a top priority for VINCI Airports, and we are proud to
offer a platform for Allster to showcase the region's amazing products.
"2023 will see us return to our pre covid passenger numbers driven by the return of Ryanair and the expansion of easyjet routes, I am confident the airport now provides an unrivalled place for local businesses to be discovered and a unique experience for travellers."
"Supporting local businesses is not only beneficial for the local economy but also
helps preserve the unique culture and heritage of the region," said Eddie Holmes,
the Founder of Allster
"Since I came home in 2017, after 20 years living abroad, I have been blown away
by the quality and innovation on show in the area.
"Our vision is for Allster to be more than just a shopping destination for travellers.
"It is also an opportunity to show support for the local economy in Ulster by purchasing
authentic products from local artisans and makers.
"By doing so, travellers can help create jobs and promote sustainable growth in the region by ensuring their spending continues to circulate in the local economy.
"We appreciate the opportunity provided by Belfast International Airport and look
forward to continuing to provide travellers with high-quality products that support the
local economy.
"It's a unique location where we can introduce these local products and brands to people who would otherwise be unaware of their very existence."
For more information on Allster please visit http://www.belfastairport.com or http://www.allster.com