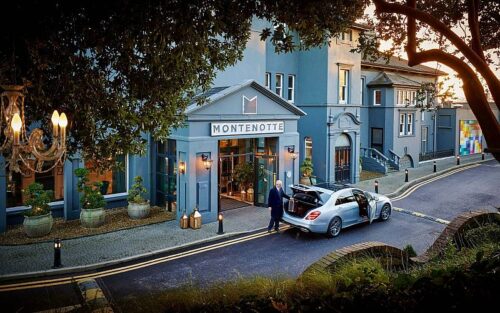 BY TIM HEDGLEY, GROUP TRAVEL EDITOR
Cork City has a rich history dating back over a thousand years. The earliest known settlement in the area dates to the 6th century when St. Finbarr founded a monastery on the site of St. Fin Barre's Cathedral. In the 9th century, Viking raiders established a settlement at the mouth of the river Lee which became Cork.
The Vikings traded with local people and established Cork as an important trading port.
King John of England granted it a charter in 1185, which allowed it to establish its own government and become a self-governing city.
Over the following centuries, Cork grew in importance as a trading centre, and by the 17th century, it was one of the busiest ports in Ireland. During the 19th century, Cork became an important centre for industry and manufacturing, particularly in brewing, distilling, and shipbuilding.  The city also played an essential role in the Irish War of Independence and the Irish Civil War, with many important events taking place in the city during these periods.
And today, Cork is a vibrant and cosmopolitan city with a rich cultural heritage. It is home to several museums, galleries, and historic sites, including the Cork City Gaol, the English Market, and the Crawford Art Gallery. It is also a popular destination for tourists, who come to experience its lively nightlife, stunning scenery, and friendly people. Many have said it's nicer, warmer and more hip than Dublin itself.
So last week, I trundled off to discover Cork for myself. I was immediately drawn to the fantastic reviews of a chic boutique hotel overlooking the port of Cork called The Montenotte Hotel; this unique space certainly lived up to its well-earned TripAdvisor reputation.
But before I recall my stay at The Montenotte Hotel with you, I had to get there, and this time I decided to reduce my carbon footprint and let the train take the strain.  No filling up the car or change for the tolls of toilet stops on the way, I decided to let someone else do the driving for me.
I took the express train into Lanyon Place Belfast from Carrickfergus at 07:17. The service brought me right beside the platform for the morning Enterprise service to Dublin. At 08:00, the train rolled out on its way just over a two-hour journey to Dublin.
Arriving in Dublin Connolly Station, I had to cross town to Dublin Heuston station. In years gone by, this would have been a bit of a trek but with the Luas (the electrified light railway), this a very simple affair. Down the escalator and straight onto the tram for the 18-minute transfer to Heuston Station.
Dublin Heuston Station is one of the main railway stations in Dublin. It was originally known as Kingsbridge Station and was opened in 1846 as the terminus of the Great Southern and Western Railway (GS&WR). It opened as the terminus of the GS&WR. Today, Heuston Station is a busy transport hub, serving intercity and commuter trains, buses, and the Luas. It is a major gateway to western and southern Ireland, connecting to destinations such as Cork, Galway, and Limerick.
I collected my printable ticket at one of the automated ticket stations and was off to Cork. I don't know why, but I was expecting a rickety old train to take me down to Cork but, in reality, I had stepped on board a train not dissimilar to a French TGV, and with speeds up to 140km (approx. 89mph) per hour, this service can was no slow coach.
Soon I was settling down for the 160-mile trip to Cork city.  The cheapest way to book a ticket is before your journey on irishrail.ie/webfares
Use the Journey Planner to plan your trip step by step. Children under 5 do not need a ticket to travel; however, to guarantee a seat, it is recommended that a seat-only reservation is purchased. If you really want to treat yourself (as I did), I got a CityGold seat.
The CityGold – Dublin/ Cork direct service gave me a dedicated Gold Class coach with an onboard host
Complimentary Wi-Fi
Ergonomic electronically adjustable seats
Extra legroom
Overhead and table lamp lighting
Extendable table
4 seat and 2 seat table arrangements, seating capacity is 44 overall
220V power point sockets for phones/laptops at every seat
Differential pricing based on peak/off-peak services
If you're planning a trip to Cork, then the service from Heuston is a really nice way to travel to this amazing city.
After arriving in Cork city, it was only a short Taxi ride to The Montenotte Hotel. The Montenotte Hotel is a lively 4-star hotel located overlooking Cork docks in a city that is renowned for its unique design and upbeat atmosphere. The Hotel boasts unparalleled views of Cork City due to its elevated position, and it is situated near to the central business districts, shopping areas, and theatres, making it an ideal destination for both business and leisure travellers.
As soon as soon as you enter the Hotel beautiful aromas waft around the reception area as if to cast a luxurious spell over you. A very warm greeting is extended to all guests, and you immediately realise you are in a hotel like no other. The Montenotte Hotel is listed as a 4-star hotel, but it feels very much like you are getting a 5-star service. And that is just it; you are getting a 5-star service but at 4-star prices. Attention to detail in this hotel is wonderful, not in your face but, if you want to examine the culture of any hotel look at the staff. Everybody is impeccably dressed, from the delightful Danielle at the concierge desk, and from reception to restaurant, front door to bar and from cinema to The Glasshouse, everybody is spotless and extremely well groomed.
By goodness, it makes such a difference when you are being served by someone in a hotel, and their uniform is simply immaculate. Well-ironed shirts, trousers, blouses, skirts, and waste coats, oh I do so love well-turned-out staff.
I am certain when you receive a greeting from Frits Potgieter, General Manager, you will see where the cleanliness culture emanates from. Frits cuts a fine jib, a sharp blue suit, a beautifully ironed shirt with a tie (thank goodness) and spotless shoes, all set an example from which the staff clearly follow.
The Hotel
Built-in an 18th Century Merchant Prince's residence in Cork, The Montenotte Hotel is a proud member of Small Luxury Hotels of the World. Home to 107 luxury hotel rooms, from boutique rooms, executive suites, and The Residence, the hotel's spacious 26 self-catering apartments (which are just ideal if you are considering a luxury self-catering breakaway to County Cork), The Montenotte Hotel is constantly curating enticing experiences for guests.
As well as the Bellevue Spa, the hotel features The Motion Health Club – complete with a 20-metre heated swimming pool, jacuzzi and extensive gym – the private in-house Cameo Cinema that screens films daily, and three unique food and beverage concepts. Led by new Executive Chef Rudi Liebenberg, The Panorama Restaurant – the hub of the hotel – invites guests to enjoy an exceptional, seasonal, and locally-sourced menu, whereas the hotel's rooftop bar, The Glasshouse, and the Panorama Restaurant Terrace is the perfect places for a drink overlooking Cork City and the harbour below.
The Panorama Restaurant
One thing you will notice as you enter the hotel is the view from the Panorama Restaurant & Terrace, where you can see breathtaking views over Cork city. Panorama Restaurant offers all-day dining menus, cosy built-in booths and one of the best dining views in Cork. The restaurant, just like the staff, is at the top of their game. I dined in the hotel on my first night and was thrilled to experience their locally caught and sustainable scallops, followed by a local beef sirloin with bearnaise sauce and roasted root vegetables. Dinner was divine and without exception my sirloin was the best I have ever had. A delicious, sticky toffee pudding followed before a delightful cheeseboard. Service in the restaurant was swift and unobtrusive, and my dinner was expertly paired with some delightful wines by Gaten our most knowledgeable wine expert.
The dining experience was exquisite, from the moment we walked into the impeccable service and presentation of each dish and the harmonious blend of flavours and textures that danced on our palates with each bite. It was truly a culinary adventure that left me feeling really satisfied and grateful for the memorable dining experience. I cannot recommend this culinary experience highly enough. So, if you're in Cork, book a table you will not be disappointed.
THE GLASSHOUSE
So, either before or after, or if you wish both before and after, I suggest you pop down to the Glasshouse. I have it on good authority, the Glasshouse is on many people's bucket list when visiting Cork.  As you descend from the breathtaking views from the Panorama Terrace you will see the amazing Glasshouse, a bohemian space that will remind you of a palm house with vibrant colours and some amazing art. Close attention has been given to every detail, from the show-stopping glass exterior, custom-built bridge, and central courtyard, to the bespoke art-deco-inspired interiors and the enticing cocktail and drinks menus. Everything about this rooftop bar oozes high-end sophistication and presents an exclusive appeal, the perfect location for pre or post-dinner drinks as you enjoy the wonderful views of Cork.
Jake, our waiter, came over and expertly quizzed us on what type of drinks we liked, from that, he suggested two cocktails that he thought might suit, and boy, was he correct. I had a Velvet Pear, a twist on a whiskey sour with an added touch of velvety pear and cinnamon balanced with cranberry and lemon juice. Inspired by their Victorian sunken gardens that surround the Glasshouse.
The Glasshouse do not take reservations and operates on a first-come, first-served basis; however, the hotel does advise that due to the increasingly high demand on Fridays and Saturdays, they will try to look after their hotel residents first.
The Cameo Cinema
One very interesting addition to this Hotels guest experience is the beautifully appointed Cameo Cinema. This luxury private cinema boasts state-of-the-art technology. Access to the cinema is over 18's only. Movies are screened daily for hotel guests Monday to Friday at 17:00 and 21:00, Saturday and Sunday at 17:00 and 20:00, and movie listings can be found displayed at the hotel reception.
Dinner & Movie Package
The Montenotte Hotel's Dinner & Movie Package. For just €49, you can enjoy a 3-course meal served from a set menu in the Panorama Restaurant, followed by a movie in Cameo Cinema.
The Dinner and Movie Package is available Sunday -Thursday.  The Hotel recommend the following seating times to ensure you can enjoy your dinner and you won't miss the start of the movie.
Showing times: Monday to Thursday at 18:30, 18:45, 19:00 or 19.15, on Sunday at 17:30, 17:45, 18:00 or 18.15
My Montenotte Hotel Room
A great bedroom is extremely important because it is the primary space where guests will spend most of their time during their stay. The Montenotte Hotel bedroom I had, served as a sanctuary for rest, relaxation, and rejuvenation.
A great bedroom can make a guest feel pampered, cared for, and appreciated.
My room at the Montenotte Hotel was an executive bedroom, designed with all my comfort in mind, it had a bespoke themed wall with an array of iconic Cork city images. My bed was sublimely comfortable, and everything I could need was in the room: King size bed, a large and spacious bathroom, a delightful turndown service with pillow chocolate and a scented candle for the bathroom. And there is more: A welcome amenity plate with locally made fudge and strawberries, and to add to that, you get fluffy bathrobes and slippers, still water, a K-Fee capsule coffee machine and tea-making facilities. 24-hour room service, luxury bespoke Mark Buxton toiletries a 42″ flat screen TV and glorious premium linen bedclothes. I was delighted to hear that the hotel will soon install the Ritual Product range in their guestrooms.
I check every room I stay in, in an almost forensic way, for me, the bathroom is obviously my first port of call because if this is clean, then generally it follows, so will your room be. My beautiful room provided everything I needed from a top-quality hotel, spotlessly clean and high furnishing and equipment. Added to this was an excellent WIFI signal and a fast 300mbps service. And to top this, I had a beautiful night's sleep. Breakfast overlooking Cork in the Panorama Restaurant was spectacular, and the locally sourced food was delightful. Try their Eggs Benedict, they are delicious.
Bellevue Spa
I didn't visit the Bellevue spa whilst I was staying, but I was made aware that they have just become the first hotel spa in Ireland to partner with renowned Australian skincare brand Grown Alchemist. Renowned for its three-phase system of cleanse, detox and activate, Grown Alchemist's products restore the skin cell function for healthy, radiant skin. Fully trained to offer bespoke Grown Alchemist treatments, The Montenotte Hotel's Bellevue Spa's expert therapists will be able to help each guest select the right therapy for them and their skin – whether that be a deep detox or a total skin reboot. See www.themontenottehotel.com/en/leisure/bellevue-spa-cork/
Room rates for The Montenotte Hotel start from €245 and include a complimentary breakfast, free parking, and access to both Cameo Cinema (over 18s only) and The Motion Health Club. For more information, please visit https://www.themontenottehotel.com/. 
see:https://www.tiktok.com/@nitravelman/video/7216645279842405637?lang=en