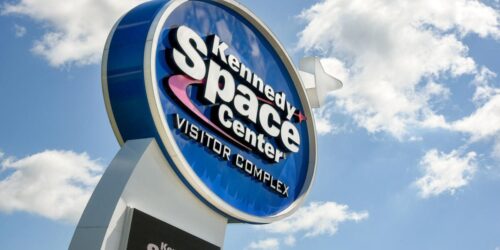 BY TIM HEDGLEY, GROUP TRAVEL EDITOR
At Florida's Kennedy Space Center Visitor Complex, where the epic story of the US space programme comes to life, 2023 is the year for holidaymakers to "watch this space". 
With thrilling new attractions, educational experiences and events, as well as 80+ rocket launches scheduled at the neighbouring spaceport, the visitor complex is ready for lift-off in 2023!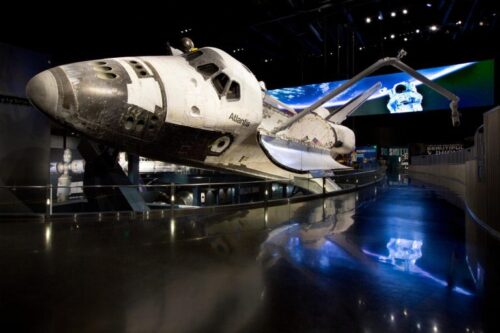 Kennedy Space Center Visitor Complex offers a mix of interactive exhibits, incredible attractions, thrilling simulators, behind-the-scenes tours, larger-than-life 3D space films, rocket launch viewing opportunities and much more.
Introducing the S.T.E.A.M. Team

Younger space enthusiasts will be educated and entertained by the new S.T.E.A.M. Team. Created to give guests the chance to learn more about science, technology, engineering, arts and mathematics through fun experiments, the Team feature in three scheduled shows daily and also interact with guests around the visitor complex. Launched in late December 2022, the Team's main performance, It's a Matter of Fact, takes place inside the Universe Theater at 12pm, 1.15pm and 4.15pm, and is included with admission.
During the lively show, guests will learn what matter is in three states – solid, liquid and gas – and see experiments using liquid nitrogen through engaging performances. In between shows, the S.T.E.A.M. Team will be found with their interactive carts throughout the visitor complex, performing experiments and creating experiences like "Tricky Science," "The Vacuum of Space" and "The Center of Gravity" for guests to watch and learn.
The Peanuts Gang Will Land in the Universe Theater
In spring 2023, Kennedy Space Center Visitor Complex will launch All Systems Are Go, an immersive experience featuring beloved Peanuts characters, Snoopy, Woodstock, Charlie and Sally Brown, Linus, Lucy, Franklin and Schroeder. The brand new and performed live show, taking place in the transformed Universe Theater, will feature the cherished Peanuts cartoon personalities appearing as four/five ft. tall articulated characters operated by puppeteers. The characters will narrate the iconic history of NASA, the Artemis missions and future plans for space exploration in an educational and enlightening way. The 20-minute experience will be included with admission and offered daily.
Rocket Launches
On the heels of a record-setting year for rocket launches from Kennedy Space Center and Cape Canaveral Space Force Station – more than 50 in 2022 – Kennedy Space Center Visitor Complex is gearing up for more than 80 launches forecasted for 2023. With so many scheduled, from companies including SpaceX, Boeing and United Launch Alliance (ULA), chances are that a trip to the visitor complex will coincide with the bucket-list experience of seeing and feeling a rocket lift off. Special viewing packages that include admission, catered meals, live commentary from a space expert and commemorative gifts, will be bookable for many of the rocket launches.
Fly With An Astronaut
Back for 2023, after a pause in the programme, Fly With An Astronaut is an exclusive tour offered only three days per month, where guests experience the highlights of Kennedy Space Center Visitor Complex and NASA's Kennedy Space Center with a veteran NASA astronaut as their private guide. During the five-hour experience, guests will hear first-hand from a space explorer as they tour iconic sites, with stops including Crew Quarters, a launch pad, the VAB (Vehicle Assembly Building), Space Shuttle Atlantis® & more. The package includes a catered lunch, a presentation and Q&A with the astronaut, a commemorative Fly With An Astronaut pin and a photo taken with the astronaut. Space is limited to just 43 participants per tour. The price is $206 per adult, $181 per child, which includes admission to KSCVC.

Atlantis Tenth Anniversary
29 June 2023 will mark the tenth anniversary of the opening of the Space Shuttle Atlantis® attraction at Kennedy Space Center Visitor Complex. The iconic orbiter flew 33 missions and Kennedy Space Center Visitor Complex is gearing up to mark the anniversary. The Space Shuttle Atlantis attraction takes guests on a journey that mirrors the orbiter's time in space and return to Earth. Also featured are more than 60 interactive and immersive exhibits, including the Shuttle Launch Experience as well as Forever Remembered, which pays homage to the 14 crewmembers of Challenger and Columbia.
Gateway: The Deep Space Launch Complex – Opened summer 2022
Visitors can experience the future of space travel for themselves inside the new attraction Gateway: The Deep Space Launch Complex®, which has been wowing guests since it opened in summer 2022. With a focus on the present and future of collaborative space exploration, Gateway is where guests can experience the interstellar travel of tomorrow while celebrating everything happening right now within the space programme.
Visitors are surrounded by actual flight-flown artifacts and full-scale models, set around the floor and suspended from above, to allow 360-degree viewing and interaction. Incredible technology from Boeing, Lockheed Martin, SpaceX, United Launch Alliance and more can be discovered. There are also four simulated space journeys to experience at Spaceport KSC, where guests climb aboard "spaceships" and set off on one of four epic adventures: Cosmic Wonders, Daring Explorers, Red Planet and Uncharted Worlds. Included with admission.
For more information on Kennedy Space Center Visitor Complex, please visit www.kennedyspacecenter.com.
Just 45 minutes from Orlando, Florida, Kennedy Space Center Visitor Complex is open daily at 9am. Single-day admission is $75 per adult, $65 per child.
The new, two-day ticket, which can be used for up to six months from purchase and averages to a cost of less than $45 per day, is now available for $89 per adult and $79 per child.