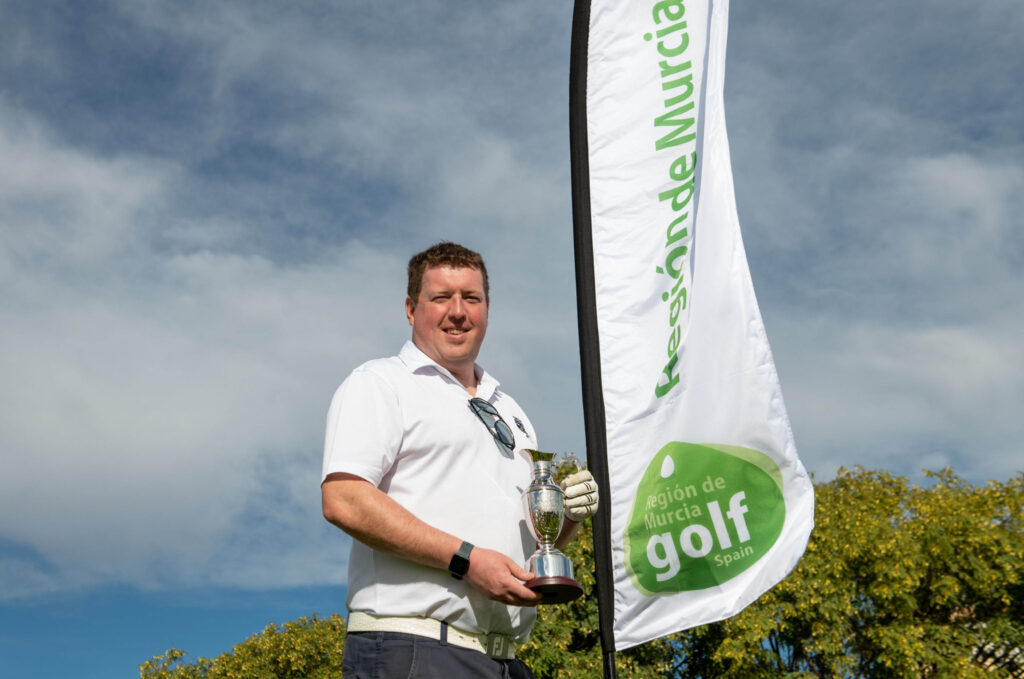 CLANDEBOYE golfer Rodney Orr from Killinchy in County Down has won the inaugural Region of Murcia Masters in association with Next-Gen Power following a three-day event in sunny Spain.
In one of the biggest amateur golf competitions ever held in Northern Ireland, qualifiers from 10 prestigious golf clubs, covering all six counties, converged on the Costa Calida last week to compete in the Grand Final which was played on three of the finest golf courses in Murcia, widely regarded as a 'Golfer's Paradise' in the south-east of Spain.
The qualifiers from the 10 participating clubs, who were each able to bring a guest on a once-in-a-lifetime four-night trip to Murcia, were as follows:
Ardglass Golf Club (Co Down) – Peter Mulhall (from Ardglass)
Castlerock Golf Club (Co Londonderry) – Brad Stewart (from Coleraine)
Clandeboye Golf Club (Co Down) – Rodney Orr (from Killinchy)
Dunmurry Golf Club (Co Antrim) – Tommy Wright (from Ballyclare)
Edenmore Golf Club (Co Armagh) – David McEwen (from Moira)
Galgorm Castle (Ballymena, Co Antrim) – Ralph Mealiff (from Strabane)
Killymoon Golf Club (Cookstown, Co Tyrone) – Emmet Hughes (from Clonoe)
Lough Erne Resort (Co Fermanagh) – Martin Peters (from Irvinestown)
Portadown Golf Club (Co Armagh) – Peter Liggett (from Portadown)
Whitehead Golf Club (Co Antrim) – Paul Craig (from Ballyclare)
To earn their place at the Grand Final, qualifiers took part in series of 'Race To Murcia' Open qualifying events at the participating clubs between April and September this year. The final was played on three of the Murcia region's 20 golf courses with the winner being crowned on the best two cards.
First up on day one was La Torre GNK (DoubleTree by Hilton La Torre Golf & Spa resort) – where winners and guests also stayed during their trip – followed by day two at UGOLF Saurines de La Torre, before the event concluded at the famous La Manga Club Resort.
With high stableford scores of 40 and 39 on the first two days, Clandeboye Golf Club qualifier Rodney Orr emerged triumphant – and lifted the trophy at a prizegiving dinner attended by guests and VIPs from the Murcia tourism and golf industries.
Whitehead GC qualifier Paul Craig from Ballyclare finished runner-up with a combined score of 73 points, ahead of Peter Mulhall from Ardglass GC in third place with 69 points.
On being crowned Region of Murcia Masters 2022 Champion, Rodney said: "Words can't describe how thrilled I am to win this event. It's been an incredible experience throughout and to be bringing the inaugural Region of Murcia Masters trophy back home to Clandeboye is just unbelievable.
"I think I speak on behalf of all 10 qualifiers and our guests when I say that we've enjoyed the trip of a lifetime. We left Belfast on a cold, wet miserable Monday morning to play golf in the sun on three of Murcia's finest courses. We stayed in a super hotel and ate the best of food in the finest restaurants.
"It really was a dream prize and I'd like to take this opportunity to thank everyone at the Region of Murcia Tourist Board, the hotel and all three golf courses – they treated us like kings and their hospitality was second to none.
"Finally, I'd like to thank all of my fellow competitors and guests. We couldn't have asked for a better bunch of people with which to share this truly amazing experience," added Rodney.
Maria Martinez, General Manager at the Tourism Institute of the Region of Murcia, was delighted with the response to the inaugural tournament.
"Northern Ireland is a very important market for golf tourism here and I think it has a lot in common with the Region of Murcia in terms of size, population and the friendly fun-loving nature of its people," said Maria.
"We know how much people in Northern Ireland love golf, which is reflected by the success that players from the region – like Rory McIlroy – have enjoyed on the global stage, so we thought we would show our appreciation by creating the first ever Region of Murcia Masters – a bespoke golf competition especially for the Northern Ireland market.
"Across the 10 participating clubs, thousands of golfers took part to compete for this wonderful prize, so we were delighted and excited to host our 10 qualifies and their guests this week.
"I would like to congratulate Rodney on becoming the inaugural Region of Murcia Masters Champion but I really hope that all of our qualifiers consider themselves winners and enjoyed everything that the region had to offer – and not just the golf. I'm pretty sure that they did though as they all promised to come back to Murcia soon with their families," she added.
An associated competition for travelling professionals from the participating golf courses was won by Lough Erne's Damian Mooney, who last visited Murcia in the early '90s as part of a three-man Irish team competing in the PGA of Europe Team Championships at La Manga.
"It was great to make a return to this incredible golfing region, especially a victorious one," said Damian. "It's been a long time coming but honestly, after the experience we've just enjoyed, it won't be long before I'm back. It really is a golfer's paradise and a must visit destination for golfers back home wanting to explore new courses in fantastic weather."
Graham Bailie, COO for event sponsor, Bangor-based Next-Gen Power, said:"The Region of Murcia Masters really captured the imagination of golfers throughout Northern Ireland so, as a locally-based company, Next-Gen Power was very keen to support this fantastic tournament.
"Rising energy costs are causing all of us to rethink how we heat and power our homes and businesses, so to have this platform to help promote and educate people across Northern Ireland about the cost-saving and environmental benefits of using solar power is a 'no brainer' for us.
"I'd like to congratulate Rodney and all the qualifiers who made it to the Grand Final in Murcia. As event sponsor, it's been a pleasure to help light the way to Spain for all involved," he added.
In a surprise draw at the prizegiving dinner, a Next-Gen Power solar heating system, including installation, was won by one of the travelling guests, Dara Murphy from Lough Erne Resort.
'Golfers Paradise'
Now established as one of Europe's premium golf destinations, the Murcia Region has around 20 golf courses open throughout the year, all within a radius of 35 kilometres and sharing 252km of spectacular coastline.
Every year, more than 55,000 golfers from the UK pack their clubs and fly to the Costa Calida, where they can play golf 365 days a year, with more than 300 days and 3,000 hours of sunshine, and an average temperature of 19ºC.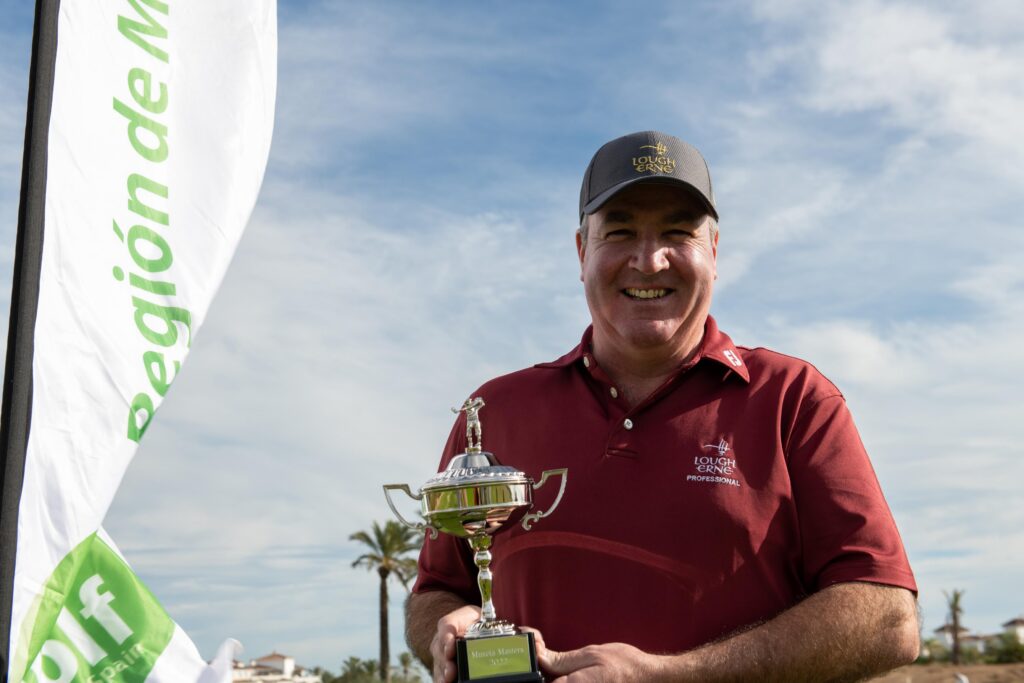 The Costa Calida is the warmest part of Spain, but while the weather and its famous Jumilla, Yecla and Bullas wines may offer a welcoming and distinctive finishing touch to visitors, the key to the Region of Murcia's growing reputation are the golfing challenges that lie in wait… and the leading course designers and golfing legends behind them.
Some of the world's best players and course designers have created a 'Golfer's Paradise', including the most successful golfer of all time Jack Nicklaus who, on discovering the region, thought it the ideal location to create The Nicklaus Golf Trail – a unique circuit of six golf courses that includes the magnificent DoubleTree by Hilton La Torre Resort.
Several years after winning the Spanish Open in 1975, Jack's famous rival Arnold Palmer remodelled La Manga Club's South Course – a world class facility and the most established Golf Resort in Murcia.
Other legends of the game who have helped shape golf in the Murcia region include the inspirational Seve Ballesteros (Club de Golf La Peraleja), two-time Masters champion José Maria Olazabal (Corvera Golf & Country Club) and former Captain of the PGA Dave Thomas whose design company has made a significant contribution, notably with Roda Golf & Beach Resort, Club de Golf Altorreal, Hacienda del Alamo Golf Resort and Mar Menor Golf Resort.