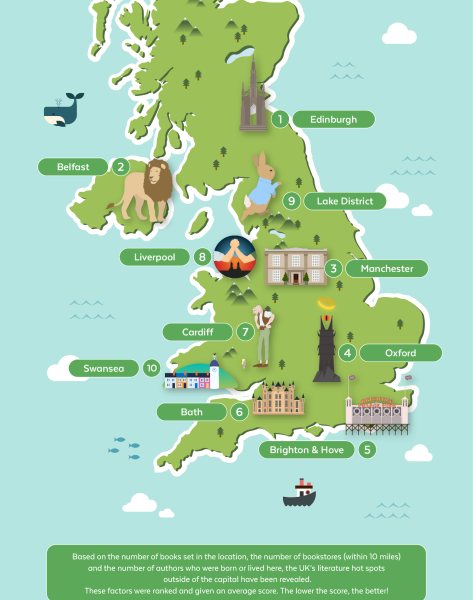 BY TIM HEDGLEY, GROUP TRAVEL EDITOR
The #booktok hashtag has amassed over 64.9 billion posts on the TikTok platform¹
To help literature lovers find their ultimate UK holiday destination, holidaycottages.co.uk has revealed the UK's top literary locations
Edinburgh tops the list as the home to over 75 bookstores and the birthplace of writers such as J.M. Barrie and Sir. Arthur Conan Doyle
Other destinations which make the list include Bath, Oxford and the Lake District
There is nothing like getting lost in a great book – even better is getting lost in the locations that inspired them. So, with 64.9 billion views under the TikTok hashtag #booktok, ¹ if you're looking for literary delights there are plenty of areas in the UK to travel to.
To help booklovers find their next UK holiday destination new research by holiday lettings company holidaycottages.co.uk has revealed the top UK literary locations outside of London.
The research analysed areas across the UK, on factors including number of bookstores, literary festivals, books set in the location and number of authors who were born, lived, or worked there. The factors were ranked and given an overall average score. The lower the score, the higher the area placed in our rankings. ²
The top literary locations are as follows:
" alt="Literary Hotspots-01.png" class="Apple-web-attachment" src="blob:https://ein.org/931ca263-30b4-4d49-9a0f-e32aa9a7e971″ style="opacity: 1;">
Edinburgh, Scotland
Belfast, Northern Ireland
Manchester, Greater Manchester
Oxford, Oxfordshire
Brighton & Hove, East Sussex
Bath, Somerset
Cardiff, Wales
Liverpool, Merseyside
Lake District, Cumbria
Swansea, Wales
Below are the top three in more detail, to help Brits find their ultimate literary location:
Edinburgh, Scotland (5)
Number of books set in location: 130
Number of bookstores: 132
For fans of: Thrillers
Taking the top spot as the top literary location in the UK is Edinburgh. As birthplace to some of the literary greats such as J.M. Barrie, Sir Arthur Conan Doyle and Irvine Welsh, the Scottish city has been home to 132 notable writers in its time. Dotted with literary landmarks, a walk through the city is never complete without a visit to the Scott Monument or Greyfriars Kirk, where the names on headstones will be instantly recognisable to Harry Potter fans. There are also plenty of opportunities to discover your next literary treasure, as the city is home to a whopping 75 bookstores!
Belfast, Northern Ireland (7)
Number of books set in location: 99
Number of bookstores: 55
For fans of: Classics
With so many writers that have called Belfast home at one point, including C.S. Lewis and Seamus Heaney, the Northern Irish city is rich in literary heritage. Home to an exciting contemporary writing scene, the city also plays host to 5 literary festivals and a whopping 99 bookstores! No visit to the city is complete for any literary fan without rediscovering the Chronicles of Narnia through a maze of bronze sculptures in the C.S. Lewis square. For those open to a brisk hike, Cave Hill is a destination for the itinerary – in fact, the sweeping landscape has been suggested to have been the inspiration for Jonathan Swift's Gulliver's Travels.
Manchester, Greater Manchester (7.25)
Number of books set in location: 94
Number of bookstores: 24
For fans of: Classics/Dystopian
Full of northern charm, Manchester is the birthplace of works spanning from classic literature to dystopian greats– the city has even been awarded the accolade of UNESCO City of Literature. With over 94 books set in Manchester, the city was once been home to defining writers such as Elizabeth Gaskell, Jeanette Winterson and Anthony Burgess, who once attended The University of Manchester. Take a trip to one of the city's magnificent libraries or visit the beautiful Grade II listed Elizabeth Gaskell house where the Victorian writer herself once resided.
From fantasy fanatics to families, here is where to head based on your favourite literary genre
For families looking for a literary getaway, the spectacular landscape of the Lake District could be just the ticket. Its awe-inspiring views have inspired writers from Beatrix Potter to William Wordsworth, to the creator of Postman Pat, with a total of 50 books inspired by the area. Make sure to immerse the family in Beatrix Potter's illustrated world by visiting The World of Beatrix Potter, an experience where her characters literally come to life before your very eyes.
Fans of classic literature should head down to the city of Bath in order to discover some of the regency wonders that inspired writers such as Jane Austen. You can even pick up a book at one of the 22 bookstores to read in the Grade II-listed Parade Gardens!
And Oxford is the ultimate location for all fantasy fans – with J.R.R Tolkien penning the seminal Lord of The Rings Trilogy here. You can even wander around the grounds of The University of Oxford, where writers such as Tolkien and Lewis Carroll once roamed.
Commenting on the UK's top literature hotspots, a spokesperson at holidaycottages.co.uk says: "With the popularity of #booktok it's clear that a love of literature transcends time – and to celebrate some of the UK's beautiful literary heritage, we wanted to showcase some of the best areas the UK has to offer for book lovers.
Although London is often associated as the stomping ground for writers, our research has shown that there are plenty of landscapes, and landmarks, for literature lovers to visit everywhere, from Wales to Somerset.
"We hope that our research has inspired holidaymakers to immerse themselves in some of the amazing literary locations the UK has to offer!"
To view an illustrated map of the locations and to find out more about the research, please visit:https://www.holidaycottages.co.uk/blog/literature-hot-spots