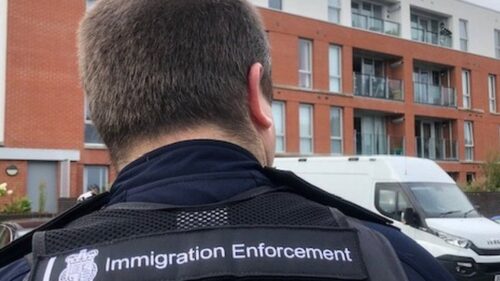 A man and woman originally from Somalia have been arrested in Belfast on suspicion of offences linked to people smuggling.
Immigration officials backed up by 30 police officers raided two properties in Annadale Drive and Ravenhill Avenue at about 8 am on Wednesday.
They detained a 40-year-old woman and a 26-year-old man.
They are both believed to have been living in Northern Ireland for about 10 years.
The pair are currently being questioned at Musgrave Street police station in Belfast.
The authorities believe they are part of an operation being run by an organised crime gang transporting people into the UK.
The arrests follow a 10-month investigation.
Immigration officials say that individuals can pay gangs between £2,500 and £15,000 to be brought into the UK, often exploiting the Common Travel Area with the Republic of Ireland.
Home Secretary Priti Patel said the operation showed "expertly trained officers working tirelessly to keep our country safe by disrupting suspected criminal activity".
"By working hand-in-hand with our Irish partners, we will continue to stop those who seek to abuse the Common Travel Area to enter the UK," she added.
Deputy Director, Immigration Enforcement Criminal and Financial Investigations, Ben Thomas said the operation was "just one of the ways" it was working with "our policing partners to take action against those who are attempting to bring people illegally into the country".