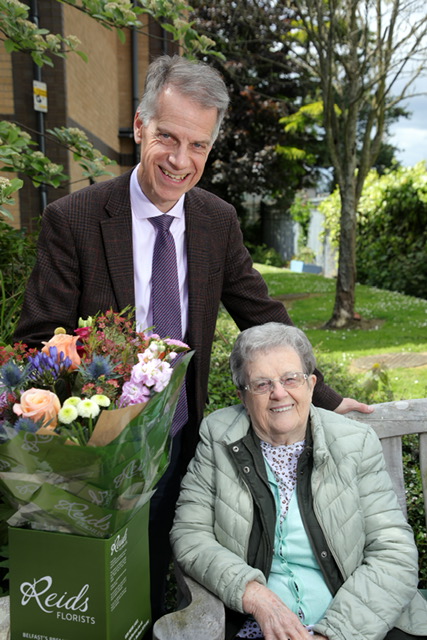 Residents and staff of Choice Housing came together to celebrate the 30th anniversary of Silvergrove – their sheltered living scheme located on the Montgomery Road, Belfast.
The Silvergrove was opened in 1991 and is designed specifically for older people providing 40 homes to residents who enjoy independent living within a safe and supported environment.
The celebration, which took place later than originally planned due to the pandemic, gave the tenants an opportunity to mark the important date and reflect on their own lives and journeys living in Silvergrove. 
The schemes longest standing tenant Mrs Nell Erskine who has been a tenant at the scheme since January 1999 was presented with a bouquet of flowers during the milestone event. 
Choice provides a mix of supported, sheltered and general needs housing in Northern Ireland, providing over 12,000 homes across the region, with over 5,000 in the Belfast City Council area. 
Since 2018, Choice has invested over £66m in new social housing provision in Belfast with plans for further investment over the next five years.
Choice Group Chief Executive, Michael McDonnell said,
"Whilst marking an important milestone like this demonstrates the contribution that we have as a housing association in developing sustainable living, more importantly it shows how our tenants contribute to the lifeblood of all our schemes.
"Without the tenants of Silvergrove it would not be the scheme it is today; they have made this their home and have become an important part of the community as a result.
"A range of social activities have ensured a cohesion within Silvergrove, and the wider community and tenants have developed lifelong friendships. This is an important element of maintaining the sustainability of independent living schemes like Silvergrove".
The scheme, which is centrally located and just a bus ride away from Belfast City Centre and Forestside Shopping Centre offers a wide range of local amenities for its residents, including local shops, a leisure centre, a post office, and several churches.
If you would be interested in Sheltered Living accommodation with Choice, please contact us on 0300 111 2211 or visit our website at choice-housing.org