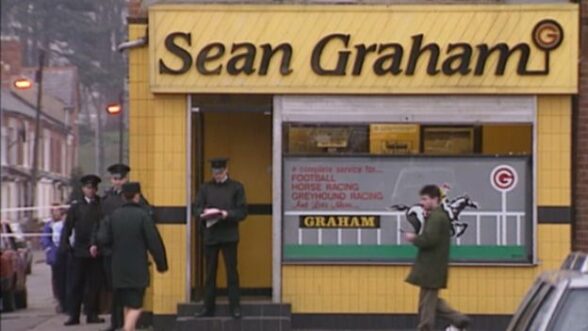 A police watchdog body has found significant investigative and intelligence failings and "collusive behaviours" by RUC officers linked to a series of loyalist murders in Belfast in the 1990s.
The Police Ombudsman investigated nine attacks by the UDA in which 11 people were murdered, including five people shot dead in an attack on Sean Graham's bookmakers shop in February 1992.
Belfast Daily can reveal that one of the UFF gunman who raked the bookie's shop with automatic gunfire was an RUC Special Branch informant.
Stephen 'Inch' McFerran, now aged 55, was the UFF's 'military commander' on the Ormeau Road.
In 2007, he pleaded guilty to the manslaughter of Roy Green four years earlier and received a five year sentence.
Green was a close ally of exiled former UFF chief Johnny Adair.
'Inch' McFerran was linked to around 20 murders in the south Belfast area between 1990 and 2003.
Ombudsman Marie Anderson said she had been "deeply concerned" by the scale of the failings identified during a lengthy and complex investigation.
These included the "continued, unjustifiable use by Special Branch of informants involved in serious criminality, including murder, and the passive 'turning of a blind eye' to such activities".
Her investigation also identified a failing to inform two men of threats to their lives; a failure by RUC Special Branch to share intelligence with investigating officers about murder suspects and a failure to exploit investigative opportunities.
She said she had found no evidence that officers had received any information that could have prevented the attacks, but expressed concern about that, given the informer network it held within the organisation.
In a statement the PSNI, the successor to the RUC, said areas of the report made for "uncomfortable reading".
"We will never seek to excuse bad policing and where criticism is reasonably made the Police Service will acknowledge and address that," said temporary Assistant Chief Constable Jonathan Roberts.
He added that much had changed in the intervening 30 years, including a restructuring of intelligence handling.
Ms Anderson said the RUC had responded to an upsurge in UDA violence at the time by seeking to recruit loyalists within the organisation.
In some instances, it had produced results and saved lives, but there were serious issues too.
"My investigation identified the continued use by Special Branch of a number of informants in south Belfast who were actively participating in serious criminality, including murder.
"This was totally unacceptable and an illustration of how, on occasion, the interests of obtaining information from informants, was given precedence over the protection of the public from paramilitary crime and murder.
"I am of the view that the absence of controls, combined with the absence of records relating to these informants, constitutes collusive behaviour."
The report found no evidence that police had sought to protect informants from arrest or prosecution.
In relation to the Sean Graham bookmakers attack, the report said there was no evidence to suggest that investigating officers were made aware of intelligence information that two suspects had met in a nearby flat before the attack.
Investigative shortcomings identified included a failure to check for CCTV footage; to test suspect alibis or to carry out searches of a suspect's home, and to run forensics on the clothes of suspects linked to separate killings.
The report also identified concerns about the practice of returning weapons to loyalists that had been deactivated, when the organisations had the proficiency to reactivate such firearms.
One such handgun, a military-style Browning pistol, was used in the murders of five people in the bookies.
Weapons that had not been deactivated were also returned to terrorists, something Ms Anderson said she found "inherently reckless".
The rifle used in the Sean Graham attack had been recovered by police and later turned up in a display at the Imperial War Museum in London, something that had caused "understandable distress" to the families.
In November 2021, the ombudsman wrote to the complainants in this investigation to tell them that publication would be delayed as a result of Public Interest Immunity issues that had been raised by the PSNI.
She said they had been resolved with only minor changes to the content of her report.
While nine attacks were investigated, only eight are covered in detail in this report. The final one is the subject of an ongoing criminal case. Details relating to it will be released later.
The report also found evidence that eight UDA members had been working as informants and that between them they had been linked by intelligence to 27 murders or attempted murders.
In a statement the Relatives for Justice group and KRW law, which represents many of the families, said the ombudsman's report was "damning" and "undiluted evidence of the policy of collusion as it was practised in south Belfast and across the North".