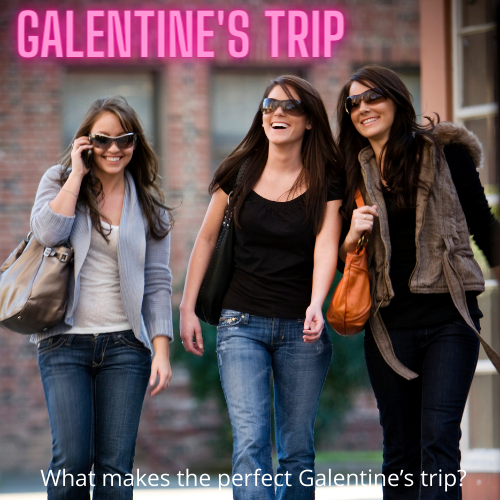 BY TIM HEDGLEY, GROUP TRAVEL EDITOR
Our friends are a huge part of our lives, so many people are starting to celebrate their friendships as much as their romantic relationships. A relatively new holiday, 'Galentine's Day' is celebrated on the 13th February. This way, expressing your love for your friends can easily slot into the season of love without disrupting other plans.
If you want to celebrate Galentine's Day in style, you and your group of girlfriends might want to splash out on a city break. But where should you jet off to for the best Galentine's trip? New research compares cities across Europe to help you find your perfect destination.
Methodology
But what makes the perfect Galentine's trip? Is it a luxury hotel stay, or is it a great glass of red with a view? To help you decide on your destination, new data has ranked the cities that are filled with grand hotels, historic landmarks, luxurious spas, and tantalising wine bars. Each European city was given a score for the aforementioned metrics, with each score then given a weighting that takes into account its impact on a brilliant Galentine's Day. This created an overall index, revealing the best cities to take your friends to this year!
Reykjavik, Iceland
Ranking fifth on our list, the capital of Iceland is a city like no other; rich in culture and folklore, Reykjavik's history is as enthralling as the astounding glaciers that are dotted around the island. If you're looking for a Galentine's Day holiday spot, Reykjavik may not seem like an obvious choice, but this hidden gem delivers beautiful landmarks, exceptional spa experiences, and a brilliant selection of hotels to match. The city came third in the data's hotels index and fourth for its selection of spas.
In Reykjavik, you can dive into some truly unique experiences. If you're hoping for a culture trip, head to the enormous Hallgrimskirkja church to soak in the panoramic views and the Icelandic past. The gorgeous landscape of the Icelandic countryside that surrounds the Hallgrimskirkja will serve as the perfect backdrop for your most Instagrammable photos.
If you want to go for a relaxing break, you might as well do it in the most memorable way possible. The Blue Lagoon is a geothermal spa and a truly beautiful spot with a uniquely relaxing atmosphere. The waters have even been said to hold healing qualities. Aside from that, this spa offers a breathtaking adventure for friends to enjoy and relax together.
Rome, Italy
Coming in at number four overall, Rome is known as the Eternal City. The monuments have stood tall for centuries with a history stretching back over 2,500 years. To celebrate those lifelong friendships that have stood the test of time, where could be better than a city that has as much history as you and your friends do?
If you're hoping to find somewhere to stay, Rome has a gargantuan number of options available – there are over 7,000-holiday venues within the city; the most on the list. If you want your Galentine's Daybreak to capture the true hustle and bustle of a city holiday, Rome's lively urban atmosphere will do the trick.
The 'Eternal City' moniker applies to nightlife as well as day trips in Rome, so it's important to dress fashionably and practically. Sport a pair of high rise denim jeans so you can transition seamlessly from a museum trip at lunch to evening drinks in a trattoria.
Lisbon, Portugal
Sprawled out along the Atlantic coast of Iberia, in third place is Portugal's capital city. With a spectacular selection of hotels bringing it to number one in the data's hotel indexing, you and your friends can find a spot close to the heart of the action. Both the Praça do Comércio and Praça do Rossio are lively tourist spots to visit. Each plaza is lined with an array of colourfully decorated buildings, so you can lose yourself in the rustic Mediterranean style. These hotspots for activity are great opportunities for you to splash out on a statement holiday outfit and take the square by storm. Gather your gang, head to the plazas, and turn heads in an eye-catching fashion.
If you want to indulge in activities, there are a plethora of beaches near Lisbon, which give travellers the opportunity to show off their latest beachwear. Take a break from the city life and enjoy a mini-retreat for the day at one of Lisbon's glorious Atlantic beaches. Take a picnic, bask at midday, and cool off with a light swim; all that will make for a sun-filled Portuguese trip to remember.
Andorra la Vella, Andorra
For the ultimate relaxation hit, Andorra la Vella is an exceptional destination to choose. This city has the most spas relative to its local population, so not only will there be plenty of options for relaxing, but you'll also be able to enjoy some peace and quiet wherever you go. Try the Caldea spa if you and your friends fancy a thermal treat.
Outside of the spa, Andorra la Vella maintains its relaxing persona throughout. In the midst of the Pyrenees mountains, this spot is as photogenic as it is atmospheric; the collection of beautiful rustic houses will have you convinced that you and your friends have travelled back through time.
Valletta, Malta
Compared to the other cities on our list, Valletta hosts a remarkably small population. While Rome offers the high-octane thrills of a bustling cityscape, Valletta's charm resides in its ability to offer the exact opposite experience: serenity.
Here, you and your friends can experience the same Mediterranean charm of other cities at a far more leisurely pace. With contemplative sights such as St John's Cathedral and the picturesque Valletta Waterfront, there are plenty of opportunities to soak up the local ambience. Your friends undoubtedly mean a lot to you, and with its selection of wine bars, Valletta might be the best place to take some time to reflect on everything you've done together. Your girly city break can be as poignant as it is exciting.
Sources
https://guidetoiceland.is/best-of-iceland/blue-lagoon-the-ultimate-guide
https://www.statista.com/statistics/805450/most-popular-valentine-s-day-gifts-united-kingdom-uk/