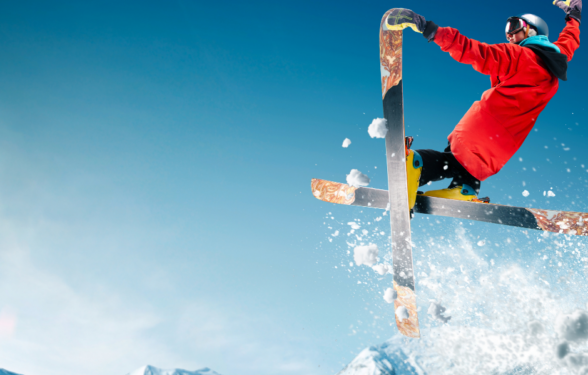 BY TIM HEDGLEY, GROUP TRAVEL EDITOR
Skiing was put back on the agenda after France reopened its borders to fully vaccinated Britons last week. Now Austria has followed suit, dropping their extra entry requirements.
Many UK holidaymakers had to cancel their trips when France banned all but essential travel last month. But on Friday last week, the French government relaxed its restrictions for those travelling from the UK, and holiday companies promptly saw a surge in bookings as people regained confidence in this year's ski season.
Airline Jet2 said it had seen a "sharp" rise in bookings and searches for flights to French skiing destinations and Tour operator Tui said ski bookings doubled on Wednesday following reports the rules would change.1
"Yesterday was a record sales day for Crystal Ski Holidays, with bookings not just well up versus the previous day, but way ahead of pre-pandemic levels," a spokeswoman told PlanetSKI on Friday.2
Now Austria has relaxed its entry requirements for fully vaccinated Brits too, many ski companies are expecting a further surge in last-minute bookings.
This is great news for people who have held off booking their trips and are hoping to grab a deal. Experts at Eurochange have explored the largest ski resorts around the world and calculated where your travel money goes furthest.
Charles Stewart, Managing Director at Eurochange explains: "Those who have held off booking their ski trip this year can take advantage of some great last-minute deals; especially now these countries have reopened their borders to fully vaccinated Britons.
"We've explored the biggest and most popular ski resorts in the world to see where your money will go furthest this year."
By comparing the following metrics, Eurochange has determined the cheapest ski resorts for a last-minute holiday:
The price of a lift pass
The price of ski hire
The price of flights from the UK to the nearest airport
Average hotel price per night
Though seven of the ten cheapest resorts are in France, the best value for money right now is Via Lattea in Italy, where a ski pass costs around £42 per day and the average cost of a hotel per night is around £99.28. Factoring some great deals on flights to Turin from the UK and ski hire, and a week's holiday will come to around £473 – almost half what you would expect to pay in Switzerland's exclusive 4 Vallées resort.
The next cheapest resort in the world this winter is Les Sybelles in France where a ski pass comes in at a cheaper £40 per day, but the average cost of a hotel is around £118 per night.
Below are the top-10 ski resorts where your money will go furthest, based on the 25 biggest resorts in the World:
Via Lattea – Italy
Les Sybelles – France
Serre Chevalier – France
Le Grand Massif – France
Les Portes du Soleil – France/Switzerland
SkiWelt Wilder Kaiser – Austria
Megève/​Saint-Gervais – France
Alpe d'Huez – France
Tignes/​Val d'Isère – France
Saalbach Hinterglemm – Austria
Though Les Portes du Soleil sits at number 5 on the cheapest resorts, if you're looking for value for money you'll struggle to get more miles for your money – due to the sheer size of the resort (580km) a trip to this resort costs around £1.18 per km based on Eurochange's metrics, which makes it the cheapest of any per km.
Charles concludes: "It's been a difficult year for the travel industry but as the world starts to open back up, we look forward to seeing our customers safely return to foreign travel."
"For those looking to get the best deal on their travel currency, you're always better exchanging before you head on holiday. Our travel money service offers competitive rates on in-demand currencies and is available to customers both in branch and online. We always recommend bringing local currency to your travel destination, so it's important to plan ahead and consider that purchasing travel money at the airport can be extremely expensive."
For more information on eurochange's Travel Money service please visit: www.eurochange.co.uk