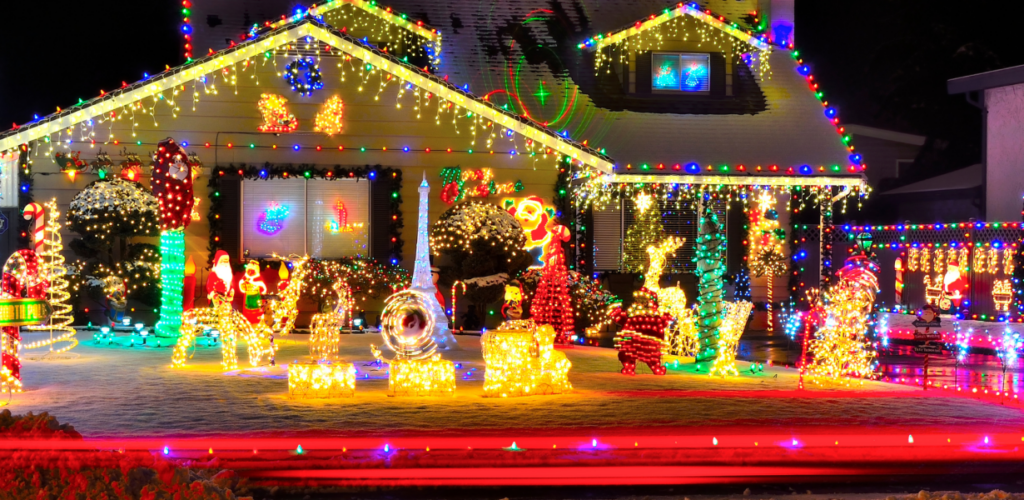 BY TIM HEDGLEY, GROUP TRAVEL EDITOR
Love 'em or hate 'em, homeowners light up their homes with gorgeous and garish Christmas decorations every year throughout the festive season, and some neighbourhoods really go all-out.
Prepare to be dazzled as property brand Essential Living has rounded up ten of the most impressive and extravagant displays from all over the world.
Dyker Heights, Brooklyn, US
Year after year sees tourists around the world flock to New York City during the festive season to experience the fairytale of New York – but the real showstopper is in Dyker Heights, Brooklyn.
The neighbourhood of houses in Dyker Heights go all the way for Christmas, decorating their homes to the absolute max. Take in the wall-to-wall displays of life-sized nutcrackers, glowing Santas, and lawn-ornament reindeers, as this neighbourhood full of dazzling lights is like nothing you've ever seen before. Have a look at this year's best-decorated houses here.
34th Street, Baltimore, USA
Nestled in Baltimore's opulent Hampden section, 34th Street boasts an impressive festive glow into the neighbourhood as seemingly every tree, house and lawn becomes blanketed in an electric bill-dizzying winter wonderland.
The neighbourhood becomes Baltimore's very own Miracle on 34th Street as homeowners have been stringing lights across these homes for 67 years.
Colmar, France
It's no surprise that Colmar, France swipes our third spot with its cobbled streets and early renaissance buildings. This neighbourhood is truly magical as it's transformed into a winter wonderland for the festive season.
Handmade decorated chalets, indoor stalls full of crafts and antiques, the sorbet-hued half-timbered buildings of Colmar's Old Town appear to be taken straight out of an old storybook.
Scripps Ranch, San Diego, USA
Nicknamed "Merry-tage Court", San Diego's Scripps Ranch, located in the streets of Stonebridge Parkway and Meritage Court, lights up its entire street with creative themes like something straight out of Home Alone.
Homeowners in this neighbourhood really go the extra mile with their lighting displays, including homes themed to pop culture hits like Frozen and Star Wars.
New Milton, Hampshire, England
Tucked into one of Hampshire's neighbourhoods, Byron Road in New Milton has been displaying gleaming Christmas lights since 2004 as rows of festive houses light up for charity.
The neighbourhood, which has become something of a tourist attraction, has raised over £85k for various charities over the years whilst getting into the holiday spirit, and last year had the NHS as the season's benefactor.
South Bay, Los Angeles, USA
Just because it doesn't snow in California doesn't mean its residents can't deliver their own magical touch. This South Bay neighbourhood in Los Angeles is one of the most spectacular displays of Christmas Lights in LA.
Between illuminated Santas, stars and snowflakes, Sleepy Hollow Christmas Lights Extravaganza (also known as Candy Cane Lane) is located off the Pacific Coast Highway and it's become a neighborhood tradition of visual overload where anyone can walk or drive through to get in the holiday spirit.
Calle, Germany
Elaborate Christmas light displays are not as common in Germany as they are elsewhere, but Rolf Vogt welcomes tourists to his dazzling decorated house in Calle.
With over 400,000 Christmas lights that he has acquired since he was inspired by the striking Christmas cheer of the US when he visited in 1999, Vogt says he has lost count of the actual number of lights surrounding his home. His home has become a local seasonal attraction, with visitors expecting mulled wine and bratwurst upon their arrival.
St Augustine, Florida, USA
Twinkling lights cover the cityscape of Florida's oldest city, St. Augustine, every year in one of the best holiday lighting displays in the world. Journey through this old town neighbourhood by car, foot, or a fairytale-esque horse and carriage ride.
This neighbourhood will take you back in time to experience the charm, warmth and grandeur of the holiday season as The Garden Club of St. Augustine hosts its annual "Christmas in the Flagler Era", inspired by the Gilded Age opulence of oil tycoon and railway magnate.
Branson, Missouri, USA
Branson tucked away in the scenic town of Missouri Ozarks, pulls out all the stops when it comes to Christmas.
Prepare to be visually overwhelmed (in a good way!) by the Christmas spirit and small-town friendliness in Silver Dollar City's midtown, which houses the biggest lighting display in the area. Nothing compares to the joy of taking in the millions of twinkling lights and charming holiday scenery from Bransons town centre to the suburban yards.
Crumlin, Dublin, Ireland
Communities in Crumlin, Dublin, come together every year to deck more than just the halls with their eye-catching displays, as each home raises money for a cause close to their hearts.
For example, Josie's Christmas house is illuminated each Christmas to raise money for different charities, and last year's was the mental health charity, Jigsaw. Check it out here
Please note: If the content here is used, please credit with a link to: https://www.essentialliving.co.uk