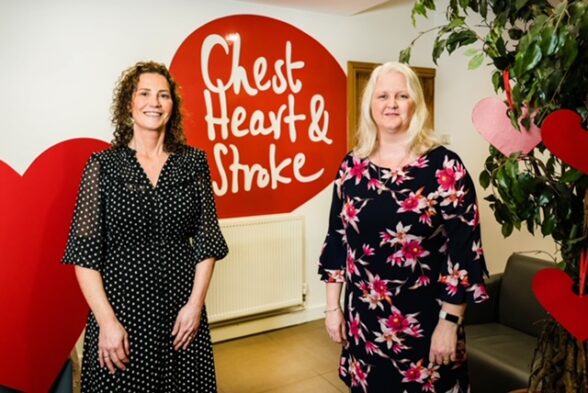 Local business advisory firm, BDO Northern Ireland has announced a new two-year partnership with local charity Northern Ireland Chest, Heart & Stroke (NICHS) with funds aimed at supporting the more than 335,000 people living in Northern Ireland with a chest, heart or stroke condition and the 21,000 people who are currently suffering with Long Covid.
NI Chest Heart & Stroke provides expert care and support to anyone at risk of or currently living with chest, heart, and stroke conditions. The charity, which also funds important research into better treatments, care and prevention, set up their Long Covid Recovery Service when it became clear that no dedicated support service existed in Northern Ireland.
During the pandemic, the NICHS respiratory team immediately recognised the long-term and often grave after-effects of Covid and as a result adapted their existing 'Breathing Better' support service to include post Covid symptoms.
In July 2020 they launched the Covid Recovery Service, a one-of-a-kind programme.  It is currently the first and only support programme to help long Covid sufferers here in Northern Ireland. 
This is just one part of the overall work of the charity that BDO NI will be supporting throughout their 2-year partnership.
Maybeth Shaw, Partner at BDO Northern Ireland, said: "When securing our charity partner, we were keen to support an organisation that not only provided much needed support services to individuals and communities but that believed in putting the person first, before everything else. We found our values aligned so strongly with that of NICHS.
"The pandemic continues to impact people's health and livelihoods and the ongoing impact that Covid is having long after the initial symptoms have gone has further hampered people getting back to their normal lives.
With no dedicated support service for those suffering from long covid we were keen to back this dedicated support service.
"Our CSR activity is a vital part of the organisation, it not only supports important causes that improve people's lives but also allows us, as a team, to come together and creatively deliver fundraising activities for a cause that is important to our staff".
Patients experiencing Long Covid can have varying symptoms and unfortunately there are no clear symptoms or medical definitions which is why it is so difficult to identify and treat.
Although most experience crippling fatigue and breathlessness, a persistent cough, joint and muscle pain, as well as damage to the heart, lungs, kidneys, and gut. 
There are also mental health problems such as depression, anxiety and struggling to think clearly.
Regina Cox, Partnerships Manager for NI Chest Heart and Stroke added: "We're absolutely delighted that BDO NI have chosen Northern Ireland Chest Heart and Stroke as their charity partner.
"We really appreciate their support and look forward to working with them over the next 2 years. "
"Today there are over 335,000 people in Northern Ireland living with a chest, heart or stroke condition, that's 1 in 5 of us. Almost 90% of our services and research are funded by public donations and we're so thankful that BDO NI staff are helping us to fund our vital services to people across Northern Ireland living with a chest, heart or stroke condition".
BDO Northern Ireland is an award-winning accountancy practice that employs more than 150 people in Northern Ireland and provides professional services to more than 1,000 local companies. 
The firm will begin their fundraising efforts for NICHS with a festive Santa Abseil on the 12th December – further details can be found here.
More information on the work of NI Chest, Heart & Stroke can be found at https://nichs.org.uk/