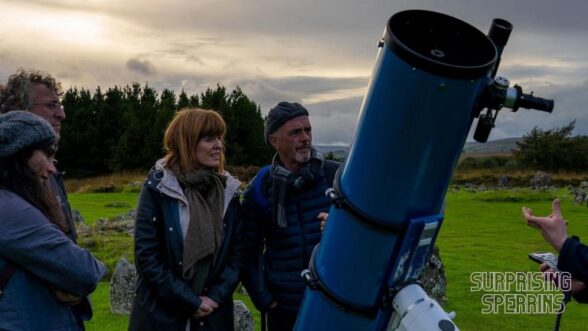 BY TIM HEDGLEY, GROUP TRAVEL EDITOR
ON recent trip to the Sperrins, I had the chance to visit the excellent Glenpark Estate Hotel located 3 miles from Gortin and 6.5 miles from Omagh. Located in an area of outstanding natural beauty this hotel fits this space beautifully.
It has been attracting customers for only 5 months and is one of Ireland's newest hotels.
Bringing history back to life.
The building that the hotel occupies was formerly a hexagonal visitors centre for the Sperrin's history park. Its current owners transformed it into a hotel that sits well in its own space. Rich greens, studded leather sofas, a gigantic Celtic cross and cosy break out areas fill the entrance to this majestic space.
During the renovation, the owners held on religiously to the tapestry effect information panels that tell the history of the area and its people. It was no mean feat to turn this visitor centre into a stunning hotel and what's more, they did it in 3 months.
Considering the property had been derelict for 16 odd years, it was a tremendous achievement, and the hotel really epitomises "recycle, reuse and repurpose". As a result, this hotel has very green credentials.
As a very new entrant to the accommodation market, they only have seven bedrooms open at present.
I stayed in the Galloway suite, my room was simply wonderful, handcrafted furniture with sandalwood cupboards, two king-sized beds and a bathroom that could accommodate the Ulster rugby team, and I do mean it was that big.BY T
A roll-top bath, underfloor heating and a wet area that would take a scrum.  My king-sized bed was delightful, Egyptian cotton sheets and fluffy white pillows ensured I had a wonderful night's sleep.
Toiletries by Rituals™️ ensure when you have a bath or shower you will smell as good as the hotel looks. Inspired by the wisdom and ancient traditions of Asian cultures, Rituals created an extensive collection of luxurious yet affordable products for home and body.
Feel enriched when you use their unique signature fragrances that are carefully designed and composed by the world's finest perfumers. Oh what's not to love with a Rituals™️ shower.
Richard and Selina Beatie, the owners, have put life and soul into the hotel and their influence can been seen everywhere.
They have regenerated an area of rural deprivation and transformed it into a wonderful space to visit this amazing part of Northern Ireland.
Service
From reception to housekeeping this hotel excels, as I said before the furniture is stunning, hand-crafted pieces and it's made from sustainable real wood.
Now there is nothing wrong with Ikea type furniture but when you open a door and smell sandalwood you really want to fold your clothes properly. Not only did my wardrobe smell amazing, my drawers did too.
Kevin Bowdren the weekend manager runs the hotel like clockwork, he is like a rash with his staff, and I mean in a good way, he is all over them, training, coaching, and giving them the enthusiasm to work and understand the hospitality industry.
A multifaceted diamond this man can speak and teach Chinese, English, Irish, Spanish, and German. Now that's a real asset to any organisation.
Kevin ensures that the staff do their very best to provide a real 4-star service, all under the expert eye of Brian the General Manager.
Delightful Dinner.
Dinner in the Crannock Restaurant was delicious. I started my culinary adventure with a delightful Duck breast salad, followed by a passion fruit sorbet Amuse- Bouche, sprinkled with prosecco.
Next came my local steak which was grown only a couple of fields away. Now that's field to fork for you.
I didn't have a dessert, but I did have some delightful cheese and a glass of port to wash it all down. Dinner was faultless and I can highly recommend it.
The hotel has a lot more to offer the customer, a rare breeds park, the former old history park, the Den in the Glen (a children's soft play building) which has proved a real fun experience, a Farm shop and 25 pitch Caravan and Motorhome Park located close to the Estate. When you think that is all they have the estate recently opened a magnificent wedding venue in the grounds of the Hotel.
It's hard to understand what the Glenpark Estate has done to the Sperrins area, being located only a few miles from the Famous Gortin Glen Forest Park, it brought another great reason to visit the area.
And whilst talking about the forest park, it is essential you take the 5-mile stunning park drive.
Gortin Glen Forest Park
Gortin Glen Forest Park is six miles north of Omagh at the western gateway to the Sperrin mountains. A major recreational feature of the forest is the five-mile-long drive which offers some breath-taking views.
Several vista parks have been created where the motorist can pull in to enjoy the magnificent scenery. A range of waymarked trails start from the fingerpost in the main car park.
They give the visitor the chance to enjoy the Park's natural flora and fauna at its best. All the trails are colour coded and return to the car park. After your walk stop off at Brie's Barista for a warm cup of coffee and a quick snack to warm your insides!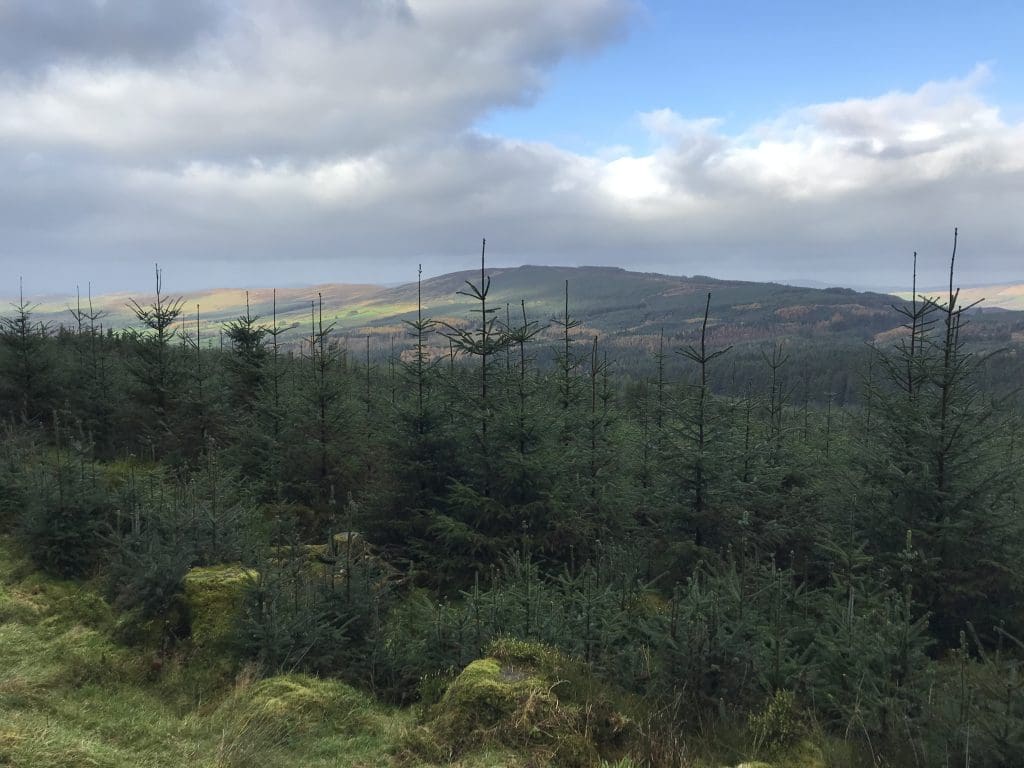 Brie's Barista
Having opened in November 21, Brie's are making a name for themselves as purveyors of outstanding coffee and snacks in the Glen Forest Park, they have recently moved into a glorious new location in the park and have many great years ahead of themselves. Get your Coffee and Toasties in the Gortin Glens @briesbarista As well as lots of homemade scones, cheesecakes, @sugar_shackni treats and more! Check out https://www.facebook.com/Briesbaristabar/
The Abingdon Collection
The Abingdon Collection is a small privately-owned speciality museum, based near the Ulster American Folk Park in Omagh which raises money by donation for Cancer Research UK.
The Collection spans over fifty years of interest in classic cars, motorcycles, petroliana, enamel signs, bicycles, radios and memorabilia.
With staycations now becoming the norm, the 'Abingdon Collection', has seen a massive growth in visitor numbers since reopening in June.
The most common opening comment the owner hears is, 'we never knew you existed' and that is understandable as the collection was not widely advertised.
But let me assure you this is one of the 'must visit' attractions of 2021.
So why do people visit the Collection?
Most visitors don't know what to expect and rarely have a clue what this Collection is all about. But they take a leap of faith by booking the facility often in conjunction with a trip to the Ulster American Folk Park, which is only one mile away.
The Abingdon collection is an extensive collection so leave an hour or two to get around it all.
The collection has three main focuses Militaria where the Collection focuses on World War II and the day-to-day items used by soldiers in the conflict such as uniforms, badges, and helmets, bringing the period back to life.
Motoring where you can take a step back in time when motoring was an adventure. Pristine classic cars and motorcycles are complemented by petroliana and images from the golden age of motoring.
Finally, is the collectables section which offers the visitor an opportunity to step back into their childhood with a fantastic array of toys, books, models, bicycles, pedal cars, and collectables.
I can tell you that I had never heard of this collection 4 weeks ago but it's one that you all must visit as its it is fascinating how one person can collect, store, and maintain such a vast collection and all on his own! See: https://theabingdoncollection.com
Ulster American Folk Park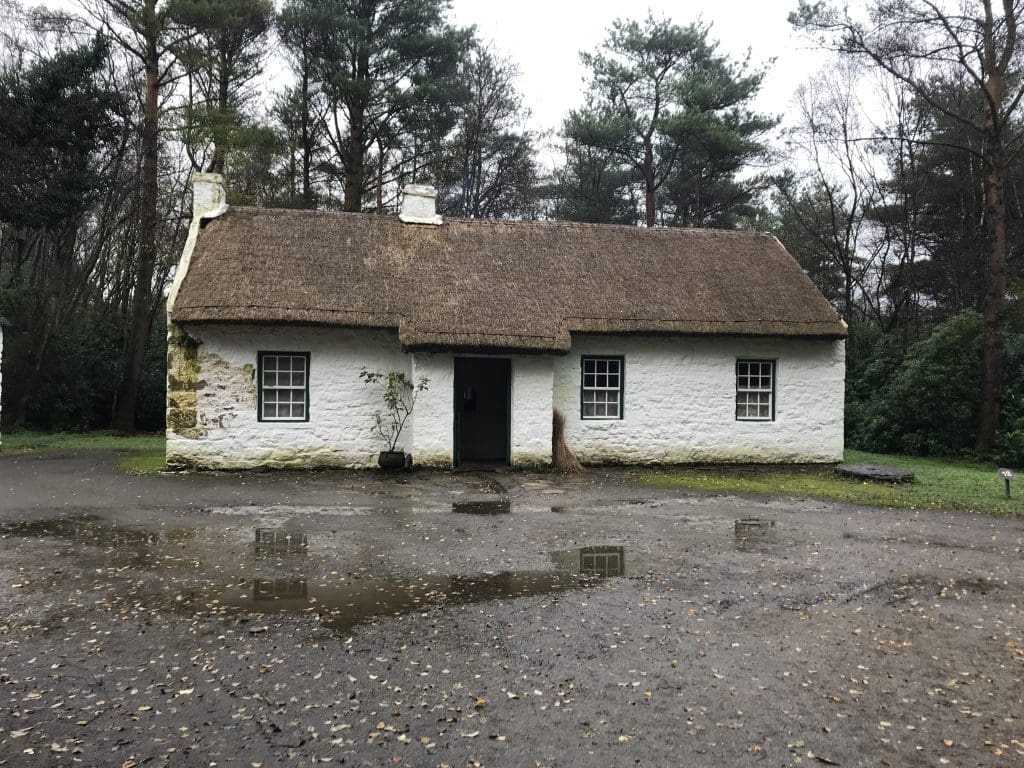 I am ashamed to say that I have always thought of the Ulster American Folk Park as a poor version of a Disney Esque theme park. Well, I was wrong so wrong.
Take the Ulster Folk and Transport Museum, add some Americana, some Irish famine history a boat and the Wild West and you have it.
This open-air museum just outside Omagh boasts more than 30 exhibit buildings to explore, the museum tells the story of three centuries of Irish emigration.
It's a must-visit and I'm delighted to say I'll be back again and again.
To ensure your visit is as safe and enjoyable as possible the park is reducing the number of people in the museum at any one time and visitors must pre-book their arrival time slot on our website. 
Once inside the museum, there is no time limit to your visit, and you are invited to enjoy everything the museum has to offer at your leisure. 
Please arrive on time to make your day and the queue run a little more smoothly. The park cannot guarantee admission if you have not secured your time slot.
You may rest assured the Visitor Team will be there to answer your questions, navigate your arrival, direct you to the ticket validation queue (e-ticket or pre-printed) and make this experience as easy as possible for you.The last time slot is at 3.30pm as the museum closes at 5.00pm. 
However, they recommend you arrive no later than 3.30 pm to have at least 1.5 hours to enjoy the full experience of both the Old World and the New World.
How to book
All visitors to the museum must pre-book a time slot on our website. All you need to do is select the date you want to visit and your time slot. That's it. Pre-book your tickets for the Ulster American Folk Park. 
Group bookings of up to 15 people can be made online. Group bookings of 15 people or more will receive a 10% discount.
Take time out in Omagh
Omagh is a fascinating and very busy shopping town, once you have visited all the attractions above you will I'm sure be looking for a wee bite to eat and that's where Rue in Main Street comes in.
Bohemian, elegant, eclectic, inspired by the understated glamour of the New Orleans carnival city. Dishes that make your mouth water, traditional favourites with a Rue twist!
This is a recent addition to the town and Rue is making an impact. I had a white bloomer and a Cappuccino. Tasty hot and delicious.
For a wider selection of evening meals check out https://mainstreetomagh.com/wp-content/uploads/2021/05/dinner-rue.jpg
No matter when you go to RUE, you are sure to enjoy their hospitality.