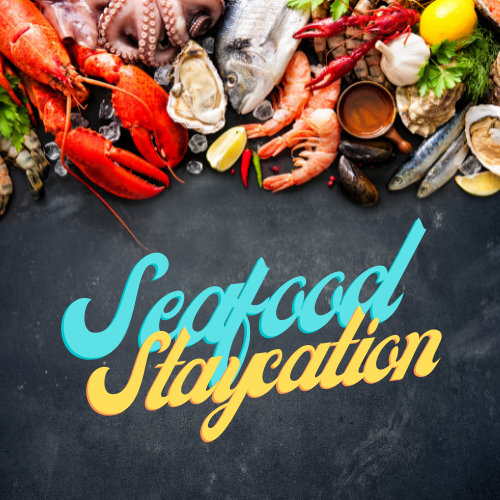 BY TIM HEDGLEY, GROUP TRAVEL EDITOR
AFTER a challenging year at home, it's little wonder so many of us are embracing our newfound sense of freedom and planning a summer staycation. Love Seafood have rounded up the ultimate seafood dishes along the famous coast road from Belfast to Derry/Londonderry.
Holidaying at home has never been more popular. Whether it's returning to places we visited as a child or exploring new destinations recommended by friends.
Local fishing communities
The north coast is home to proud fishing communities and fleets, many of whom have worked the waters around Northern Ireland for generations; bringing the finest and freshest produce straight from the sea to restaurants and fishmongers.
In every city, town and village in Northern Ireland you will find a host of culinary gems, eateries who bring the very best of the area to life in world-class dishes and recipes. Here at Love Seafood, it's our mission to get you excited about eating seafood.
Belfast
Mourne Seafood Bar in Belfast was the first restaurant opened by owner Bob McCoubrey and his team. This restaurant has won numerous awards serving exceptional food with flair and imagination and have an army of fans. The A La Carte menu is brimming with seafood starters and mains; while the Beer Garden menu is less formal and boasts treasures like the Baja fish tacos, with battered cod, crispy slaw, and chipotle mayo.
Try the: Miso glazed hake with a dashi broth of greens, mushrooms and oyster tempura.
What the reviews say on Tripadvisor: "It's always a pleasure to dine in the Mourne Seafood bar. Food is always delicious, and service impeccable"
Fish City is a lively, family owned award winning fish and chip restaurant and take away in Belfast's city centre. Not only do they offer a delicious and diverse seafood menu, they are proud supporters of local, seasonal and sustainable produce.
Try the: Fisherman's burger with lightly battered cod, bacon, free range egg, tomato, red onion, gem lettuce and tartare sauce on a brioche bun.
What the reviews say on Tripadvisor: Pure joy. Such a lovely meal an experience. The food was amazing, from the oysters, to the sides, the linguini and the chowder. The service was impeccable, and the staff were simply charming. Couldn't recommend it enough!
Deanes Love Fish is a totally different eating out experience in Belfast. The 100 seater dining space is flooded with light from a conservatory style roof. You feel welcome and relaxed the minute you walk through the door. The menu offers delicious local seafood and Michael Deane has held a Michelin Star for 13 years, the longest ever in Ireland.
Try the: Pan roasted hake, white bean, pancetta, garden herb and white wine cream cassoulet.
What the reviews say on Tripadvisor: Excellent fish! Dinner with friends. This is a very good seafood restaurant with fresh fish. I highly recommend the seabass.
Cushendall
The historic town of Cushendall is another coastal village filled with character and a perfect stopping place on any grand tour of the area. Looking out across the North Channel, 16 miles from the Mull of Kintyre in Scotland, it is also home to family-run Harry's. Renowned for its seafood, the restaurant was recently voted Traveller's Choice on Tripadvisor and attracts visitors from miles around. You'll find plenty of filling favourites and comfort food on the menu and lots of fresh fish and seafood options, including daily specials.
Try the: Freshly beer battered cod fillet served with chunky chips, mushy peas and tartare sauce.
What the reviews say on Tripadvisor: "Harry's has got a great reputation and it is easy to see why. A great menu, fantastic service and a nice roaring fire to greet you on a Sunday afternoon".
Cushendun
Mary McBride's – The Little Black Door, Cushendun
Mary McBride's was once one of the smallest bars in Ireland and is a venue brimming with character, history, and countless stories. Now spread across two floors, it sits in the heart of the beautiful village of Cushendun and has an excellent reputation for traditional homemade pub grub. It also has that feel of a real local pub, one where you can enjoy a good pint and a warm welcome. Mary McBride's take pride in their fish specials made with the best local catch of the day; and enjoyed with a view across the water. If you are planning on paying a visit, book in advance and prepare to find yourself there long into the evening when a memorable meal turns into an unforgettable night out.
Try the: Seafood chowder (often described as 'the best in Northern Ireland').
What the reviews say on Tripadvisor: "A wonderful pub restaurant in the heart of a gorgeous coastal village. Great ambiance. Staff are very friendly".
Ballycastle
Recently under new ownership, The Central Bar & Restaurant is a beautiful pub in the heart of Ballycastle which is home to a traditional bar, chic restaurant, and an enclosed beer garden. The recent reviews have only heightened its reputation for one of the best night – or day out – in town. Food and drinks are served daily and there is a choice of lunch, Sunday lunch and an evening menu. Not surprisingly, seafood features prominently, and the venue has won awards for its Ballycastle Seafood Chowder, with smoked cod, haddock, salmon, and prawns. There is also a daily seafood special. This is a venue and dining experience you will remember forever.
Try the: Traditional fish and chips, with fresh cod and triple cooked chips, served with mushy peas, house salad and homemade tartare sauce.
What the reviews say on Tripadvisor: "Never fails! Delicious food, chilled atmosphere, friendly staff who go above and beyond. what more could you ask for?"
Portrush
The Mermaid Kitchen & Bar, Portrush
The Mermaid Kitchen and Bar is a casual and relaxed restaurant offering fresh fish and local specials. It has earned an outstanding reputation which reaches far beyond its hometown of Portrush. On the menu is a range of small plates and starters, perfect for sharing, while the mains contain a mix of locally caught seafood with seasonal specials. The restaurant sits within the Ramore complex, which contains other bars and restaurants, so you have options for a chilled drink before and after dinner. This cosy, atmospheric venue has fantastic views across the surrounding coastline; perfect for whiling away the hours especially on a long summers night.
Try the: Cod served with silver dollar potatoes, mushroom, tomato, shallot, and thermidor cream.
What the reviews say on Tripadvisor: "The food and atmosphere was brilliant. A great choice of seafood in the one building".
Portstewart
With its stunning beach and picturesque harbour, Portstewart is a thriving town which attracts visitors beyond the peak summer months. Harry's Shack is one of several thriving restaurants in town and one that takes immense pride in shouting about the talents of the local fleet and the catch they pull in. The restaurant also has links with boats from County Down, Carlingford, Portstewart, Ballycastle and Greencastle. Seafood features heavily on a menu where dishes are presented as mini works of art. You can dine indoors and enjoy a set menu or, if it's a busy night and you are struggling for a seat, you can tuck into fresh fish and chips outside. The venue itself is beautiful and full of character, with the outdoor seating area and restaurant itself looking out across a stunning protected beach.
Try the: The menu changes with the catch and seasons but the hake with aioli and whole black sole with herb butter caught the eye of recent reviewers.
What the reviews say on Tripadvisor: "Great place, very friendly, great service and excellent food. The sort of experience we'll remember in 10 years' time".
Derry/Londonderry
Situated within the popular Da Vinci's Hotel in Derry, Caterina's Bistro specialises in locally sourced produce with an international twist. You can trace every dish on the menu 'from farm to table' and the restaurant has a reputation for fresh seafood and outstanding specials. Inside the décor is stunning, with wooden walls and flooring and artwork giving a nod to Da Vinci and his mother, Caterina – after whom the restaurant is named. Since opening in 2018 the team has picked up multiple awards for its menu and, aside from the food, Caterina's continues to earn high praise for its warm welcome and high quality of service.
Try the: Fillet of hake with parsnip puree, roasted new potatoes, roasted shallots and korma mayo.
What the reviews say on Tripadvisor: "Really lovely environment. Food was fabulous. Of particular note was the roast monkfish, veg and a turmeric and garlic cream. Delightful".
Images are not actual food served