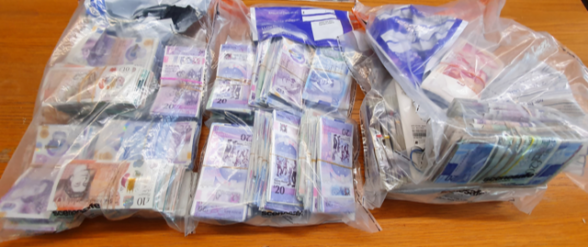 Detectives from Organised Crime Branch have arrested a man, and recovered over £75,000 in cash, in Belfast yesterday, Wednesday, May 19.

The man, aged 39, was arrested in possession of a large sum of cash in Belfast City Centre on Wednesday morning. 
He was arrested on suspicion of a number of offences including possessing and transferring criminal property, the later relating to the transfer of cash in excess of one million pounds in the past number of months, possession of false identification documents and an immigration matter.
Following the arrest a search was carried out at a property in east Belfast where false identity documents and a further sum of cash was recovered.
The man is currently being interviewed by detectives.

Detective Inspector Kelly said: "Money laundering is often a critical enabler of organised criminality. 
"We are committed to pursuing those who are involved in laundering criminally derived money which enables criminals to access profits gained from their involvement in illegal activities.

"I would appeal for anyone with any information on this type of activity to contact police on 101 or call the independent charity Crimestoppers anonymously on 0800 555 111."