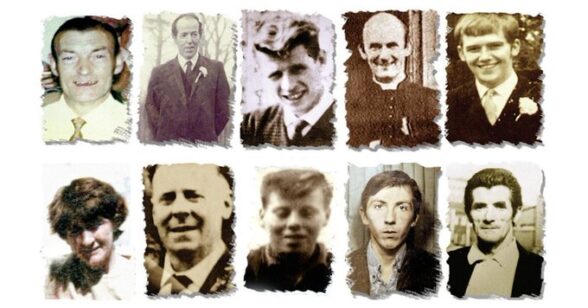 PRIME Minister Boris Johnson has publicly apologised to the families of the 10 people killed in Ballymurphy in 1971.
Last week an inquest found that the victims, who were shot during an Army operation in Belfast, were "entirely innocent".
Mr Johnson had written to the families to apologise.
But the families rejected this and called on him to meet them face-to-face in Belfast.
He began prime minister's questions on Wednesday by reading the names of the 10 victims into the public record.
Mr Johnson said he was sorry to their families for how investigations were handled and for the pain they had endured for more than five decades.
"No apology can lessen their lasting pain, I hope they may take some comfort in the answers they have secured and in knowing this has renewed the government's determination to ensure other families can find answers without distress and delay," he added.
Among the victims were a priest, Fr Hugh Mullan, who was trying to help the wounded and a mother of eight.
Nine of the 10 victims were killed by the Army, the coroner Mrs Justice Keegan QC said.
However, the Coroner said she could not definitively rule who shot the tenth victim, John McKerr.
Families of the victims received a written apology from Mr Johnson last week, which they said had angered them.
They said the letter was received minutes before Northern Ireland Secretary Brandon Lewis apologised in Parliament for "the events at Ballymurphy" in 1971.
Mr Lewis said the events at Ballymurphy should never have happened.
Mr Johnson also told MPs that the UK government was committed to introducing legislation in the current session to address the legacy of the Troubles.
"And to introduce a fair package for veterans as well, to protect them from unfair, vexatious litigation where no new evidence has been brought forward," Mr Johnson said.