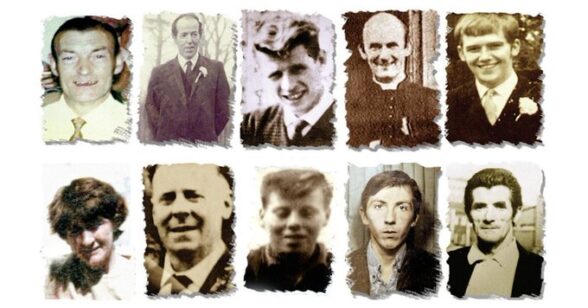 AN inquest has found that ten people shot dead by British soldiers in west Belfast almost 50 years ago were "innocent".
The inquest, which began in November 2018, examined the deaths in and around the Ballymurphy area of west Belfast in August 1971.
The shootings happened after a military operation in which paramilitary suspects were detained without trial, known as internment.
Victims included a priest trying to help the wounded and a mother of eight.
Nine of the 10 victims were killed by the Army, Coroner Mrs Justice Keegan said.
The Coroner delivered her findings on Tuesday over the course of more than two hours.
The victims were:
Father Hugh Mullan, 38, and Francis Quinn, 19, were shot in an area of open ground behind Springfield Park
Daniel Teggart, 44, Joan Connolly, 44, Noel Phillips, 19 and Joseph Murphy, 41, were shot near the Henry Taggart Army base near Springfield Park
John Laverty, 20, and Joseph Corr, 43, were shot at separate points at the top of Whiterock Road
Edward Doherty, 31, was shot at the corner of Brittons Parade and Whiterock Road
John McKerr, 49, was shot outside the old Corpus Christi Parish
Mrs Justice Keegan said she had also concluded that Joseph Corr and John Laverty were not gunmen.
She said, on balance, she believed that both men were shot by the Army.
Mrs Justice Keegan said that it "was wrong to describe these two men as gunmen" and she said any other view should be "dispelled".
The coroner found that John McKerr was an "entirely innocent man" who was "indiscriminately shot on the street".
Mrs Justice Keegan said he had "no association with the IRA" and that his family can now know that any claim to the contrary can be allayed "once and for all".
She said he was "a proud military man" and was not acting in any suspicious way when he was shot.
The coroner also said there was an "abject failure of the state" to properly investigate the death of an innocent man.
She said Mr McKerr was shot from a distance and the source was unclear, and it could have been military or paramilitary.
The coroner found there was no sign of petrol or explosives on the body of a man who was shot by the Army in Ballymurphy in August 1971.
Mrs Justice Keegan accepted that petrol bombs were being thrown in the area at the time and there was a lot of noise and commotion but she concluded that Edward Doherty was "an innocent man who posed no threat".
In relation to the deaths of Joan Connolly, Noel Phillips, Daniel Teggart, Joseph Murphy, the coroner found that members of the Army's Parachute Regiment must have been responsible.
Mrs Justice Keegan acknowledged that the Army was coming under fire from gunmen in the area at the time but she concluded that the use of force against the deceased was "clearly disproportionate".
She said they were innocent, unarmed, and were "posing no risk".
The coroner said it was clear that the environment was difficult at the time with many people, including children, out on the streets but she said the state had failed to establish that the shootings were justified.
Ruling on a claim by a soldier that 33 rounds of ammunition were found in a pocket on clothes worn by Daniel Taggert, she said if this was the case it was "quite an amount of ammunition" yet it was not mentioned by other soldiers.
She concluded that she is not satisfied that "this fact is proven".
The coroner found that Fr Hugh Mullan who was shot dead in Ballymurphy was "a peacemaker".
Fr Mullan was shot twice in the back.
Mrs Justice Keegan found that Fr Mullan was shot as he was going to assist a man who had been shot on waste ground.
She rejected a Ministry of Defence suggestion that Fr Mullan could have been shot be a UVF sniper.
She said the suggestion "does not add up".