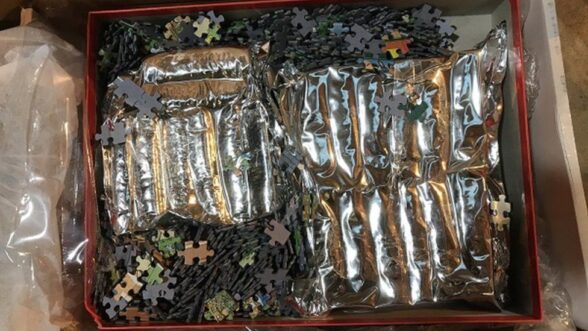 THREE women have been arrested in Newtownabbey accused of smuggling drugs into Northern Ireland.
The National Crime Agency (NCA) and PSNI worked together to detain the women, aged 26, 47 and 48, on Thursday morning.
A 29-year-old man was also arrested after a suspected gun was found.
The arrests follow the interception of 11 postal packages sent from the Netherlands and Belgium between October 2020 and April 2021.
The drugs were allegedly being sent to three addresses in Northern Ireland when they were intercepted by Border Force officers who worked with the NCA and PSNI's paramilitary crime task force.
The women were arrested in the Rathcoole estate and are accused of conspiracy to import controlled drugs and being concerned in the supply of drugs.
The NCA said the packages contained drugs including amphetamine, MDMA (commonly known as ecstasy), cannabis, ketamine and cocaine, with a combined weight of over 19kg (42lb).
The agency's forensic experts estimated the combined sale value of the drugs to be about £470,000.
Some of the drugs were found inside a jigsaw puzzle, officers said.
NCA Belfast branch Commander David Cunningham said the investigation had led to the "interception of a large quantity of drugs destined for the streets of Northern Ireland".
PSNI Det Supt Zoe McKee said the "range and volume" of the drugs that were found were a "real concern and would indicate a significant demand within communities".