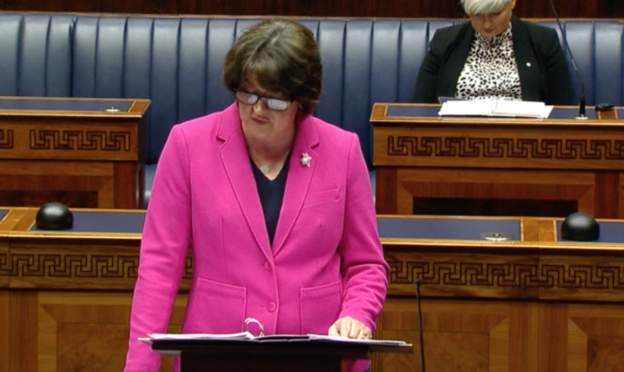 ARLENE Foster has today fallen on her sword and stepped down as DUP leader.
In a statement issued on Wednesday afternoon, Mrs Foster also announced that at the end of June she will also be stepping aside as the North's First Minister.
She said it has been the privilege of her life to serve as First Minister and "to represent my home constituency of Fermanagh/South Tyrone".
The statement read: "A short time ago I called the Party Chairman to inform him that I intend to step down as leader of the Democratic Unionist Party on the twenty-eighth of May and as First Minister of Northern Ireland at the end of June.
"It is important to give space over the next few weeks for the Party Officers to make arrangements for the election of a new leader. When elected I will work with the new leader on transition arrangements.
"As First Minister it is important that I complete work on a number of important issues for Northern Ireland alongside other Executive colleagues.
"Northern Ireland and its people have been heavily impacted by the Covid-19 pandemic and there remains more work to be done to steer us thorough the pandemic and to lessen its impact on the lives of everyone.
"It has been the privilege of my life to serve the people of Northern Ireland as their First Minister and to represent my home constituency of Fermanagh/South Tyrone.
"I first entered the Assembly in 2003 and undoubtedly the journey of the last eighteen years has been memorable.
"There are many people who have helped and supported me throughout that period and I will always been grateful for the kindness and support shown to me by them.
"Whilst there have been many difficult and testing times for the Executive it remains my firm view that Northern Ireland has been better served having local Ministers at this time.
"It is unthinkable that we could have faced into the Coronavirus pandemic without our own devolved Ministers in place and no Ministerial direction for Departments.
"As I prepare to depart the political stage it is my view that if Northern Ireland is to prosper then it will only do so built on the foundations of successful and durable devolution. That will require continued hard work and real determination and courage on all sides.
"Whilst the focus is on me today I recognise that will pass. For me my decision to enter politics was never about party or person, it was about speaking up for the voiceless and building a Northern Ireland which could prosper and be at peace within the United Kingdom."
Mrs Foster said she is "the first to recognise there have been ups and downs over the last five and a half years".