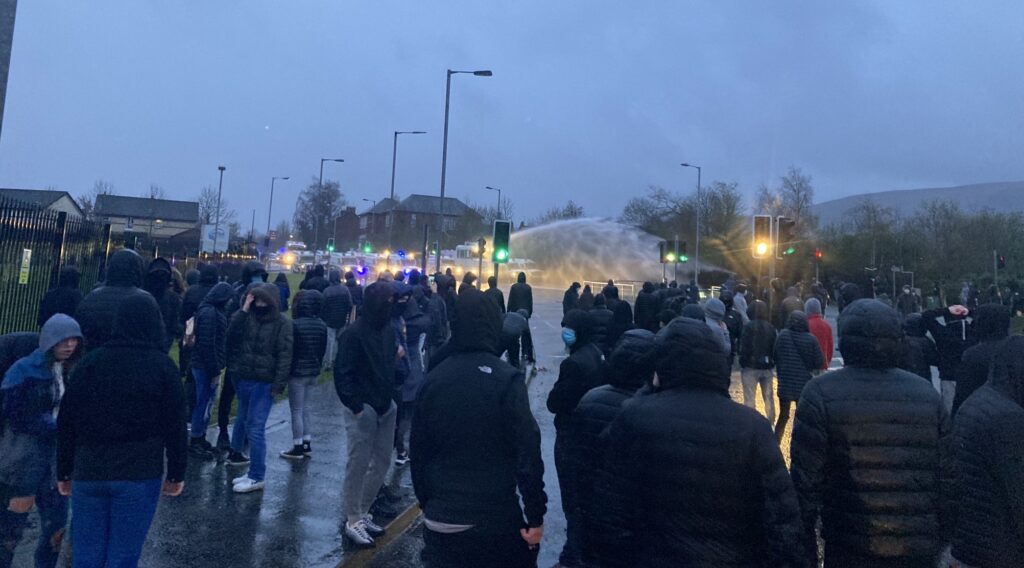 POLICE came under attack from petrol bombs, fireworks and stones during a second night of violence in Belfast.
It follows rioting on Wednesday night which police said was on a scale not seen in Northern Ireland in many years when up to 600 people were involved in widespread public disorder.
Crowds rioted on both sides of an interface between loyalist and nationalist areas in west Belfast.
Police deployed water cannon last night in a bid to stop the violence – the first time in six years they have done so in a riot situation.
They urged people to avoid the Springfield Road area of the city.
A total of 19 police officers were injured during the violence.
Assistant Chief Constable Jonathan Roberts said that on Thursday night there was "sustained violence directed towards police officers on both sides of the interface over a period of hours".
He said the majority of injuries to officers were to hearing due to fireworks being detonated close to them, one female officer suffered a broken bone in her foot.
Prime Minister Boris Johnson and Irish Taoiseach Micheál Martin have spoken over the phone and called for a calming of tensions.
The US has also appealed for calm, with the White House saying it was concerned by the violence.
Northern Ireland Justice Minister Naomi Long said it was "utterly reckless and depressing to see more violence at interface areas" on Thursday night.
"Violence achieves nothing. It brings fear and worry to the doors of local residents who deserve so much better. This needs to stop," she said.
In a tweet, the Alliance Party leader said that the violence "needs to stop before lives are lost".
"My heart goes out to those living in the area who are living with this fear and disturbance," added Mrs Long.
On Wednesday night, a £250,000 Metro bus was hijacked on the Shankill Road by masked loyalists and set on fire.