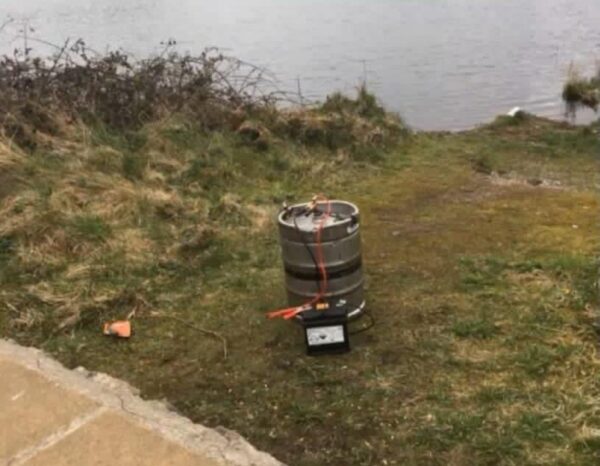 A Co Armagh man has been remanded in custody charged with making four beer keg bombs.
It follows security alerts near Camlough, Craigavon and Keady, in Co Armagh, earlier this month.
Joseph Kevin Markey, 41, of Tassagh Road, Keady, appeared by video-link at Newry Magistrates' Court on Monday.
He is facing two charges of causing an explosion likely to endanger life and two counts of attempting to cause an explosion.
He is also charged with four counts of making an explosive substance under suspicious circumstances, two counts of driving while banned, two counts of taking a car without consent and a single charge of driving without insurance.
The court was told that Mr Markey has no paramilitary links and police have not established a motive.
The charges – between 1 and 26 March – are linked to alerts at Castleblayney Road, Keady; Newtown Road, Camlough and Maghery Road, Craigavon.
The court heard that on 12 March, a member of the public reported a "loud bang" at 05:00 GMT. Police found that the Castleblayney Road had been damaged in a way that suggested there had been an explosion.
A device made up of a beer keg, a car battery, fertiliser and diesel was found.
On 22 March, a similar device was found on the Newtown Road in Camlough with another device also found later that day on the south shore of Lough Neagh.
A detective said the devices were all made in a similar way.
The detective said Mr Markey had bought four car batteries in Armagh on 1 March and had also been seen driving his father's car at the places and times where the explosions happened.
A prosecution lawyer submitted that Mr Markey was "a danger to the public" and the bombs were "becoming more sophisticated".
Under cross examination by Mr Markey's defence solicitor, the detective agreed that Mr Markey had no history of terrorist crime nor had he any history of absconding.
He also agreed that Mr Markey claimed the beer kegs were for propping up a lorry at his home.
"The main evidence is the purchase of the car batteries," the defence lawyer argued.
Police said they feared that if Mr Markey were released, he would commit further offences or cross into the Republic of Ireland.
Mr Markey was refused bail and remanded in custody until Tuesday, April 20.