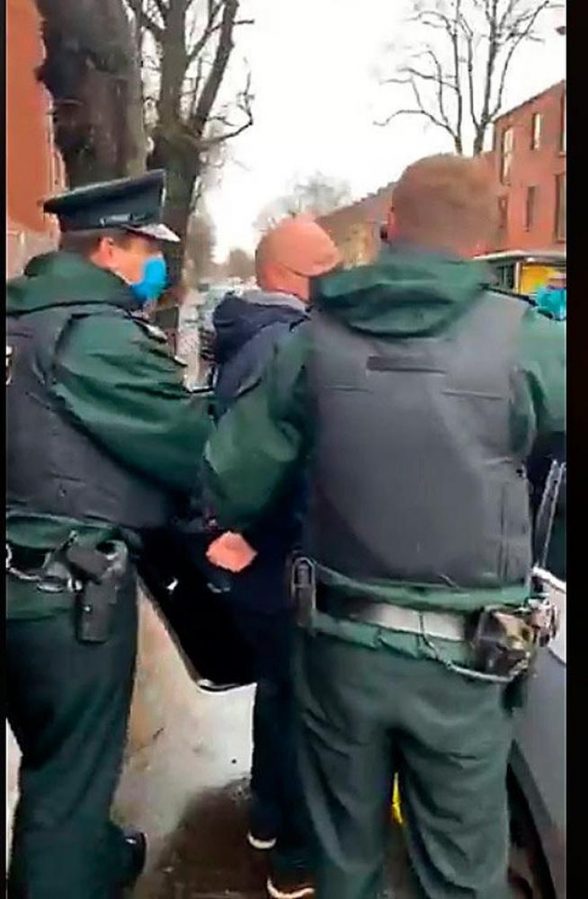 A PSNI officer has been suspended and another redeployed over the arrest of a survivor of the Ormeau Road's bookie shop massacre.
The arrest of Mark Sykes led to a political outcry as it took place on the 29th anniversary of other UFF atrocity.
On Saturday night, PSNI Chief Constable Simon Byrne ruled out quitting his £200,000 a year job.
People had gathered to mark the anniversary of a gun attack, in which five people were murdered by the south Belfast UFF terror gang.
Relatives of the victims gathered at the site to lay flowers and say private prayers.
Mark Sykes had been shot seven times in the attack on the Sean Graham bookmakers shop in February 1992 by two UFF gunmen.
He was released a few hours later.
Large public gatherings are banned under current coronavirus restrictions and police said that "30 to 40 people" had attended the memorial.
Video footage posted on social media showed a confrontation between police and people attending the event, after which Mr Sykes was arrested.
Speaking at a news conference outside police headquarters on Saturday evening, Mr Byrne acknowledged that his leadership of the PSNI is under increased scrutiny.
"Clearly that's the question on everybody's lips, but I'm not a quitter," he said.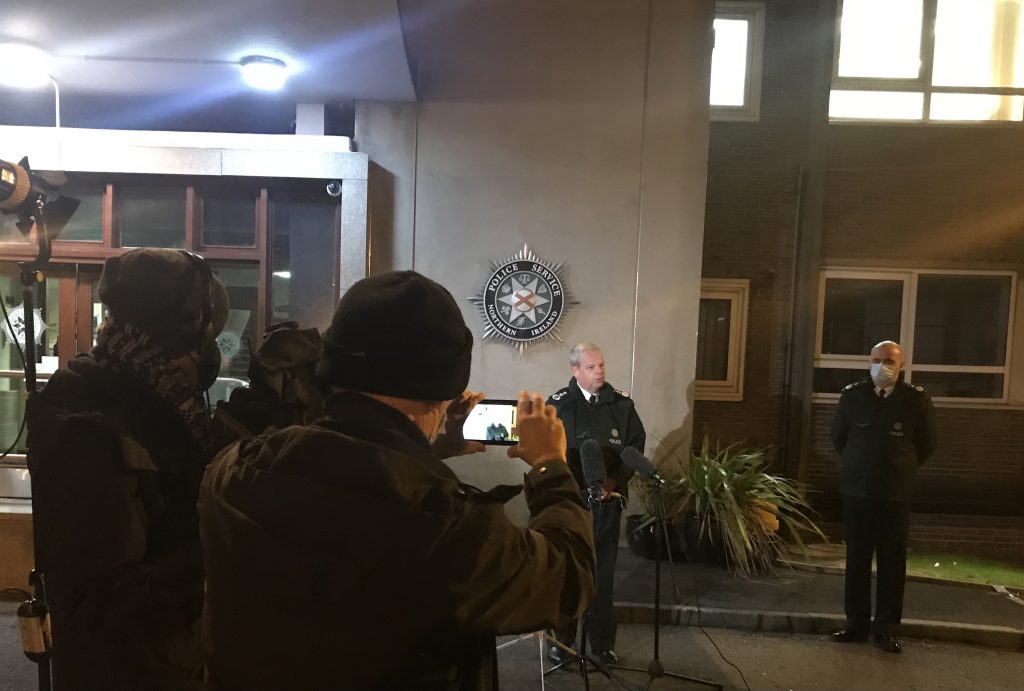 "I took this job with my eyes open, determined to invest my time, my capital working with a top team, to deliver on my promise which was visible, accessible and responsive community policing.
"If I quit now it would just leave the same set of problems for whoever stood in my shoes.
"This is about leadership, it's about calm heads and direction."
The head of the Police Federation, which represents ranks and file PSNI officers, said the two who were disciplined were "being scapegoated" and that it was not acceptable.
Mark Lyndsay said the PSNI had been criticised in the past for taking "no action whenever there are potential breaches" of Covid-19 restrictions, such as at funerals.
"Here, all of a sudden, when we do actually go to speak to people we're absolutely crucified.
"So it seems at the minute, as far as police dealing with Covid is concerned, we're damned if we do and we're damned if we don't."
The Police Ombudsman's Office confirmed on Friday night that it had started an investigation into the arrest of Mark Sykes and the conduct of PSNI officers outside the bookies shop.