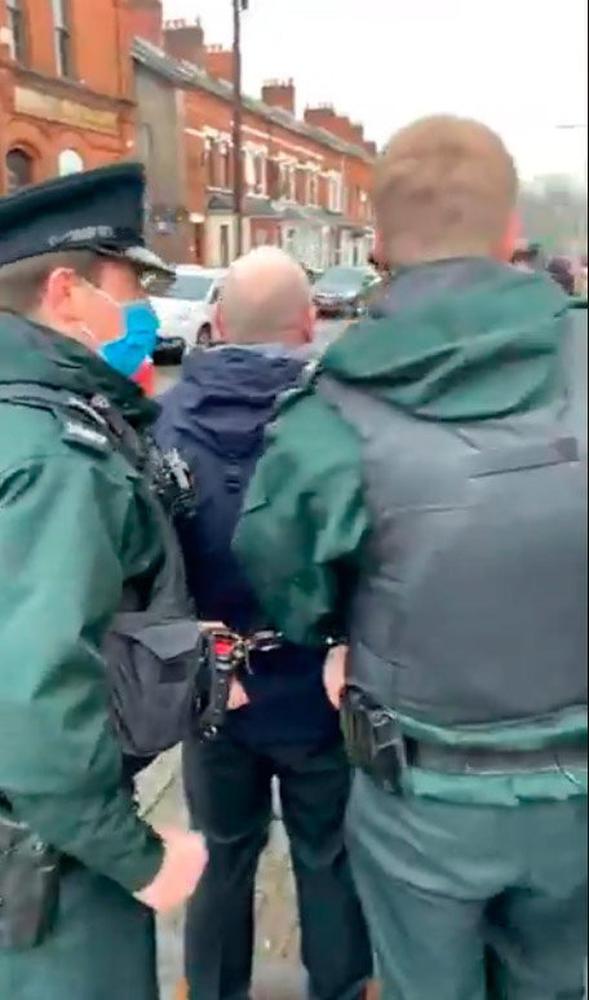 THE Police Ombudsman has launched an investigation after a survivor of a loyalist gun attack was arrested at a memorial marking the shooting.
Mark Sykes was part of a group who had gathered for a ceremony on Belfast's Ormeau Road, where five people were murdered in Sean Graham bookmakers in 1992.
Police said "between 30 and 40" people had gathered and a man was approached about the coronavirus regulations.
PSNI Chief Constable Simon Byrne said the situation "escalated".
He added that a man was arrested for disorderly behaviour and resisting arrest.
Sinn Féin's Michelle O'Neill called it a "shameful display of policing" and said officers were "heavy handed".
Public gatherings of more than six people are currently prevented under Covid-19 lockdown regulations in Northern Ireland.
The Police Ombudsman's Office said officers were involved in an "altercation" with a group of people.
"We are aware of the incident and have received a complaint about what happened," a spokesman said.,
"Our investigation will focus on establishing all of the facts surrounding the incident.
"Investigators will be examining all available evidence in order to consider the appropriateness of the actions taken by police, including the arrest."
The man arrested was among those seriously injured in the 1992 attack.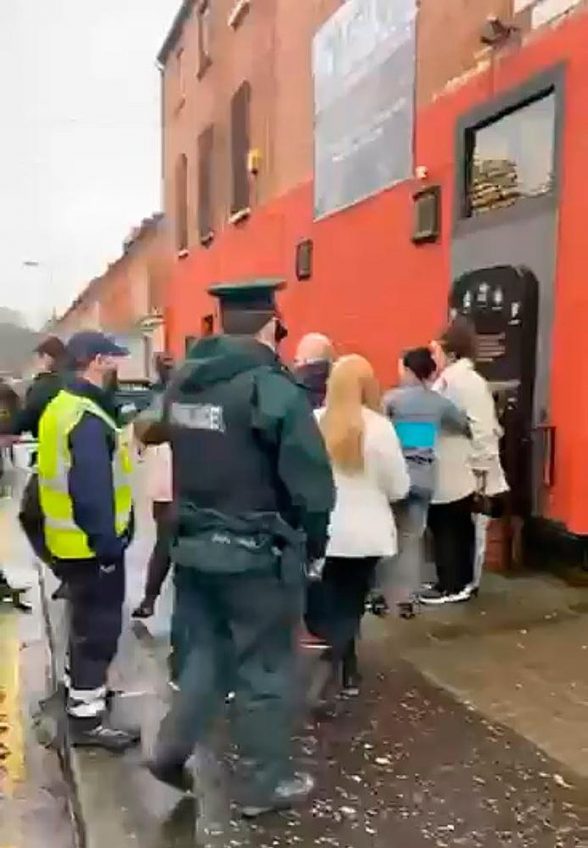 His solicitor Niall Murphy said the arrest was made shortly after 2.30 pm and his client was released about two hours later.
Footage of the incident has been posted online.
Mr Byrne said the PSNI was reviewing all footage of the incident, including from their own body-worn cameras.
He added the PSNI was "carrying out an assessment of the conduct of the officers involved".
Police have recently been accused of inaction when large crowds of mourners gathered at both republican and loyalist funerals.
The chief constable said he had spoken to First Minister Arlene Foster, Ms O'Neill and the local MP to brief them on what happened.
"I fully recognise the sensitivities of this incident and just how difficult a day this would have already been for the families who lost loved ones in the atrocity," he said.
"That should not be forgotten.
"We are acutely aware that this is the latest incident to raise concerns about the enforcement of coronavirus regulations and illustrates there are no easy answers."
Ms O'Neill, Northern Ireland's deputy first minister, described the chief constable's response as "inadequate and insulting".
Justice Minister Naomi Long said she understood why events had "left emotions running high" but she called for calm and cool heads to prevail.
"Funerals and memorials are particularly sensitive when it comes to enforcement of the coronavirus regulations which, at their core, are designed to keep people safe and save lives," the minister said.
"Policing is an incredibly difficult job at the best of times but is even more so during this pandemic. It is therefore important that as a community we all continue to try our best to work together through these challenges."
Sinn Féin policing board member Gerry Kelly said he was "shocked and appalled" by the arrest.
He said family members of the victims had gathered at the scene of the attack to call for the publication of a delayed Police Ombudsman's report into the murder of their loved ones.
He criticised police actions and compared it to the PSNI's response when a large group of masked UVF men gathered in east Belfast on Tuesday while police looked on.
None of the masked UVF men were arrested and police allowed them to leave the scene without making any effort to take their names.