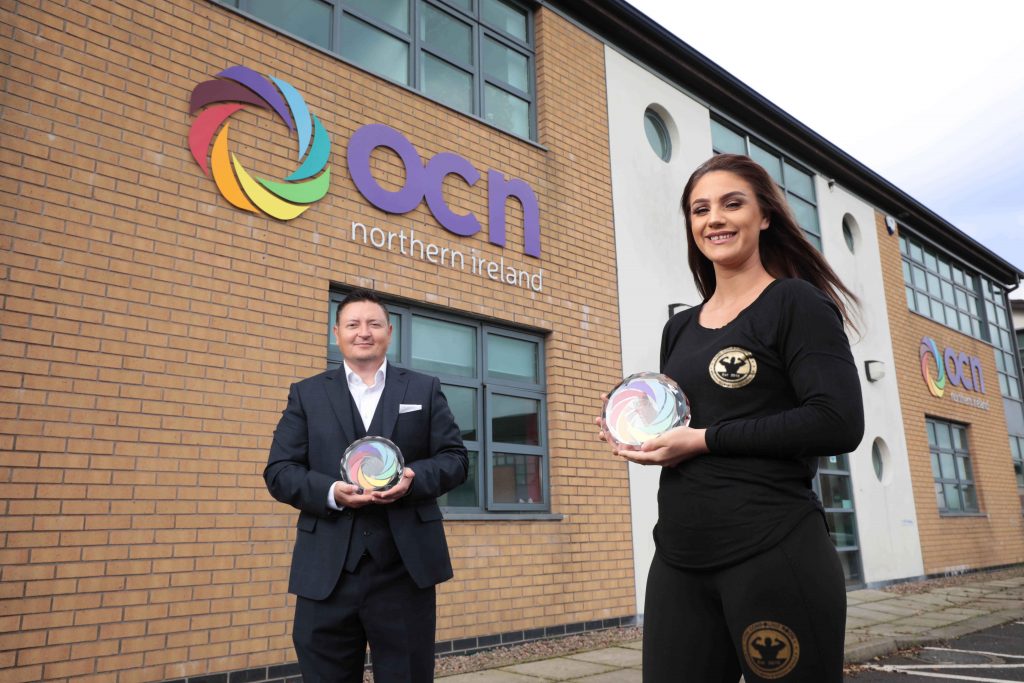 EARLIER this year, Open College Network NI (OCN NI) hosted its first ever Virtual Learning Endeavour Awards to celebrate the achievements of learners from all over Northern Ireland and now, those students have received their awards in person at the OCN NI headquarters in Belfast, adhering to social distancing advice.
The annual awards bring together learners from a range of education and training providers, including representatives from the Community and Voluntary Sector, Further Education, Private Training and Schools sectors.
The event had been scheduled to take place last March at the Stormont Hotel, Belfast but was cancelled due to the outbreak of Covid-19.
To ensure that all the winners and those shortlisted would receive the recognition they deserved, OCN NI made the decision to run the awards 'virtually' across social media channels including Facebook and YouTube and now those awards have been handed over to the recipients by OCN NI CEO, Martin Flynn.
At the handover ceremony Martin Flynn said: "We are delighted that the winners of our Virtual Learners Awards could come along to our headquarters today and pick up their much-deserved awards.
"The aim of our event each year is to recognise and celebrate the achievements of individuals and their training providers as well as acknowledge how hard the learners involved have worked throughout the year to earn their accomplishments.
"Everyone involved in this year's awards should feel very proud of all the hard work and dedication they have put in.
"We would like to congratulate all of the winners as well as those awarded highly commended and in particular to Arlene McCreedy, the recipient of a £500 learning bursary which she will use to advance her further education," added Martin.
The 2020 OCN NI Learning Endeavour Award winners were:
Further Education Learner of the Year – Arlene McCreedy, South Eastern Regional College
Schools Learner of the Year – Fatima Quebe, Abbey Community College
Third Sector Learner of the Year – Nikita Hart, Oh Yeah Music Centre
Learning in Employment Learner of the Year – Sharon O'Neill, Action Mental Health
Health & Well-being Learner of the Year – Paula Ellison, Action Mental Health
Inspiring Tutor/Teacher of the Year – Phelim Lundy, ExternWorks
Provider of the Year – Now Group
The Hilary Sloan Memorial Award – Arlene McCreedy, South Eastern Regional College
For more information on OCN NI go to https://www.ocnni.org.uk/