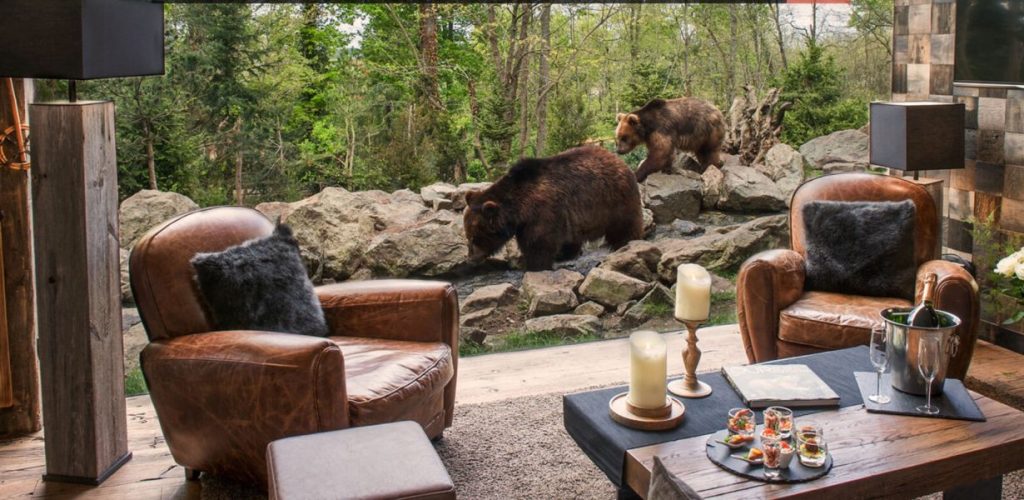 BY TIM HEDGLEY, GROUP TRAVEL EDITOR
I wrote about this amazing Zoo a few years ago just after they opened their first accommodation Lodge, yes you heard me correctly, a whole lodge buried deep inside a Zoo.
I know it sounds extreme and that's exactly what it is. Just outside the town of La Fleche is a Zoo, but this is no ordinary Zoo. It boasts 1,200 animals: giraffes, hippos, lions, elephants, white tigers, koalas, and grizzly bears to name but a few.
Now that is not that unusual for a Zoo but imagine the movie, Night at the Museum, add in a little magic dust and you have a 5-star Safari Lodge in the middle of a Zoo where you can sleep with the animals.
Quite a few museums do sleepovers so it's not that extraordinary, but sleeping with the exhibits in a Zoo? That is amazing! And that is what you can do in La Fleche!
Private Lodges
Located inside the Zoo are a number of perfectly reconstructed private lodges, where the attention to detail is exceptional. The safari Lodges have been so well received that the Zoo has opened a few more, well in fact they now have 18 private lodges for you to choose from.
Choose a lodge to reflect the animal you wish to see, for example there are Lions, Tigers, Polar Bears, Brown Bears, Wolves and they will literally spend the night with you in the Zoo.
For an example the MALAWI and MAASAÏ lodges give you the opportunity to spend a wild night in the heart of the African plains, watching two amazing cheetahs, in an exceptional private setting, The lodges offer luxury services including a large panoramic windows which will afford you breath-taking views of the cheetah world.
SHEER LUXURY
Your suite includes a "cozy" living room with a sleeping area, a bedroom with plush kingsize bedding and a unique bathroom. The lodges are beautifully decorated with the colours of Africa, which guarantee a warm, intimate and friendly atmosphere. There is also an outdoor terrace with garden furniture all affording views of your "Sleeping Partners" for the night.
If you choose you can share the evening with family and friends and have a delightful dinner in the most one of the most unusual dining rooms. If you are able to pull yourself away from the amazing views you will have a delightful sleep and wake up to a hearty breakfast.
The day you visit La Fleche zoo and one of its amazing lodges is the day an overnight stay will never be the same. On the scientific side a new clinic was recently opened at the Zoo. The culmination of a three-year project and 200,000 euros, it is one of very few French zoos to have a specific animal medicine facility for treatments and training.
Having spent an amazing day at La Fleche Zoo, I decided to spend an equally fascinating night close by. You will know that Northern Ireland's very own Dick Strawbridge has increased the popularity of spending the night at amazing chateaus in France and to this end I decided to hunt out my own chateaux for the night so about 25 minutes' drive from La Fleche I found Chateaux d'Hodebert (https://chateau-hodebert-france.com)
Prices start from €159 per person see https://www.safari-lodge.fr/tarifs/tarifs-2020/
Château d'Hodebert
Set in a 17th and 18th-Century castle, Château d'Hodebert is located in the Loire Valley. It features traditional French décor, a terrace and a garden. Tours is just 30 km from the castle. All rooms offer antique furniture, views of the courtyard and free Wi-Fi access. The en suite bathroom includes a hairdryer and free-standing bathtub or shower. A breakfast serving homemade and organic products is available at the castle. Guests can also sample the region's wine at the nearby Loire Vineyard routes. Horse riding and massage treatment activities are available close to the castle along with the recently installed swimming pool.
The oldest documents mentioning this fine chateau date back to the 16th century. After the Moreau family, from the Poitou region, Henri de Codosny purchased Hodebert in 1648. Of Italian descent, Henri de Codosny was the counsellor and butler of the king. His family had come to France with Marie de Médicis. He was married to Marie Dunoyer, daughter of Saint-Christophe's bailiff. The central part of the château, as well as the first pavilion to the North, were built then. Jean Dunoyer, Henri de Codosny's nephew, buys Hodebert from him in 1674 and it remains with the Dunoyer family until 1794.
A hundred years later, Martin Dunoyer, canon of the Basilica of Saint Martin, Tours, expands the château and modernizes it. In 1794, the property is bought by Alexandre-François-Pierre Gouin, who comes from a large family of bankers and merchants from Tours, which also counts several mayors. His own son served as Minister of Agriculture under Louis Philippe. Gouin sells Hodebert in 1808 to Louis-François-de-Sales de Sarcé and his wife Charlotte Françoise née Fontaine de Biré. They have three children, all of whom will live in Hodebert, and who, by common accord, bequeath Hodebert to their nephew, Robert Roullet de la Bouillerie.
The Sarcé family significantly expands the domain of Hodebert by buying the Abbey of La Clarté-Dieu, many pieces of land, farms, mills, as well as the Château du Breuil on the valley opposite. Robert de la Bouillerie meanwhile, takes on some important comfort-related work in the 1920s, having central heating, electricity and seven bathrooms installed.
In 2004, Hodebert is for sale and Hélie & Ivana de la Bouillerie decide to buy it from other members of the de la Bouillerie family. Hélie & Ivana leave Paris with their family and settle in Touraine to undertake the long and extensive restoration that Hodebert needed. And now it has become without doubt the most beautiful property I have ever stayed in.
My room in Chateaux Hodebert was La chambre du parc
What makes this bedroom unique is its four large windows. Light floods in to this beautiful bedroom, it offers breath-taking views over the beautiful grounds right down to the lake. A Toile de Tours by Le Manach adorns the walls of the room, exceptional textiles crafted in Tours descending from the region's long tradition of silk weaving. The bedroom furniture is Louis XVI and the bed is like sleeping on a cloud. The peace and tranquillity you experience in this property is simply amazing. Ivana de la Bouillerie and her glorious family made us very welcome.
Organic breakfast
An organic breakfast is included in the price and it is served with all the elegance and "art de vivre" one could expect from a delightful French Chateaus. Practically all the breakfast is lovingly prepared in the Hodebert kitchen by the lady of the house with quality organic ingredients. The jams are made using fruit from Hodebert or neighbouring orchards, and cooked with organic cane sugar. Organic cheeses, and flavoured yogurts, and other delicacies are served depending on the season. The freshly made crumble was to die for.
The best experience I have had bar none. Stunning, delightful, amazing, beautiful. This is one amazing place to stay.
Chateau d'Hodebert, 37370 Saint-Paterne-Racan, France
Phone:  +33 6 52 72 81 54 https://chateau-hodebert-france.com/