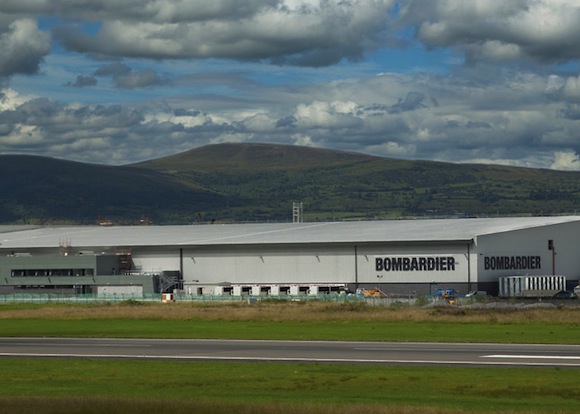 BOMBARDIER'S Northern Ireland operations have been sold to the US firm Spirit AeroSystems in a deal worth nearly £1 billion.
The Canadian firm put the factories up for sale in May as part of a reorganisation of its business.
The aerospace manufacturer employs about 3,600 people in Northern Ireland.
Spirit, which is based in Kansas, is a major supplier to Airbus and Boeing. Earlier this year the company said it wanted to do more work for Airbus.
Buying Bombardier's Northern Ireland operation is part of that strategy.
The wings for the Airbus A220 are made at Bombardier Belfast's plant and it also supplies other Airbus parts, particularly engine covers.
Spirit is also buying a Bombardier factory is Morocco and a repair facility in the US.
The deal – in which Spirit is paying $500m and taking on $700m of liabilities, including pension commitments – is expected to close in the first half 2020.
Michael Ryan, Bombardier's chief operating officer of aerostructures, said employees would be updated about how it impacts them in due course.
He added: "We are delighted that Spirit, a global, tier-one aerostructure manufacturer and supplier, has recognised our unique offering and growth potential."
ADS, the UK trade organisation representing the aerospace industry, said: "With the future of the operations assured, the exceptional workforce at the Belfast facility will now be able to continue to use their world-class expertise and skills as an integral part of the aerospace industry
"We look forward to working closely with Spirit as they continue to grow their UK footprint."
The deal would be strategic for Spirit, an aerospace components maker, as it diversifies its customer base away from Boeing, analysts say.
Chief executive Tom Gentile said the Belfast operation brings "world-class engineering expertise to Spirit".
"Belfast has developed an impressive position in business jet fuselage production, in addition to the world-acclaimed fully integrated A220 composite wing," he said.
"This acquisition is in line with our growth strategy of increasing Airbus content, developing low-cost country footprint, and growing our aftermarket business."
The move is part of Bombardier's plan to shed its commercial aviation business to focus on its higher-margin business jets and rail divisions.
The Belfast factory will remain a major supplier to Bombardier's business jet programmes.
The company said: "Spirit will continue to supply structural aircraft components and spare parts to support the production and in-service fleet of Bombardier Aviation's Learjet, Challenger and Global families of aircraft."
The Unite union said: "It is a sale that offers hope for a positive future for Bombardier workers in Northern Ireland and their colleagues in the supply chain."