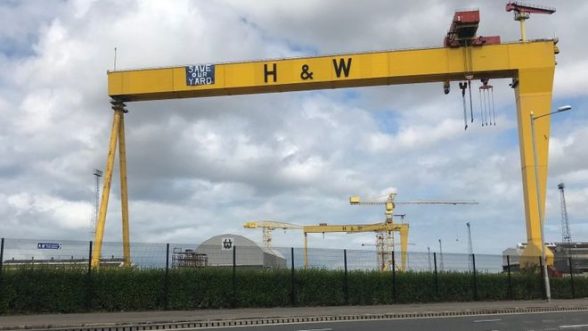 HARLAND and Wolff shipyard has been sold staving off closure.
The east Belfast yard, best known for building the Titanic, has been bought for a total of £6m by InfraStrata, a London-based energy firm.
Harland and Wolff went into administration in August following the collapse of its Norwegian parent company.
That move put about 120 jobs at risk. InfraStrata says it will retain the 79 workers who are still employed.
It hopes to increase the workforce by "several hundred" over five years.
In a statement,  BDO Northern Ireland said: "Michael Jennings and Brian Murphy of BDO NI were appointed as Joint Administrators of Harland & Wolff Group Plc and Harland & Wolff Heavy Industries Limited on Tuesday, August 6, 2019.
"Following expressions of interest and non-binding offers from a number of parties, the Joint Administrators have entered into heads of terms with a preferred bidder, InfraStrata plc, with the intent of completing a sale in the near future.
"The agreed terms of sale will include the transfer of the remaining employees on their existing terms and conditions to the purchaser upon completion.
"In the interim, it is intended that the remaining employees will be able to return to work in the coming days to facilitate the remaining steps required for the completion of a sale.
"This is a very positive step towards securing a sale of the shipyard and protecting and safeguarding the employment of the workforce."