BY TIM HEDGLEY,GROUP TRAVEL EDITOR
Breathtaking, mysterious, beautiful and inspiring – the South Downs is all these things.
But there are some gems in England's newest National Park that have an extra sprinkling of spectacular – those kind of "wow" spots capable of leaving a permanent footprint on your bank of feel-good memories.
And, just an hour or so from the skyscrapers of London, the quintessentially English countryside that inspired Turner's creative brilliance is arguably one of the most accessible protected landscapes in the world.
It's no wonder celebrities such as Noel Gallagher and Jude Law call this green and pleasant land their home.
So, for World Tourism Day on September 27, we recommend the five world-class "wow" spots in the South Downs National Park that will leave visitors truly inspired – and feeling a little bit closer to the natural world!
Seven Sisters Country Park, East Sussex
The 'White Cliffs' of Dover in Kent have become an enduring image of Britain
But the Seven Sisters, nearly 80 miles west of Dover, probably look more familiar. These brilliant white cliffs have been used as the backdrop for Hollywood movies, including Harry Potter and the Goblet of Fire, Robin Hood: Prince of Thieves and Atonement.
The view of the Cuckmere Valley and the Seven Sisters is perhaps one of the most picturesque in the world.
The Sisters were created when ancient rivers cut valleys into the chalk, creating seven peaks. Haven Brow, the highest of them at 253 feet, stands majestically to the west of her other sisters who in order are called Short Brow, Rough Brow, Brass Point, Flagstaff Point, Baily's Brow and Went Hill Brow.
The Country Park is a great place to explore on foot, by bicycle or by canoe, particularly along the spectacular meanders of the Cuckmere River. The landscape combined with an abundance of wildlife make for endless picture opportunities!
The coastline has some fascinating shipwrecks, which you can discover on a series of shorewalks.
For more information visit www.sevensisters.org.uk
Kingley Vale, near Chichester, West Sussex
There's a magic about Kingley Vale that every previous visitor will attest to.
Perhaps it's the twisted and primordial-looking trees that look straight from a Lord of the Rings movie?
The reserve contains one of the finest yew forests in western Europe, including a grove of ancient trees which are among the oldest living things in Britain.
Kingley Vale also has superb chalk grassland and is one of the most important archaeological sites in southern England, with 14 scheduled ancient monuments.
Look out for green woodpeckers hunting for ants on the grassland, as well as red kites and buzzards. There are also butterflies galore, including the beautiful chalkhill blue, holly blue and brimstone
A view surely fit for a king!#
For more information visit www.visitchichester.org/activity/kingley-vale-trail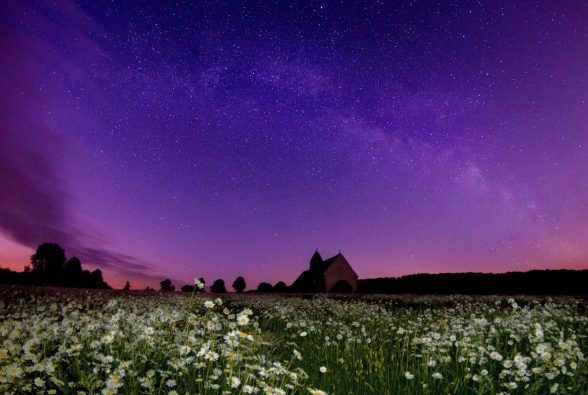 Stargazing at Butser Hill, near Petersfield, Hampshire
This beautiful location is the highest observing point in Hampshire, with 360 degree views and, on a clear night, you can admire the Milky Way in all its glittering glory. Don't forget the hot chocolate and camping chairs!
These unspoilt views of the cosmos are a virtue of the National Park's status as an International Dark Skies Reserve.
The South Downs is one of only 13 such Reserves in the world and is one of the most accessible places to see the stars in all of Britain.
For more information see www.southdowns.gov.uk/enjoy/dark-night-skies/
Cissbury Ring, near Worthing, West Sussex
One of the largest Hill Forts in Southern England, Cissbury Ring is undeniably one of the jewels in the crown of the South Downs National Park.
With awe-inspiring views in every direction and the feeling of being "on top of the world", Cissbury Ring captures the essence of the South Downs.
Just to the north is Monarch's Way, Britain's second-longest signed walking trail. It follows the escape route of Charles II after his defeat at the Battle of Worcester in 1651 and runs all the way from Worcester to Shoreham Harbour.
With a history stretching back five millennia and wonderful views across to the Isle of Wight, there are fewer more scenic locations on the south coast of England.
For more information see www.nationaltrust.org.uk/cissbury-ring 
Blackdown Hill, West Sussex
A landscape of wavy hair grass, purple heather and pine trees gives visitors a true sense of "wild".
The views have inspired many and none so renowned as Tennyson himself: 'You came and looked and loved the view, long known and loved by me, Green Sussex fading into blue with one grey glimpse of sea.'
As you amble down some of the ancient sunken lanes and drove ways, you can feel a sense of timelessness. Traders, shepherds and chert quarrymen have been using these tracks for thousands of years.
Autumn is a great time to visit with the changing colours and crimson sunsets. For the more adventurous why not walk some of the 64-mile long Serpent Trail taking in the rare lowland heath habitat?
For more information visit www.nationaltrust.org.uk/black-down 
Katherine Beer, who leads sustainable tourism for the South Downs National Park, said: "It's almost 10 years since the South Downs National Park came into being and our tourism profile is steadily building."Our international market continues to grow, particularly among audiences in Germany, Australia and the US.
"We now average more than 18m visitors a year, but it still amazes me how many people have yet to experience the beauty of the South Downs that has inspired so many poets and artists. We're the closest and most accessible National Park from London, with so many hidden gems and tranquil places to explore."