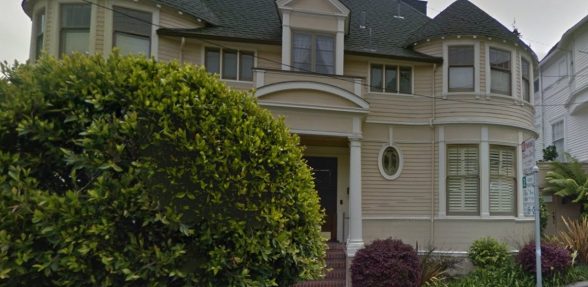 BY TIM HEDGLEY, GROUP TRAVEL EDITOR
FROM cinema classics to today's biggest blockbusters, San Francisco has made hundreds of appearances on the silver screen.
San Francisco Travel suggests some locations to star in your next visit.
"Mrs. Doubtfire"
Everyone's favourite nanny, played by Robin Williams, came into our lives in the '90s and made herself at home. A must-see for families and kids at heart, the Hillard House is located in the Pacific Heights neighbourhood of San Francisco. If you're a true film geek, you'll have no problem pointing it out.  Locations include:
Hillard House, Broadway and Steiner St. – Please do not disturb the residents.
"Pursuit of Happyness"
This heartbreaking yet inspiring movie tells the tale of a father trying to raise his son after losing everything.
Will Smith beautifully enacts the true story of Chris Gardner, who reaches success through hard work and persistence alone.  Locations include:
1592 Taylor St. and Broadway St. – Final shot of Chris and his son walking towards the Bay Bridge.
Pacific Coast Stock Exchange, 301 Pine St. – Chris asks man with a Ferrari what he does for a living and is inspired to become a stockbroker. The exchange now houses an Equinox Fitness Club.
"Ant-Man / Ant-Man and the Wasp"
Several San Francisco locations can be seen throughout the thrilling car chase scenes, the most famous of which ends at Fisherman's Wharf.  Locations include:
601 Buena Vista Ave. – Hank Pym's Victorian house.
Fort Point National Historic Site, End of Marine Dr. in the Presidio – Scott reflects on his past after being released from prison.

"Rise of the Planet of the Apes"
"Rise of the Planet of the Apes" puts a modern twist on the cult sci-fi classic. From atop the downtown skyscrapers and at the San Francisco Zoo, their uprising spreads throughout the Bay Area. If you're looking to join Caesar's tribe, head to the Muir Woods, where the apes eventually formed their own prosperous community.  Locations include:
Muir Woods, 10 miles north of the Golden Gate Bridge – Caesar is introduced to nature and eventually builds a community.
Make parking and shuttle reservations at https://gomuirwoods.com/.
San Francisco Zoo, 1 Zoo Rd. at corner of Great Hwy. and Sloat Blvd. – Where the apes free fellow primates during the uprising.
"Sister Act"
Where did Whoopi Goldberg hide from her angry mobster boyfriend in "Sister Act"? Right here in San Francisco at one of the most beautiful churches in the city. Located in Noe Valley, St. Paul's is just a short walk from the Mission District.  Locations include:
St. Paul's Church, 221 Valley St.
"Milk"
San Francisco would not be what it is today without Harvey Milk. In fact, Terminal 1 at San Francisco International Airport has just been named in his honour.  Milk's story defines the fight for LGBTQ freedom that spread throughout the country during and after his life. The filmmakers were able to film nearly all of the outdoor scenes at the actual historic locations.  Locations include:
Harvey Milk Plaza, 17th and Castro streets – Harvey holds his first rally for gay rights standing on a soap box.
Human Rights Campaign Action Center and Store, 575 Castro St. – Harvey opens Castro Camera after moving to San Francisco.
Twin Peaks Tavern, 401 Castro St.
"Dirty Harry"
As renegade cop Harry Callahan, Clint Eastwood roams the streets, telling the story with every step. Here are a few must-see locations from the classic.  Locations include:
Bank of America Building, 555 California St.
Kezar Stadium, Frederick Street, Golden Gate Park
Mt. Davidson Landmark Park and Cross, 125 Dalewood Way
"Always Be My Maybe"
This modern-day "When Harry Met Sally" follows two childhood friends, Sasha and Marcus, as they reunite after years apart and explore their complicated friendship. This film has been celebrated for its diversity and celebration of Asian-American heritage, so there is no question that this story was made for San Francisco. Locations include:
Musée Mécanique, The Embarcadero at Pier 45 – As kids, Sasha and Marcus take pictures in the photo booth.
Palace of Fine Arts, 3601 Lyon St. – Sasha takes Marcus as her date to a red carpet event.
Pier 7, The Embarcadero – Sasha and Marcus go fishing.
"Bullitt"
The streets of San Francisco provide the perfect setting for the best movie car chase ever. The action in this Steve McQueen classic set the precedent and has been often copied but never matched.  Locations include:
Taylor and Vallejo streets, Russian Hill – The chase begins.
"The Rock"
Sean Connery, Nicholas Cage, and Michael Bay action galore—but the real star of the movie is Alcatraz itself. Here are some other locations for your itinerary.  Locations include:
The Fairmont San Francisco, 950 Mason St. – Also the scene of the 80s TV series "Hotel."
Palace of Fine Arts, 3601 Lyon St.
"Venom"
Eddie Brock (Tom Hardy) is involuntarily bound to the symbiote, Venom, and the two spend the movie learning how to utilise their new shared skills to fight evil.
A great example of this is the motorcycle chase scene that peaks with a massive jump at the top of Taylor St.  Locations include:
Hawk Hill, Marin Headlands -This is the location for Life Foundation headquarters.
Transamerica Pyramid, 600 Montgomery St. – Venom scales the building.
"Sense8"
While the story bounces around the world to places like Iceland, Nairobi, and Seoul, Nomi's story unfolds in San Francisco, a very fitting home for the proud, transgender, lesbian hacker.  Locations include:
Billy Goat Hill, Stairs at corner of 30th St. and Laidley St. – Amanita takes Nomi out for a birthday picnic,
City Lights Bookstore, 261 Columbus Ave. – Amanita works at a book reading.
Clarion Alley, Between Valencia and Mission streets – Nomi tells Amanita about the strange visions she has been having.
"Tales of the City"
Topic now common in today's top-rated shows were revolutionary on a public network in the original 1993 miniseries, based on a series in the San Francisco Chronicle. The 2019 sequel embraced these themes and, with an all-queer writing team, made it a mission to accurately portray LGBTQ life in San Francisco. Locations include:
Macondray Lane, Steps are across from 1832 Taylor St.
"Vertigo"
In a city known for its many hills and scenic overlooks, San Francisco might not be the place for someone with acrophobia, and this is just what makes Alfred Hitchcock's movie a classic.  Locations include:
Fort Point National Historic Site, End of Marine Dr. in the Presidio
Hotel Vertigo, 940 Sutter St. – Featured as the Empire Hotel