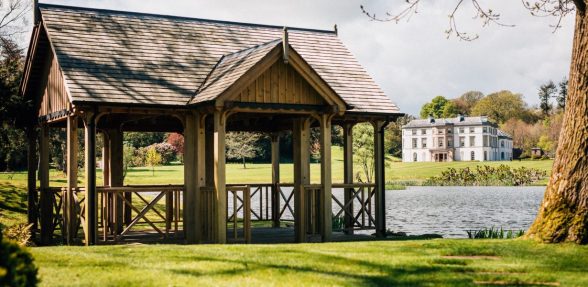 BY TIM HEDGLEY, GROUP TRAVEL EDITOR
A couple of weeks ago I was talking on the William Crawley Show (@williamcrawley  with travel show presenter Joe Lindsay about some of Ulster's hidden gems.
The Montalto estate came up in the conversation and all I knew about it was that it was a wedding venue.
After the programme I received a call from Tracey O'Toole and she asked me to come down and visit Montalto as she thought I was not fully aware of what was on offer.
How right she was, what a stunning location and what a place to visit.
Nestled beautifully in the heart of the picturesque Co. Down countryside, is a privately-owned demesne which dates back to the early 1600s.
In pre-plantation times the estate was originally owned by Patrick McCartan. However, due to his involvement in the 1641 Rebellion, his Ballynahinch lands were confiscated, and in 1657 the townland was purchased by Sir George Rawdon.
Circa 1765, his descendant Sir John Rawdon – First Earl of Moira – built a mansion on the estate: this is the house that we now know as Montalto House.
Sir John's ancestor, Sir Arthur Rawdon – The Father of Irish Gardening – had earlier amassed a large collection of exotic foreign plants at Moira Castle. Many of Sir Arthur's plants were transferred to Montalto when his grandson Sir John moved onto the estate.
The estate has been almost exclusively, a family home since Lord Moira built the first house here. Nowadays Montalto offers visitors the use of 400 acres of rolling Irish countryside, which includes wonderful trails and gardens and a chance to explore this historic demesne and reconnect with nature.
From 1765 there were a number of owners the odd bankruptcies a marriage and a few deaths an American military base and finally in 1995 the estate passes into the Wilson family. The Wilsons being the owners of FG Wilsons engineering company.
Working with local architects Hobart and Heron, as well as John O'Connell – a leading conservation architect from Dublin, specialising in Georgian architecture – they set about a programme of works to restore the house, grounds, and outbuildings to their former glory.
And what a job they have done!
In 2012 The estate's listed 19th-century threshing mill is converted and opens as The Carriage Rooms at Montalto, a high-end, unique wedding venue, which is very much in business today and in 2018 Montalto Estate enters the latest chapter of its history and becomes accessible to the public as an exciting visitor attraction.
June and Gordon Wilson owners of the estate are very private people, they purchased the estate back in 1995 and lived in Montalto House right up until 2009. I'm told its June who has the eye for detail beauty and simplicity she is a true visionary who spends much of her time working with the in-house team and various contractors, to bring to life her ideas of a wonderfully unique 21st-century visitor attraction to life.
Passionate and wholly dedicated to the estate, more than anything else she wants visitors to enjoy its past, delight in its present, and re-visit with family and friends time and again.
Gordon is just as passionate about Montalto as his wife June and regards ownership of this wonderful estate as both an honour and a privilege.
He very much enjoys his role working alongside June and is always willing to do whatever tasks need to be done, to facilitate staff and support June as work progresses on the estate.
Said June and Gordon: The second we set eyes on Montalto over 22 years ago, we both fell in love with it, and we continue to love it a little bit more every day. We both love the tranquillity of the estate and that feeling of being at one with nature. So, while our 'favourite part' changes almost every day, right now 'The Lost Garden' is where we're discovering and uncovering lots of wonderful things that have been hidden away since the early part of the 20th century!
June and Gordon have been fortunate to be able to travel the world extensively but they are both now very content to spend their time living and working on the estate, and developing it as a business. However, with nine fabulous grandchildren all living nearby, there's nothing they enjoy more than spending time with them too.
THE GARDENS
THE ALPINE GARDEN 
With 245 varieties of alpine plants, this is both incredibly impressive visually, and unusually large, according to the Alpine Garden Society (Ulster Group).
Planted over a period of two years with the help of local specialist alpine growers, we are continually developing this garden which is at its most impressive in spring and autumn.
THE WINTER GARDEN 
Relatively unusual in Northern Ireland, as the name would suggest this garden is at its best in winter.
The garden contains a mix of dogwoods and willows for stem colour, and a mix of birch and cherry trees for stem interest, as well as nine large collections of Christmas roses (Hellebores).
With this wonderful mix of winter-flowering, this garden with its wonderfully varied mix of colours and textures perfectly captures the winter mood and atmosphere.
THE CUTTING GARDEN 
This garden contains a number of different nursery beds, all made up of annuals, biennials, perennials and shrubs.
Please note: All flowers in this garden are grown by our team, for cutting; this means that all cut flowers displayed throughout the estate, have been sourced from here. Access to this garden is restricted to special events and workshops.
THE ORCHARD 
Growing through a recently planted Irish native wildflower meadow, this beautiful orchard contains a mix of great croppers and Irish heritage apple trees, as well as an avenue of flowering cherry and crab apple trees.
Please note: The Orchard is only open to the public for specific events and special occasions.
THE WALLED GARDEN 
Accessible to the public when there isn't a wedding taking place on the estate, this stunning walled garden showcases borders of herbaceous perennials, all perfectly maintained to ensure the garden is a wonderful backdrop for wedding photographs.
The garden also contains beautiful water features, including a fountain and cascade pool. It also contains Espalier pear trees along its walls, while the working greenhouse contains a range of pelargoniums and succulents.
Please note: This area is only available at certain times and during special events.
THE FORMAL GARDEN 
Offering wonderful views of Montalto Lake and boathouse, this garden has a defined structure and geometric shapes. It's about simplicity and order, with straight lines, symmetrical patterns and repetition.
To the north of the main house this elegant garden is laid out in a formal manner consisting of six large beds with a buxus sempervirens (box) clipped hedge and includes a mature topiary Laurel umbrella (Prunus lusiticana). In spring these beds are complemented by a vivid display of Tulipa 'Spring Green'.
Please note: This area is only available at certain times and during special events.
FAMILIES
I don't want you to think that this Montalto is just for the grownups it's not, as there are acres of things to do with the children too. At Montalto you can visit and explore this beautiful part of county down, and start building special memories for you and your family, which will last a lifetime.
By opening Montalto to the public, the owners wanted to create a place for active families to go to a place a place where children and adults alike can be inspired, and a place where imagination can take over.
After much careful thought, incredible attention to detail, and an unwavering focus on ensuring that nature remained at the heart of everything, the Wilsons feel they have created somewhere very special, with lots of wonderful and unique features, that you and your family will love.
THE AMAZING TREE HOUSE 
You know you have reached the natural play area at The Low Wood when you see the impressive wooden tree house towering ahead of you. This spectacular tree house was hand-built right on the estate by highly skilled craftsmen.
It is large enough to keep kids occupied, entertained, and active for hours – and don't worry adults, it's large enough for you to join in the fun too.
The Tree House offers a range of exciting activities and areas, including a jungle bridge, a climbing tower, and rope bridges.
So, when you've had enough of life in the treetops, what better way to come back down to earth than via our forest floor slide?
THE NATURAL PLAY AREA AT THE LOW WOOD 
The Low wood also has a custom-designed wooden playground and its sure to keep your children (whatever their ages) amused for hours on end, by fuelling their imaginations through exploration and discovery. This fun and beautiful outdoor environment encourages communication, creativity, peaceful interaction, and real human engagement.
Everything about this area adheres to our philosophy of reconnecting with nature: it's about simplifying – rather than complicating – the concept of play.

So just sit back, relax, and watch your children unleash the power of their imaginations!
THE  WILDLIFE AND NATURE 
As you make your way along the trails and through the estates gardens; you can expect to catch glimpses of the wonderful wildlife the estate has to offer .
Make sure to keep your eyes peeled for some of the more unusual inhabitants of the estate, including woodpeckers, otters, and pine martins, along with the more common mallards, butterflies, dragonflies, foxes, rabbits, squirrels, and common garden birds.
Also, look out for the wonderful array of unusual fungi in the woodlands.
Children learn about nature in school, but there is nothing like exploring and discovering nature first hand, in a fun and interactive way. With a massive variety of trees, plants and flowers there will always be something new for kids to discover and learn about; often without even realising they are learning.
When you visit Montalto, don't be afraid to ask questions.
RAINY DAYS
Our Northern Irish weather means raincoats are always at the ready and at Montalto we love rainy days. Not only is the vitality of our gardens, trees and wildlife dependent on plenty of rain, it also gives us the chance to jump in muddy puddles.
Yes, I know it can be messy, but isn't that the reason children love to do it? It's such a simple pleasure and one we love to see children enjoying.
I'm not sure why exactly, but for some reason, exploring just seems to be so much more exciting in the rain. That's why, even when it's wet outside, don't let that stop you from enjoying a great day out with your family.So, if it happens to be raining when you visit with your kids, pull on your wellies, bring a change of clothes, and remember that dirt is good.
THE FACILITIES 
As a visitor attraction that caters to all different age ranges and interests, Montalto strive to have the full range of facilities needed to ensure that you and your family can have a happy, fun, and safe day out.
Their facilities include baby changing and welly-washing facilities, a baby station in The Cafe at Montalto, lockers, bike-parking, accessible play equipment, and of course, lots of bins and toilets.
WELCOME TO THE CAFE AT MONTALTO 
The Café at Montalto is simply beautiful, it's a delightfully stylish eatery which specialises in simple, traditional, home-cooked dishes that people will love – all served the Montalto way.
I ate at the café on Thursday the 22rd August 2019 and it was a beautifully calming space to be in. Delightful furnishings, beautiful view, a warm welcome and an exceptional furnishings and décor make this without doubt the nicest Café I have ever been in.
The Wilsons are big believers in the principal of Hygge, pronounced Hue Goo.
Hygee is a Danish and Norwegian word for a mood of cosiness and contentment.
This theme flows throughout estate for example Montalto source their ingredients from local suppliers whom they know and trust. Where possible, they also use as much of their own fresh produce, including free range eggs from their clutch of hens, vegetables grown in their beautiful gardens and fresh bread baked from their kitchen including their wood burning oven.
The reason for this is simple: supporting local producers as well as growing their own produce, not only helps to sustain the local economy, it also ensures that they can use the freshest, highest quality, naturally grown produce available.
The Café at Montalto has been lovingly designed to capture the essence of the estate; the wonderful open-plan design and natural-themed decor are intended to complement the beautiful surroundings.
Finally, trees, flowers, and shrubbery are prominent throughout the interior, while many of the eatery's interior furniture pieces have been handmade from trees sourced on the estate.
This 'natural beauty everywhere'design approach ensures a natural, memorable, and thoroughly relaxing dining environment, that's conducive to healthy eating and personal wellbeing.
When you visit the Cafe at Montalto you can expect to find a range of delicious menu options which include homely soups, warming stews, spicy curries, healthy fish dishes – as well as a selection of flatbreads, all cooked freshly for you in their authentic Italian pizza oven.
Because no meal is ever really complete without some sweet indulgence, you'll want to top it all off with a delicious freshly-baked dessert from their patisserie counter.
There is little doubt that once tasted, you will probably want to take something home.
Things To Remember
Montalto want you to have fun.
They are delighted if you want to bring a picnic.
Dogs are welcome at the estate and there is even an doggie exercise area.
The estate is very disabled friendly.
The estate workers are delighted to see you.
There are many special offers and events.
This is not a National Trust property.
Discounts available for online and early bookings
There is a host of more information at :https://montaltoestate.com
Prices
Whatever the reason for your visit, Montalto offer exceptional value for money with concession rates available for children, groups, and seniors.
Membership will be available to purchase from our opening date both online and in person at their ticket office.
*** Open Summer Bank Holiday, 26th August ***
*** Last admission to trails and gardens is 1 hour prior to closing ***
TICKET TYPE
PRICE
ONLINE DISCOUNT – 10%
ANNUAL MEMBERSHIP
Adult
£7.50
£6.75
£37.50
Child (Age 5 – 16)
  £5
£4.50
£25
Child (Under 5)
Free
N/A
N/A
Senior Concession (65+)
 £7
£6.30
£35
Family (2 adults and up to 3 children)
£22.50
£20.25
£90 (up to 6 children)
Mini family (1 adult and up to 3 children)
£15
£13.50
£60 (up to 6 children)
Group – not available online – min 15 adults
Please contact us directly for group bookings
 £6
N/A
N/A