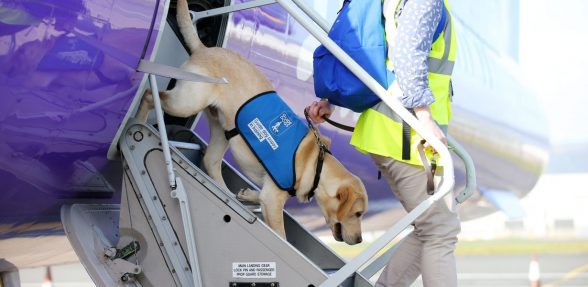 BY TIM HEDGLEY, GROUP TRAVEL EDITOR
FOR many of us flying does not present too many problems, sure it's a pain taking of our shoes and belts off at security but there is a good reason for this and were soon over the inconvenience.
But imagine how difficult the trek would be if you were disabled?
Imagine a blind or deaf person going through Belfast City Airport or someone who has autism, a learning difficulty or a physical handicap, just imagine how daunting that could be for many people in such a situation?
Recently I popped down to George Beat Belfast City Airport to discover for myself what the airport are doing for those less fortunate than ourselves.
Starting at the front of the airport, parking can be an issue, whether collecting or dropping off.
Anyone with a physical disability can spend a long time alighting from his or her vehicle and physically getting to the airport departures area, the extra time it takes can be off-putting.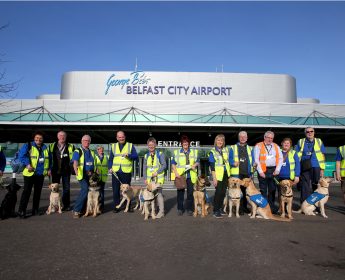 The first thing anyone with an impairment should do is contact the appropriate airline first of all and then if needs be, contact the airport and let them know when you are expected to arrive.
Just as you are about to enter any of the carparks there is an accessibility button you can press on the post that issues your car park ticket. People do miss it but it's there.
When pressed, you will be answered by someone from the accessibility team and they will help you through the airport right through to the plane. So they will assist you at check-in and help you through security, and stay with you if needs be and get you through to your flight.
Now remembering that not all disabilities are visible, security counter staff are trained to deal with many issues that crop up. I say issues because they are not problems, well not for Belfast City Airport.
We deal with missing limbs, colostomy bags, stoma bags, facial implants and much more said Judith, Head of operations.
"We train our staff to an exceptionally high level and in fact we are the first airport in the UK to have low level desks for people who need a lower space to sort out their belonging before and after security.
We have staff to look after the blind the deaf and those who need just a little more time to deal with the noise the airport environment can generate and we are in the process of completing our "support dog toilet".
Part of the work of the airport is to liaise with disability groups and they regularly invite them to feedback how the airports service works for their particular needs.
For example, due to the complexity of getting in and out of vehicles for some people, users can avail of free parking for drop off an pick up.
This is quite something for blue badge holders visiting Belfast City Airport it's such a pity that Belfast International Airport still charge blue badge holders.
When you come to the check-in procedure Belfast City Airport the staff are aware there are some people who may need support for that process.
The airport explained they work with the JAM Card scheme to make the process much easier for some people who need just a little more time to get through processes.
The JAM Card allows people with a learning difficulty, autism or communication barrier tell others they need 'Just A Minute' discreetly and easily.
Those with a communication barrier are often reluctant or unable to tell others about their condition. JAM Card allows this to happen in a simple, effective non-verbal manner.
JAM Card was originally developed for those with learning disabilities and difficulties.
However, it can be used by anyone with a communication barrier.
For instance, people with Asperger's or autism can use the JAM Card.
Those who have a brain injury and people who otherwise feel self-conscious about their ability to effectively communicate when engaging with others can also use it.  For more information visit: https://jamcard.org/
Hidden Disabilities 
Passengers whose disabilities are not always apparent, such as Autism, Dementia or Alzheimer's may find the prospect of travelling daunting.
That's why George Best Belfast City Airport has made available a special lanyard to ensure travelling is accessible and stress-free for all passengers with a hidden disability.
The bright green lanyards are designed to alert airport staff to those passengers who have a hidden disability and who may need additional time or consideration when passing through the airport.
The lanyards are instantly recognisable to all employees, who have received specialised training to effectively support adults and children with hidden disabilities.
The hidden disabilities lanyards can be collected from the Special Assistance desk in the main terminal on the day of travel or in advance of travel.
They are free of charge and do not need to be returned, giving users the ability to reuse them each time they travel through Belfast City Airport.
Stephen Patton, Human Resources and Corporate Responsibility Manager at Belfast City Airport, added:
"We always try to ensure our passengers journey through the airport exceeds their expectations and while we already offer full assistance to those with reduced mobility, the introduction of these lanyards will ensure those with hidden disabilities are facilitated for.
"The lanyards will alert airport employees to those passengers who may require discreet assistance, giving them additional time to not only get through security, but across the entire airport."
Dr Nichola Booth is a Certified Behaviour Analyst at the Autism charity PEAT NI. She said:
"These lanyards will help make airport travel less stressful for families and individuals coming through Belfast City Airport.
For families involved with PEAT NI many have said that having that additional support at the airport can make such a big difference."
Nicola Farmbrough is Station Manager of CCS at Belfast City Airport, the company who assist passengers with disabilities through the terminal. She said: "Our team has been trained to use clear language and to avoid separating those travelling with the lanyards from their friends or family. They are aware of the importance of discretion and want to ensure that Belfast City Airport is accessible for all." The lanyards can be collected from the Special Assistance desk in the main terminal. They are free of charge and do not need to be returned, giving users the ability to reuse them each time they travel through Belfast City Airport.
Click here to read more about Belfast City Airport and the introduction of the Hidden Disabilitiies Lanyards
As you can see the disability assistance Belfast City airport offers does not stop there.
ASSISTANCE DOGS
Assistance dogs are now becoming very popular and as we know, they are not just for the blind.
There are:
And already Belfast city Airport are again ahead of the game on this and they recently have been finishing off their doggy toilet for assistance dogs.
Belfast City Airport realise how unsettling travelling through an airport and boarding an aeroplane can be for a child on the Autistic spectrum, especially when it's a break in their routine and they are unsure of what to expect. It can be a stressful journey for both parent and child.
However, this section will take you on the journey through Belfast City Airport, using videos to explain the stages you will go through. There are 5 videos, each lasting about 5 minutes, describing what you will see and hear on your journey. This allows you and your child to watch different aspects of the airport process. In filming these sequences, we took a 'child's eye' view.
For the rest of the Austism in the Air series, please click here.
The Autism in the Air project was conducted by the Centre for Behaviour Analysis, Queens University Belfast (qub.ac.uk/cba) in collaboration with the PEAT Charity (peatni.org), the George Best Belfast City Airport (GBBCA), and Aer Lingus.
The actors in these videos were staff and students from these agencies who volunteered their time free of charge, to help you and your child.
For more information about this project contact Prof. Karola Dillenburger at k.dillenburger@qub.ac.uk or Nichola Booth at nichola@peatni.org.
So if you, a friend or relative is traveling to or from Northern Ireland and you or they have a disability.
Hidden or otherwise you can be assured that Belfast City Airport are aware trained read and able to assist you on your journey.
As a journalist with a brother who has a number of disabilities can I just thank the city airport for their caring attitude.