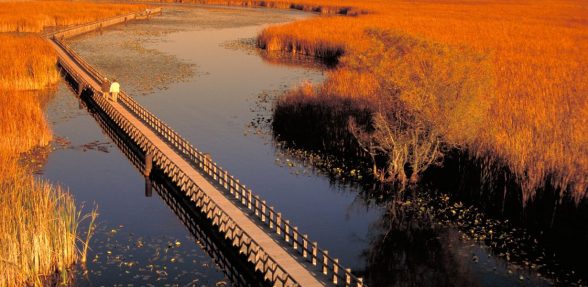 BY TIM HEDGLEY, GROUP TRAVEL EDITOR
From spectacular autumn colours in Ontario's parks and cities to festivals celebrating the best of the season, you'll instantly fall for Ontario! #DiscoverON
Home to 334 stunning provincial parks, 6 national parks and one of the world's greatest wonders – Niagara Falls – Ontario is one of the world's premier leaf peeping destinations with some of the most spectacular fall foliage around.
To see Ontario's leafy splendour in all its glory, the best time to visit is from mid-September to mid-October and, to help you choose where to go, here's a round-up of the destination's top leaf peeping areas.
Mid-September to mid-October:
Muskoka: Consistently voted as one of the best fall foliage destinations in the world, Muskoka is a peaceful haven that offers visitors a chance to relax, switch off and explore Ontario's stunning scenery. Located just two hours north of Toronto, Muskoka spans 2,500 square miles and is home to 1,600 picturesque lakes including Lake Muskoka, Lake Rosseau and Lake Joseph, which provide stunning backdrops to the trees ablaze with golden and auburn leaves. There are many different and exciting ways visitors can experience the fall colours of Muskoka including a scenic cruise aboard the famous Wenoah II or R.M.S Segwun, helicopter tours, ATV tours, zip line excursions, as well as kayaking and canoeing adventures. In Huntsville, one of Muskoka's largest towns, Big Bend Lookout and Stubbs Falls at Arrowhead Provincial Park, as well as Lion's Lookout Trail, are unmissable for keen leaf peepers with some of the best displays in Ontario. One of Muskoka's most quintessential autumn festivals takes place at the Johnston's Cranberry Marsh every October. The Bala Cranberry Festival lets visitors get involved in all the action as they don their own waders and head into the marsh.
Haliburton and Kawartha: Located just under one-and-a-half hours' drive from Toronto, Kawarthas and nearby Haliburton – a two-and-a-half hours' drive from Toronto and four-and-a-half hours' drive from Ottawa – offers a gateway to Ontario's beautiful wilderness.
The area provides holidaymakers with the chance to discover beautiful lakes and forests ablaze with golden, red and orange hues, as well as a chance to appreciate Ontario's cottage country in all of its glory. One of the best ways to experience the fall colours here is to embark on a canopy tour in Haliburton Forest.
This canopy walk is more than half a kilometre long, making it the longest of its kind in the world, and is suspended 10-20 metres above the forest floor, offering spectacular views across the lakes and tree tops.
There's also The Haliburton Sculpture Forest for culture vultures and the Haliburton Wolf Centre for animal enthusiasts, where travellers can learn how to howl with the pack.
In Kawartha, there are a number of lake cruises for visitors to choose from which offer a different perspective to the foliage and Fleetwood Creed Natural Area also offers fantastic leaf peeping with a number of lookout points and hiking trails.
1000 Islands: 1000 Islands is an area of outstanding natural beauty, especially during the autumn months.
Visitors can embark on a cruise of the 1000 Islands (until mid-October), and experience the majesty of the St. Lawrence River and Millionaire's Row before soaring above the tree tops on a scenic helicopter tour.
Nearby Kingston is also definitely worth a stop with its famous Farmer's Market and Penitentiary – a former maximum security prison – which has been designated as a National Historic Site of Canada, with tours now available.
Algoma Country: Nestled in Northern Ontario, and one of the province's best kept secrets, Algoma Country offers breathtaking scenery at any time of the year, but especially during the autumn months. Some of Algoma's best autumn scenery can be found at Wakami Lake, Aubrey Falls and Lake Superior – the world's largest freshwater lake. Avid leaf peepers should also consider boarding the Agawa Canyon Tour Train, which departs from Sault Ste. Marie. This one-day wilderness train tour takes visitors 183km north along pristine northern lakes and rivers to Agawa Canyon, across the unspoiled landscapes of the Canadian Shield which have inspired some of Canada's most notable landscape artists, The Group of Seven. This adventure is truly off the beaten path for those seeking an escape from city life. Elsewhere in Algoma, culture vultures can enjoy a trip to the ruins of Fort St. Joseph National Historic Site and walk the nature trails of this remote outpost, soaking up the fall colours as they go. The Agawa Rock Pictographs are also of note for those interested in the history of Canada's Indigenous people and the history of Ontario.
Ottawa: Canada's capital has a wealth of culture and history to offer visitors, as well as of course, some spectacular autumn colours.
The city's centre is located around the majestic Parliament Hill with its grand Victorian architecture and museums including the National Gallery of Canada and the park-lined Rideau Canal which is set ablaze with colour during the fall months. Those looking for a unique view can take a bi-plane ride over the city to see the colours from above.
Mid-October to mid-November:
Niagara: Autumn is the perfect time to visit Niagara as its verdant trees turn vibrant shades of red, orange and yellow. Niagara Falls is framed by Canadian Maples and one of the best ways to appreciate the beauty of the fall landscape is to jump aboard a helicopter and take a tour of the area, soaring over the falls and changing leaves. An alternative way to experience the autumn hues is to visit WildPlay's recently launched 200ft-high zip line which propels tourists more than 40 miles per hour along the edge of the vast river gorge. WildPlay also have a number of different Aerial Adventure Courses on offer here complete with log ladders, ziplines, cargo nets, rope swings, tightropes, swinging logs and wobbly bridges. Nearby Niagara-On-The-Lake, just 90 minutes' drive from Toronto, is charming, especially in the fall.
Visitors can enjoy horse-drawn carriage rides, picturesque B&Bs, vintage shops and of course wineries. Noteworthy wines in the region include Inniskillin, Peller, Stratus, Southbrook and the Ice House Winery. Whilst here, holidaymakers should not forget to taste Ontario's famous ice wine, produced when grapes are harvested whilst frozen on to vines in temperatures colder than -8oC.
Blue Mountain: A charming lakeside resort offering a wealth of activities including caving, kayaking, climbing, e-biking, hiking and scenic gondola tours, Blue Mountain Resort and the surrounding area form part of the Bruce Trail – Canada's oldest and longest footpath, spanning nearly 900km along the Niagara Escarpment.
There are numerous parts of the trail visitors to the Blue Mountains and Collingwood can explore, and one of the best ways to see the fall foliage here is to take a walk over the suspension bridge at the Scenic Caves. There's also the Blue Mountains Apple Harvest Festival, which takes place on Canadian Thanksgiving (12th – 14th October 2019).
Toronto: Visitors to Toronto also have a number of exciting opportunities to see some of Ontario's autumn colours whilst checking out the sights of the city including the CN Tower and Edge Walk, Ripley's Aquarium of Canada, the Royal Ontario Museum, Kensington Market, The Distillery District and Toronto Islands.
The best time to see Toronto's fall colours is mid-October when the city's parks and ravines are set ablaze with fiery reds and saturated yellows. Some of the most spectacular places to visit include Glen Stewart Ravine, Moore Park Ravine, Humber Valley and High Park.
Scarborough Bluffs is particularly stunning with the azure Lake Ontario set against a backdrop of colourful leaves. Rouge Park, Canada's first national urban park, is also unmissable for fall foliage.
Brimming with nature, biodiversity, beaches and farms, and offering activities such as hiking, Rouge Park offers some of the best leaf peeping in the Greater Toronto Area.