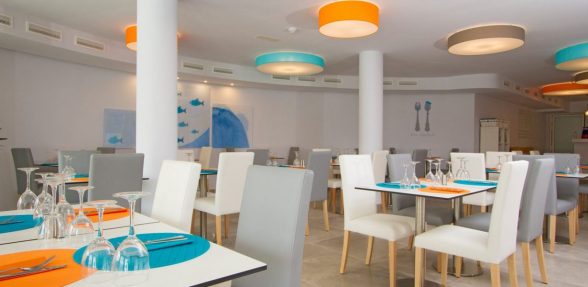 BY TIM HEDGLEY, GROUP TRAVEL EDITOR
AQUA Suites www.aquasuiteslanzarote.com/in Puerto Del Carmen Lanzarote, is not your typical accommodation offering in the Canaries.
It's a bespoke Family Boutique style Hotel, and it's not just for adults as so many are!
Geraldine McFadden has worked in the travel industry for a number of years.
She was part of the original cabin crew when Ryanair set up and was also part of the original start up team on Virgin City Jet and further to that she did some time with Aer Lingus too.
On the ground Geraldine worked as a travel rep in Mallorca and Malta and for the past 7 years has been in Lanzarote. So, Geraldine knows her business and she knows how to provide what the customers want.
Geraldine decided to provide an accommodation product that was created based on what she looked for when going on holidays with her children. Unfortunately, she could never find something that ticked all the boxes.
Says Geraldine:
"I felt almost penalised when the kids were younger. All that seemed to be available were mediocre Hotels with large buffets and inferior food. Even when we went 5 Star, the option was a room with a bed in the main room for kids. No privacy and the children saying please switch off Light / TV, we want to sleep."
So, Geraldine came up with Aqua Suits.
Aqua Suites a 4 star boutique hotel in Puerto del Carmen, Lanzarote that places an emphasis on delivering great food and friendly service in an intimate and friendly setting. Just some of their great features include:
Comfortable spacious rooms
Junior Rooms for Adult or 2 Kids
Swimming Pool & Kids Pool
Large Heated Jacuzzi
24 Hour Reception  Desk
From arrival to departure, the guests will feel that they are at home. They will be treated as family.  Aqua Suites is the perfect hotel for a family holiday in Puerto del Carmen.
When Geraldine pitched the idea to tour operators she was told she had got it all wrong and that Boutique Hotels are only for adults.
Well her guests would tend to disagree!
Out of 90 hotels listed on TripAdvisor for Lanzarote, Aqua suites are number 2.
They have had over 830 reviews and practically all of them are excellent and the property is rated as 5 out of 5 and Excellent.
I wanted to see what all the fuss was about so I sent a family from Belfast for a week to discover the charms of Aqua suites.
Shelly McCord and her family flew out during the Easter holidays and just raved about the place.
Said Shelly.
It was an amazing space for the family. We stayed for a week during Easter and the hotel was fantastic. Beautiful food and very flexible dining made it so easy with the children. You can switch evening meal for lunch and the quality of both is great.
The meals are all prepared fresh and served to you, so no queuing and picking through remains of buffet trays as you see in many other hotels.  
Another welcome touch was that the safe was free (Only a refundable deposit required), most other hotels on the island charge a small fortune for them, and bottled water was supplied free each day.
Our room had a large balcony with 2 sunbeds meaning you can relax at your room and not have to worry about getting a sunbed at the pool (but the pool always has beds free).
The staff were exceptionally friendly and could not do enough for us. Even the maintenance man who saw us carrying our cases down the steps rushed up and took both of them for us. I was more than impressed
Our room was upstairs and overlooked the pool. It was cleaned daily and towels replaced as requested, pool towels are also supplied to your room and can also be replaced as required.
Once again a great friendly place to stay, it is a credit to the staff and management (Not forgetting the maintenance man of course) .
Food is so important in Aqua suites.
Shelly explained, "The Menu changes 
every day and there is the option of switching to have lunch instead of dinner which can be really useful. During the school holidays they have 2 restaurants open, the second one being aimed at families with younger kids. They have nightly entertainment also during holidays and it's all geared towards families, we had an amazing time and we really loved the place"
I asked Shelly about her family's accommodation and she explained.
"Our room was bright lean and airy, and our bathroom was beautiful large walk in shower the whole suite was gloriously clean and it was the best family room I have ever had. Air conditioned, spacious and a pleasure to sleep in. I just couldn't fault it.
My children loved the food and we had an absolutely fantastic time, I'll be back for sure.
I have had a good look through TripAdvisor and it's clear that the customers really love Aqua suites said Candy from Oxford:
This was our third visit to Aqua Suites and, even with my picky standards, it didn't disappoint. I travelled with my 5 yo daughter on my own and it was the easiest and most enjoyable trip ever.
The transfer from the airport is swift and easy and once there, well … you just kick back and enjoy. The rooms are immaculate. The attention to detail is superb. Not many places where welcome beer and wine are supplied and also fresh/bottled water daily! The food is delicious. The menus cater for everyone at the highest level.
The staff are the most friendliest and efficient that I've met. Geraldine the GM is on site each day and what she doesn't see herself she finds out. Nothing is too much of a problem for the team. Easy walking distance (even with lazy bones 5 yo) to beach and all the restaurants/bars and shops. Highly recommended.
So, there you have it folks, if you're looking for homegrown hospitality in the sun, then surely it has to be Aqua Suites, Lanzarote