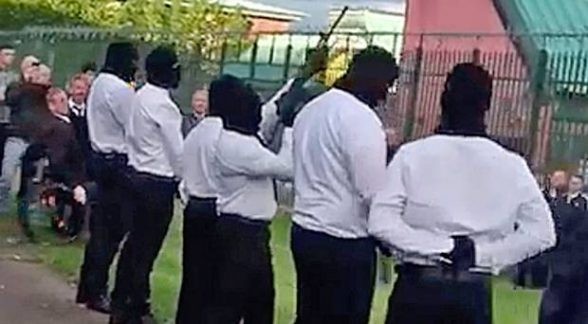 DETECTIVES  investigating shots being fired in the Divis area of west Belfast on Monday, 20th May have arrested a 61-year-old-man under the Terrorism Act. 
Members of the INLA fired shots into the air following the suicide of one of its members, convicted child killer Martin McIlKerney.
He died after shooting himself in Milltown cemetery.
Police say the suspect was arrested in the Belfast area this morning (Saturday 29th June) on suspicion of membership of a proscribed organisation and is being questioned in the Serious Crime Suite at Musgrave Police Station.
Detectives also conducted a search of a property in the Dunmurry area yesterday (Friday 28th June).
A number of items seized were taken away for examination.
Detective Inspector Stephen Harvey  said: "The scene at Ross Street on Monday 20th May, of a man shooting a weapon into the air, was not only shocking and reckless but also a criminal act, which was carried out by those who seek to control communities through fear of violence.
"The investigation into this incident is ongoing and police continue to appeal to anyone with information to contact police on 101 or alternatively, information can be provided anonymously by contacting the independent charity Crimestoppers on 0800 555 111."