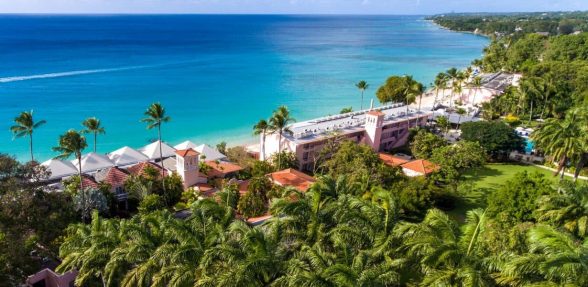 BY TIM HEDGLEY, GROUP TRAVEL EDITOR
Following a multi-million-dollar renovation, the Fairmont Royal Pavilion has dramatically changed the hotel's guest rooms and raised the bar for luxury vacations in Barbados. 
I stayed at the Fairmont recently and found it to be a most agreeable location for some well-earned holiday time.
The Hotels History
The Fairmont Royal Pavilion was formerly The Miramar Hotel, which was built in the 1940s as the first hotel to be constructed on the West Coast of Barbados. At this time, the property comprised just twelve rooms. The resort was originally built adjacent to the winter estate of Sir Edward Cunard, scion of the Cunard family, owners and operators of the renowned Cunard Steamship Company and originally The White Star Line of Liverpool, England.
In 1987, Lynne and Mike Pemberton, the 'power couple' from UK society, bought The Miramar. They were featured across Europe in society and lifestyle magazines and launched the Barbados chapter of the Variety Club International in 1995 by hosting a garden tea party auction at Glitter Bay.
Guests included Joan Collins and Lord Banfield, and watercolours by Prince Charles were sold to raise in excess of $40,000.
In 1985, Queen Elizabeth visited the hotel, travelling with Concorde from the UK.
In 1987, Mike Pemberton took the decision to redevelop The Miramar into the luxurious Royal Pavilion. Following a miraculously short renovation, the doors opened in December 1987 – just in time for Christmas. The hotel was acquired by Princess Hotels in February 1996 and then became a Canadian Pacific hotel, following the merger of these two brands in 1998. In October 1999, following the acquisition by Fairmont Hotels and Resorts, the property was renamed The Fairmont Royal Pavilion.
The Fairmont Royal Pavilion is situated on one of the most appealing of all Caribbean shorelines – the famous West Coast of Barbados. The site was discovered and named at the turn of the century by prominent Barbados businessman, George Manning.
Located right at the beachfront on an 11-acre estate in the parish of St. James, the resort is set on the incomparable west coast of Barbados, overlooking the Caribbean.
The Fairmont Royal Pavilion has been described as understated sophistication, on the beach and this world premier resort has built up an enviable position for service and luxury.
The pale pink facade has an intimate European style and is set amidst exquisitely landscaped gardens with tropical flowers, water features and fountains.
The hotel is situated 32 km (20 miles) from the airport and 12.8 km (8 miles) from the capital city Bridgetown, and a half-mile from the nearest shopping centre in Holetown.
One of the main features of the hotel is its wonderful gardens and any visitor to this amazing space should take time to explore.
THE GARDENS AT THE FAIRMONT ROYAL PAVILION
The island of Barbados is known for its British traditions, tropical scenery and beautiful gardens. The renowned landscape architect Fernando Tabora designed the gardens. Born and raised in South America, Tabora was also involved in designing the Parque Del Este in Caracas, Venezuela, and the Aterro Do Flamengo Park in Rio de Janeiro, Brazil.
In 1968, Tabora and his partner, John Stoddart, received the National Venezuelan Award for Landscape Architecture. Tabora is still consulted on landscape design at Fairmont Royal Pavilion to this day.
Tabora landscaped the properties by blending natural tropical beauty with Mediterranean style architecture. Much of the greenery and tropical buds offer shading, creating a feeling of privacy among the intimate courtyards, water features and larger public areas, many of which overlook the Caribbean Sea.
The Fairmont Royal Pavilion features open-air atriums and pathways that are covered in Petrea Volubilas, a vine bearing purple and white flower.
Leading off the open pathways are the ocean-facing guestrooms on one side, and secluded gardens on the other where guests can escape enjoying tropical breezes and the scent of tropical flowers. The property features several picturesque ponds where a variety of lilies float, including the white and red water lily, with the latter only blooming at night. The estate's entire flora is native to the region.
Among the diverse greenery are more than 100 coconut trees; over 50 palm trees including Golden, McArthur and Sago; mango, breadfruit, cherry and banana trees; multi-coloured Frangipani trees; and numerous flowering plants.
Many of the trees and flowers have become rare specimens and offer interesting tales. When the Portuguese explorer, Pedro a Campos, charted the island in the 17th century, it was uninhabited.
As the sailor took in the lush tropical surroundings, he spotted figs trees with clumps of bushy roots that resembled beards hanging from branches. From that came the name Barbados, which in Portuguese means "the bearded ones". Another interesting tree is the Traveller Palm whose leaves hold water. For centuries, thirsty adventurers have broken off the leaves to drink. The Bird Claw, another Bajan native, is a vine that wraps itself around the trunk of trees and creeps its way to the top.
It only flowers once a year in June producing a profusion of beautiful yellow flowers that cover the length of the vine and the entire tree trunk.
Top Tip
For guests who want to learn more about the gardens at The Fairmont Royal Pavilion, botanical tours are conducted every Wednesday from 10:00 a.m. to 11:30 a.m. by one of the nursery supervisors.
Arrival
Arriving guests of Fairmont Royal Pavilion are now welcomed into a newly enhanced lobby with distinctive enhancements, including a small bar attended by mixologists pouring locally-inspired signature cocktails and more, before beachfront and Caribbean views.
The pink hues already featured throughout the lobby have been maintained, hearkening back to the hotel's original terracotta, to ensure a memorable arrival experience for new and returning guests alike.
The entrance to the hotel is via a long avenue lined with beautiful palm trees, that have by all account, been there for over 100 years.
The entrance to reception is reminiscent of a colonial building and in fact it was the main house of a sugar plantation in years gone by. Grandeur, opulence, style and elegance are all incorporated into this stunning property and it oozes it in abundance.
After the bellmen have spirited away your bags you are cosseted into an airy reception with a gentle breeze and wafted towards a glass of bubbles, be it champagne or water.
A quick check of passports and off to your room.
Bedrooms
The hotel boasts 71 beachfront rooms and suites and with a near 100% occupancy rate it's not hard to see why, when your door is opened to your luxurious living space.
My oceanfront room had it all.
A view to rival any hotel I have ever stayed in anywhere. Crisp white linens, fluffy towels, a chaise longue, armchair and a spinning day bed to ensure you don't miss any of the pure yellow sunshine. Soft close drawers, mini bar, iron and board, safe, bedside reading lights, ceiling fan, and artic cool air conditioning all add to the feeling of space and luxury in what epitomises 5-star luxury living.
The Fairmont Royal Pavilion has set the bar high in terms of service. Trust me, they produced a hotel experience that provides faultless understated elegance in every step you take.
It's not hard to see why so many people pop down to the WINDIES as they are known, from Florida just for the weekend.  I spent two days there and it seemed like I had been on a month's holiday. Well, I did have a full butler service to make my life so much easier. Dawn our butler was a mind of information, from where to snorkel with turtles, where to eat, attraction tickets, taxis, local buses and so much more!
For although the hotel provides world-class cuisine the management are aware there are local providers outside the charming grounds of the Fairmont that also need to earn a crust. The butler service tries every restaurant they recommend and if it's not up to scratch it won't feature in the hotels 'where to eat guide'.    As a member of staff explained to me:  "We don't just care about our guests experience on site, we encourage them to venture out and eat local.  Barbados has such an eclectic mix of food it's important to us, that our guests to have the best experience possible when visiting Barbados. If that means eating out then we are here to ensure the guest gets the best the Island has to offer".
Now that is some ethos for a 5-star hotel to have. Wow, how refreshing is that for a hotel to actively encourage eating out so the guest experience is enhanced. For years I have harped on about multinational hotel chains grabbing every penny out of a customer they can. All-inclusive deals kill off local economies and restaurants so Well done Fairmont Royal Pavilion I take my hat off to you.
The Rooms
Spotless clean beautiful rooms in amazing surroundings give this hotel an air of understated elegance. The hotel realises you're in the Caribbean so the dress code is relaxed a little. Life's too short to worry about a dress code it's 30oC most days and with that tempting breeze why bother? The guest room level of luxury has been further elevated by the introduction of new functionality, including cutting-edge lighting technology, flat-screen televisions, state-of-the-art joinery, and dazzling bar sets.
Natural woods and tones were used to brighten interiors, which have been re-arranged to make the best possible use of their space. For instance, Junior Suites are more flexible than before, offering a curtain that can be drawn to increase guest privacy by creating two different areas within the same room.  Of course, all guest rooms and suites within Fairmont Royal Pavilion offer fabulous views of the beach and the sea, especially upper-level rooms, from which guests can glimpse the waterline blending with the horizon.
Whatever the level, all guest decks have been redesigned into "chill- out spaces" with day beds for luxurious relaxation.
The Bathroom
How many of us love checking out the bathroom space when we check into a hotel? It's more common than you might expect and a bathroom can be a deal breaker!
Get this wrong and no matter how delightful your room, it can all go pear-shaped if you ignore the Bathroom offerings in a luxury hotel. A number of years ago the Fairmont group of hotels introduced Rose31 by Le Labo and boy was it a success.
Rose 31 love it and then love it even more.
Rose31 has been described by Liberty of London as a gorgeous unisex fragrance based around the distinctive aroma of the beloved Grasse rose. This one-of-a-kind scent features warm, spicy and woody notes from rose, cumin, cedar and amber which blend together for a delicious and memorable olfactory experience.
Shower gel, shampoo and the conditioner are all amazing products and then you try the body/hand cream and you are sent straight to heaven. Rose 31 has been such a success story. I have never heard of a guest that didn't like it. Now, who takes the bathroom products home, Well I do and if there is an afternoon change.
Great Service
Service at the Royal Pavilion is slick, quick and efficient but you don't notice how good it is until you have gone.
Staff greet every guest with a smile and a good morning or afternoon, and they are genuinely glad to see you.
On-site activities engage sophisticated travellers throughout their stay, from complimentary non-motorized water sports to tennis on outdoor courts, and the not-to-be-missed Afternoon Tea served in the open air at Taboras restaurant.
Water sports, in general, are complementary, food for 0-5ys free and from 5-11 50% off. Free Wi-fi
All the guest rooms take advantage of their beachfront location and provide each guest some of the most amazing views and most luxurious furnishing on the island.  Boasting the ultimate location on the Platinum coast of the island, The Fairmont Royal Pavilion, is setting new standards of ultra-luxury in the Caribbean and beyond, retaining a sense of serene seclusion with a unique beachfront position unlike any other resorts on the island.

All Fairmont guests enjoy the following complimentary amenities and services:
Daily full buffet breakfast for two at our beachfront alfresco restaurant
Platinum Fast Track Service – Airport Concierge to expedite transit through Customs and Immigration
Weekly Manager's cocktail reception
Once per stay Afternoon Tea credit (repeated after 7 nights)
All non-motorized watersports
High-Speed Wi-Fi throughout the resort
Outdoor tennis courts lit for night play, including use of racquets and balls
Fitness room, with state-of-the-art equipment and beautiful ocean views
Daily activities including our seasonal swim with the turtle's experience. See concierge for dates as they are a migratory species*.
Parking
Children 12 years of age and under stay complimentary including all of the above services and amenities when sharing with parents (Note that fees apply for a third person 13 years of age and older sharing guest room)