BY TIM HEDGLEY, GROUP TRAVEL EDITOR
A new 'Titanic' mural, which celebrates Belfast's heritage, will be unveiled at Titanic Belfast tomorrow to Bark the anniversary (31st May 1911) when the famous ship was launched, drawing a massive crowd of over 100,000 people from all over the world to the banks of the Lagan.
The mural which has been a collaboration between leading local artists Terry Bradley and Friz, aims to attract crowds by shinning a spotlight on the city's history, as well as its contemporary art movement.
The recreation of Terry Bradley's 'Docker's Rest' is located at Hickson's Point, Titanic Belfast's newest shipyard themed hospitality space, which serves up traditional music, food and drink for locals and visitors alike.
The mural is appropriately placed as it depicts men from the Sailortown and the docks and showcases Belfast's maritime heritage as well as traditions of murals and hospitality in the city.
Terry Bradley, commented, "This has been a great project to be involved in with Friz. I have painted the working men of Belfast for a long time now, portraying their strength and character.
"I grew up in Belfast and was very aware of the wall murals around where I lived, to be able to tie in with that background but with a positive rather than political message has been very important to me as an artist.
"The reproduction of the piece by Friz looks amazing and we're both very pleased with it.
"The appropriateness of the artwork at Titanic Belfast lies in the background of the whole area.
"My art celebrates Belfast, its people and its achievements. Titanic Belfast is synonymous with contemporary Belfast, therefore there couldn't be a better place for this piece"
Friz said: "Belfast has a strong ship building heritage, an industry that created many jobs for the people of the city. Terry Bradley's piece 'Docker's Rest' depicts some of the characters that could have populated this world. It was a pleasure to recreate it in such a fitting and iconic location."
Laura Cowan, Head of Product Development at Titanic Belfast, added "Titanic Belfast not only explores the sights, sounds and stories of Titanic, but also celebrates the City and people that made her – therefore we are proud to be home of the joint collaboration by Terry Bradley and Friz.
"Like us, the mural combines the past with the present and showcases the spirit of the Shipyard is still alive in Belfast today. We have no doubt that is will be a favourite focal point for visitors to both Hickson's Point and Titanic Belfast."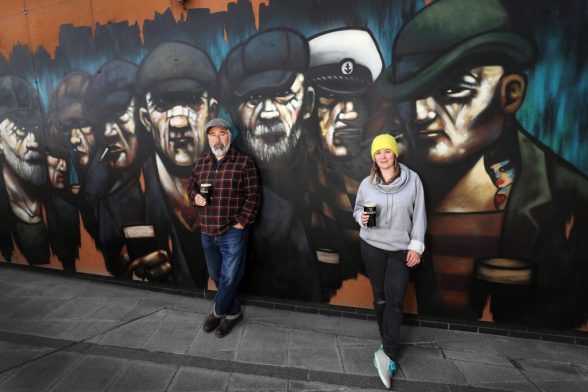 The visitor attraction continues to go from strength to strength, having welcomed over 5 million visitors from over 145 different countries and hosted over 2,500 business and leisure events. The mural is the latest piece of public animation after the Glass of Thrones installations. For more information visit titanicbelfast.com.
About Titanic Belfast
Titanic Belfast is an iconic six-floor building featuring nine interpretive and interactive galleries that explore the sights, sounds, smells and stories of Titanic, as well as the City and people which made her.
It is the World's Largest Titanic exhibition and was recently crowned the World's Leading Tourist Attraction at the prestigious World Travel Awards.
The building houses temporary exhibits, a banqueting suite, education and community facilities, catering and retail space, and a basement car park. Visitors learn about the construction of RMS Titanic and the wide and rich story of Northern Ireland's industrial and maritime heritage.
Supported by the Northern Ireland Executive, Titanic Belfast is a unique public/private partnership funded by the Northern Ireland Tourist Board, Belfast City Council, Belfast Harbour and Titanic Quarter Ltd. It is operated by Titanic Belfast Ltd and owned by the Titanic Foundation Ltd.
Titanic Belfast: www.titanicbelfast.com
Belfast City Council: www.belfastcity.gov.uk/events/Event-36148.aspx
Visit Belfast: www.visitbelfast.com
Titanic Quarter: www.titanic-quarter.com/news-events
Tourism NI: www.tourismni.com
Titanic Foundation Limited: www.titanic-foundation.org