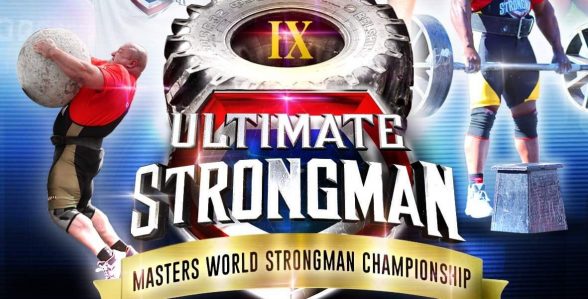 BY TIM HEDGLEY, GROUP TRAVEL EDITOR 
This May sees some of the world's greatest strongmen arrive in Belfast for the Ultimate Strongman Master World Championship 2019.
Over the weekend of May 25th-26th, 12 legends of the sport will compete in a variety of back-breaking events, from deadlifting cars to truck-pulling, in a bid to be crowned the 2019 world champion. This family-friendly event for fans of all ages takes place at Belfast's historic Crumlin Road Gaol, but this isn't the sport's only link with history.
The Olympic Games supplied one of Strongman's most recognisable events. Visitors to Greece's Archaeological Museum of Olympia can view a stone more than 2,000 years old etched with the inscription, 'Bybon, son of Phola, has lifted me over [his] head with one hand.' Considering the stone weighs over 140 kilograms, this is quite a feat, and you can appreciate why modern-day competitors are keen to outdo their historical counterparts by lifting ever-heavier atlas stones.
Other ancient sporting contests have provided inspiration for strongman events. During the Highland Games, clans of burly kilt-wearing Scotsmen lifted the trunks of felled trees, known as cabers, to see who could throw them the furthest.
Caber tossing still makes the roster of many modern strength competitions, and was one of legendary English strongman Geoff Capes's personal favourites.
While history is full of examples of men testing their strength against each other, it wasn't until 1977 that a formal competition was established to crown a champion.
As the sport continued to gain popularity, several other strongman competitions emerged. National events appeared that opened the field to a wider range of competitors, including women, and younger and older athletes.
Glenn "The Daddy" Ross is a former Mr Ireland, and multiple UK and Britain's Strongest Man winner, who has used his experience of strength events to run his own competition, Ultimate Strongman.
Established in 1992, the event has grown in stature each year, attracting spectators from all over the world, and regularly achieves television audience figures of close to 3 million viewers.
In recent years, Ross has responded to the growing demand for public exhibitions of strength by expanding the Ultimate Strongman brand with several other events.
Ultimate Strongman's Master World Strongman Championship pits legendary strongmen against each other, and this year's contest gives audiences a chance to see such giants of the sport as four-time World's Strongest Man Žydrūnas Savickas, and previous Masters title-holder Mark Felix take on the USA's Ken McClelland and Johan Els of South Africa.
The event kicks off at 1pm on Saturday 25th May, and reaches its conclusion at 5.30pm on Sunday 26th May. The contenders will be split into two groups of six who will test their strength through a gauntlet of gruelling events including Truck Pull, Super Yoke, Car Deadlift Medley, and Eliminator. The eight highest scorers will then progress to Sunday's final, where they'll enter a showdown to determine who will be crowned the Ultimate Strongman Master World Champion.
2019's event is being hailed as the championship's most competitive yet, and promises to be an impressive spectacle.
Tickets are available for adults and children, and can be booked at https://www.eventbrite.co.uk/e/ultimate-strongman-masters-world-championship-tickets-51543619353