IT'S week three of Tourism Ireland's 2019 Game of Thrones campaign and the latest 'Glass of Thrones' has been revealed in Belfast today (Tuesday, 30th April) – at the Lagan Weir.
Tourism Ireland's colourful new Game of Thrones fan trail is appearing around Belfast as the final series of the epic drama unfolds.
A new stained glass window – or 'Glass of Thrones' – is being unveiled each week, highlighting a key House from the show.
This week's window is all about House Baratheon: from poison, magic and wild boar wrought regicides, to the war-hammer wielding king, the window represents the fans' favourite, most shared and most discussed Baratheon moments.
The Tourism Ireland campaign is promoting Northern Ireland, and our Game of Thrones connection, to millions of fans in ten markets right now – including Great Britain, the United States, Canada, Australia, France, Germany, Spain, Italy, the Netherlands and Scandinavia.
The 'Glass of Thrones' trail – immortalisin the show's epic battles, fire-breathing dragons, ice-blue White Walkers and blood red weddings – is one more reason for fans from all over the world to visit this place where much of the phenomenally successful show was filmed.
Tourism Ireland's first 'Glass of Thrones' is located opposite the entrance to Belfast City Hall and the second installation is at the Waterfront Hall.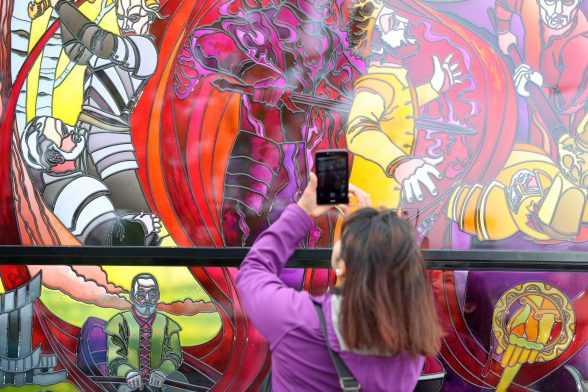 #GlassOfThrones