LOCAL convenience retailer Centra is encouraging people across Northern Ireland to get up and running with the launch of its annual Run Together series, which returns bigger and better than ever for 2019.
Centra Run Together encourages people to get active by running, jogging or walking with a friend, kids, or even the family dog, through a series of free 5K runs in towns and cities across Northern Ireland, whilst raising vital funds for Action Cancer.
Building on the success of the initiative over the last three years, this year's Run Together series hopes to make an even bigger impact, with five events taking place in Enniskillen, Bangor, Derry~Londonderry, Armagh and Belfast between May and October 2019.
For the first time, a more challenging 10K race at Ormeau Park, Belfast will be added to the series, aimed at those seeking to take their running journey to the next level.
The exciting 10K event will act as a big finale, ending the series on a high during Centra's annual fundraising week in October.
It is hoped the grand finale, which will include a 5K and a 10K route, will raise over £20,000 for Action Cancer, as Centra edges closer to its major £3million fundraising target for the charity.
As in previous years, the regional 5K events are completely free to enter, with participants encouraged to make a donation to Action Cancer in lieu of an entry fee.
For the finale at Ormeau Park, a small entry fee will apply to both the 5K and 10K races, with 100% of the fee donated to Action Cancer.
The Centra Run Together series is designed to encourage people of all ages and abilities to adopt an active lifestyle and get up and run together.
Runners are encouraged to enter the race in pairs, motivating families to participate together.
Everyone that takes part will receive a free T-shirt, bespoke Centra Run Together medal, a free lunch and tasty samples courtesy of Deep RiverRock, Müller, Alpro, Fridge Raiders and Fulfil. On the day, there will also be face painting and entertainment for all the family.
 Centra Run Together events will take place in five locations throughout 2019:
Lakeland Forum, Enniskillen 5K – Sunday 12 May, 10am
Ward Park, Bangor 5K – Sunday 9 June, 10am
Queen's Quay, Derry~Londonderry 5K – Wednesday 12 June 2019, 7pm
Palace Demesne, Armagh 5K – Sunday 15 September, 10am
Ormeau Park, Belfast 5K & 10K – Sunday 20 October
Commenting on the launch, Jennifer Morton, Centra brand manager, said: "The Centra Run Together series has established itself as a popular part of our Live Well initiative, and we are excited to introduce a brand-new Run Together 10K event in 2019.
"As social running continues to grow in popularity, people are increasingly progressing from 5K runs to the more challenging 10K routes and we wanted to reflect this in our series, whilst still offering an opportunity for new runners to participate, run together and have fun.
"As always, our aim is to encourage as many people to get up, get active and embrace the community spirit of the series, whether they are a frequent runner or a first-timer.
"Once again, we are delighted to have Deep RiverRock back on board as our title sponsor.
"With their help, we look forward to building on the success of previous years and raising even more money for Action Cancer in 2019."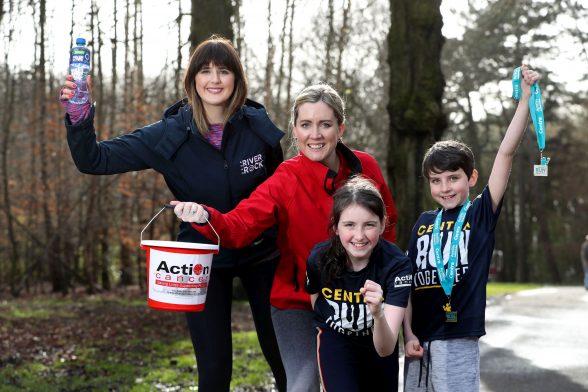 Orla McKenna from Deep RiverRock said: "On behalf of Deep RiverRock, a much loved locally sourced water from Northern Ireland, we're are delighted to be involved in the Run Together series once again this year.
 "Deep RiverRock's 'Thirst For Better' platform is about connecting people in their collective pursuits, and fostering great community spirit; a message that resonates perfectly with Centra's Live Well campaign.
"We look forward to supporting those new and seasoned runners to come together and have some fun, while getting active."
For further information and details of how to register visit www.centra.co.uk/runtogether or the Centra Facebook page, www.facebook.com/CentraNI