THE PSNI has confirmed that three young people have died  following reports of a crush as people tried to get into a St Patrick's Day disco in Cookstown, Co Tyrone.
Police said two 17-year-olds and one 16-year-old had died in the incident at the Greenvale Hotel.
PSNI Assistant Chief Constable Mark Hamilton confirmed the three teenagers who died were a 17-year-old girl, a 17-year-old boy and a 16-year-old boy.
A 16-year-old girl is in a stable condition in hospital.
Two further two teenagers were treated for injuries they suffered during the incident.
Speaking at the scene this morning, Mr Hamilton said that "preliminary investigations show there was a crush towards the front door of this hotel.
"There looks like there was a large crowd of young people pushing up against the hotel.
"People then seem to have fallen and then got crushed. I would urge you to use that with some caution. Certainly it appears to be at the minute a crush, people have fallen and then been fatally injured.
"We are continuing to interview people who were there to establish the full facts and I would appeal to anyone who witnessed what happened to contact police on 101 ext 52014.
"We need parents to talk to their children this morning and encourage them to come and tell us what happened."
He made a direct appeal for people with footage of the incident to hand it to police, rather than post it on social media.
"Please do not post photographs or videos online.
"Please share them with the PSNI," added ACC Hamilton.
The incident at the Greenvale Hotel on Drum Road happened at about 9.30 pm last night, Sunday, March 17.
Earlier, the PSNI had called on parents to contact their children at the disco and to come and collect them immediately.
Paramedics, doctors and five emergency crews attended the scene.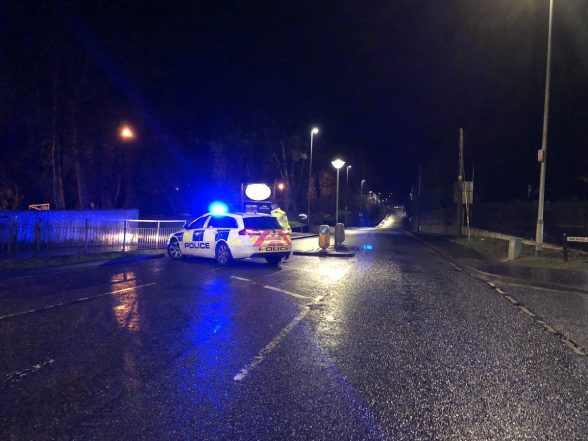 PSNIPolice have commenced a full investigation into the incident.
DUP leader Arlene Foster tweeted that her "thoughts and prayers" were "with everyone impacted by this tonight".
Sinn Féin deputy leader Michelle O'Neill called it a "parent's worst nightmare".
"My thoughts and prayers are with the families," she added.
Northern Ireland Secretary Karen Bradley said: "I am deeply sorry to hear that three young people tragically lost their lives at a hotel in Cookstown. They were joining others in what should have been an evening for celebration.
"My thoughts and prayers are with their families and friends at this extremely difficult time.
"I have spoken this morning to ACC Mark Hamilton, of the PSNI, who is leading the investigation alongside the Health and Safety Executive, and I asked to be kept updated.
"I want to thank the police, ambulance and fire services for all that they did last night in responding to this incident."