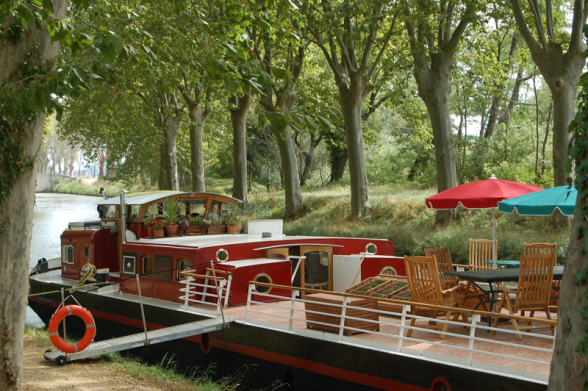 BY TIM HEDGLEY, GROUP TRAVEL EDITOR
France's unique waterway system will be on show for the first time at BOOT, Dusseldorf this January.
French Waterways and the VNF will partner in the first ever representation of France's unique inland waterway network promoting waterways tourism opportunities at Europe's biggest boat show later this month.
The annual BOOT boat show takes place in Dusseldorf (19 – 27 January) and will this year host an Inland Waterways International* pavillion in Hall 14. On Stand E22, French Waterways (FW) and Voies navigables de France (VNF) join forces to celebrate the 8,000km network of commercial and touristic rivers and canals, including the renowned Canal du Midi, Seine, Rhone, Saone and Garonne as well as more than 80 lesser-known but equally enchanting minor rivers and traditional canals.
More than 250,000 visitors from 95+ countries are expected at the show during the nine days, all interested in buying, fitting-out, renting or cruising in a boat.
Stand E22 will provide detailed information of all navigable routes and the kinds of holidays available afloat.
Featured on the stand will be hotel barges Savannah and Luciole which operate in the Canal du Midi and Burgundy regions. Also featured will be self-drive hire-boats from Locaboat.
French Waterways offers inspiration for all those wanting to explore France by boat.
Managing Director, James Newcombe, comments: "France's waterways network is unique in the world and the variety of boating options is sufficiently varied to appeal to all ages and budgets. Growing numbers of tourists delight in the off-the-beaten-track type access that boating holidays provide to the abundant cultural and gastronomic attractions across France."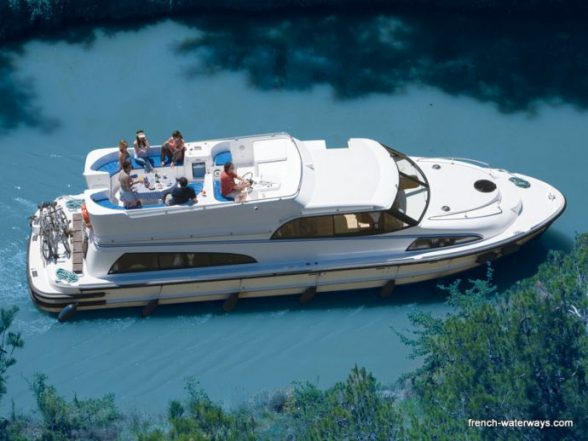 VNF is the state authority which manages the majority of the waterway network of France ensuring navigability and safety. VNF's Head of Tourism, Frederic Millet, comments: "I'm excited to be expanding tourism on our waterways – the potential is vast. We are investing in new infrastructure and many environmentally sustainable projects, as well as regular maintenance, to enhance waterway tourism's contribution in all regions."
FRENCH WATERWAYS is the world's leading authority about cruising in France, providing inspiration and information about how to enjoy the French waterways aboard a self-drive hire boat, a luxury hotel barge or a larger river cruise ship – as well as 'hands-on' resources for those exploring on their own boat. The 400-page website describes the waterways in detail enabling online visitors to choose which cruiseto purchase from a partner company.A key section of its popular website www.french-waterways. is Google top-10 rated for over 40 search terms) is its focus on Destinations within France, their geographical and cultural variety, and the excellent cuisine, wines and touristic delights to be found in each region.
Voies navigables de France (VNF, English: Navigable Waterways of France) is the French navigation authority responsible for the management of the majority of France's inland waterways network and the associated facilities—towpaths, commercial and leisure ports, lock-keeper's houses and other structures.  VNF was established in 1991 and took over the responsibility for all waterways from the National Office of Navigation (French: Office National de la Navigation) in 1993. It is now responsible for the facilitation and encouragement of both commercial/industrial and leisure/tourism uses of the waterway network.  The headquarters of VNF are in Béthune, Pas-de-Calais with local offices throughout France.
LOCABOAT
One of the largest hire-boat cruise providers in Europe, offers self-drive cruises in 7 regions of France from 17 separate bases. 380 boats are available, including their ever-popular and exclusive 'Penichette' range with four styles to choose from – the Evolution boat being the newest addition to the fleet. Highly manoeuvrable and distinctive in design, the Locaboat 'Penichette' boats are spacious, have plenty of storage and have modern fixtures, fittings, WiFi and high quality linens. Locaboat also offers boats from the high quality Linssen fleet.
LUXURY HOTEL BARGE 'LUCIOLE' cruises in Burgundy along the Canal du Nivernais. She was the very first barge in France to be converted from a commercial use into a floating holiday hotel and is still going strong 50 years later! Luciole carries up to 12 guests or charter parties on 6 night cruises between Auxerre and Clamecy. She is a perfect choice for those looking to cruise the region and join the daily excursions to vineyards, chateaux and the many towns and villages along the route. Family parties or interest groups can also choose to vary their itinerary, with a focus on wine, painting, cycling or family adventure.
LUXURY HOTEL BARGE 'SAVANNAH' cruises the world-famous, UNESCO heritage listed Canal du Midi in southern France.
Savannah carries 7 guests along one of the most popular cruising routes in France, between Toulouse and the Mediterranean, featuring the citadel of Carcassonne, the Etang de Thau and the vineyards of the Languedoc-Roussillon region.
Savannah provides the ultimate in 5* luxury cruising and her itinerary can include a stay in a local château, a helicopter ride over the Camargue region and gourmet dining, as well as bespoke family cruising.