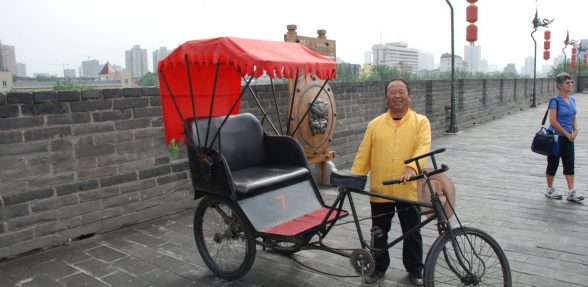 BY TIM HEDGLEY, GROUP TRAVEL EDITOR
London, 7th January 2019: China was expected to host almost 142 million visitors [1] in 2018, and several cities were on the 'must visit' list for tourists from all over the world.
For example, it is popular to visit Beijing to experience the majesty of the Great Wall of China and Shanghai for its record-breaking skyscraper skylines and heritage.
China has much to boast when it comes to natural and manmade wonders that are of equal beauty and historical value that often get overlooked.
Travel trends are seeing a resurgence for forgotten destinations, as a way for visitors to combat the impact of over-tourism. Air China has teamed up with travel expert and author Amy Fabris-Shi, who is based in Shanghai and has travelled China extensively to create a list of hidden gems that Brits should put on their 2019 travel bucket list.
"
 1.The Venice of China
Take a two-hour drive from Shanghai to Zhouzhuang, and enjoy a day in one of the oldest water towns in China, rivalling Venice's ancient canals. The town is made up of a series of canals that were used over 900 years ago by some of the wealthiest businessmen of the Yuan Dynasty to transport precious silks, ceramics and arts. The town's architecture is largely untouched, enchanting visitors with its romantic labyrinth of narrow streets and stone bridges.
The Insta-Green
Once home to over 2,000 fishermen, 40 miles outside of Shanghai and being one of 400 islands, Houtouwan is a must 'collect' photo. Illustrating how nature and manmade structures can come together to create something unmissable magic, it's a striking image to capture for your social media channels.
The Zhangye Danxia Landform
What would you get if you mixed rainbow and rock? These layered sandstone mountains in China look like they are made of pressed crayons.
Located near the China – Mongolia Border, these hills have vivid red, orange, and yellow stripes, creating an incredible technicolour harmony across the mountains with rocks allegedly shaped like animals and mythical creatures.
Haohan Qiao — "Brave Men's Bridge"
At nearly 1,000 feet long, this astonishing glass suspension bridge is one of the longest in the world.
The bridge connects two peaks in the rocky terrain of the national park in Hunan Province. This region is believed to have inspired the film Avatar. Visitors stare directly onto the 590-foot drop through thick panels (transparent glass), which are 25 times stronger than regular glass. 
 Wudaoying Hutong
Go off beat in Beijing and live like a local with this quirky and quaint alleyway, adjacent to the renowned magnificent Lama Temple in the old quarter.
Home to trendy boutiques, music venues, restaurants and Chinese cafés, this hutong offers traditional Chinese heritage as well as providing a quiet haven in the bustling streets of Beijing.
Amy Fabris-Shi, a travel expert invited by Air China, says: "It's clear that these famous landmarks are one of the main reasons why China attracts millions of visitors each year. However, for those who might want a slightly more unique experience, there are equally a number of attractions to consider that you might not have heard of. It's important to research options ahead of your trip to ensure you have your dream holiday tailored to you."
As the largest air carrier between China and the UK, Air China currently operates up to three flights per day from London (Heathrow) to Beijing and up to three flights a week from London Gatwick to Chengdu. To find out more, visit www.airchina.co.uk.

About Air China
Air China Limited (Air China) is the national flag carrier of China and a leading provider of passenger, air cargo and airline-related services and products in China. Its operational headquarter is in Beijing, a major domestic and international hub in China.
It also provides airline-related services, including aircraft maintenance, ground handling services in Beijing, Chengdu, and other locations. By Nov 2018, Air China had a fleet of 590 passenger aircraft and freighters of mainly Boeing and Airbus families (including those of the carriers which Air China has a majority stake in).
It operates 437 routes, including 107 international routes, 15 regional routes and 315 domestic routes. It serves 184 cities in 42 countries and regions, including 66 international cities, 3 regional cities and 115 domestic cities.
Air China offers over 1.80 million seats on over 8900 flights per week. Utilising its extensive route network and its hub in Beijing, especially after its admission to the Star Alliance, Air China can fly passengers to 1,317 airports in 193 countries.
As the largest air carrier between China and the UK, Air China currently operates up to three flights per day from London (Heathrow) to Beijing.
The fleet has been developed from the original A340 and B747 combination, then to A330, and changed to B77W in the summer of 2018.
On July 3rd 2018, a direct route linking London (Gatwick) and Chengdu was opened, with up to 3 flights a week. On October 30th 2018, Shenzhen Airlines, Air China's wholly-owned subsidiary, opened a direct route from London (Heathrow) to Shenzhen with 3 flights a week.
For further details, please visit Air China's website: www.airchina.co.uk
Beijing-Tianjin-Hebei Region 144-hour visa-free transit policy
Putting the needs of connecting flight passengers first, Air China will improve its products and services to enhance the quality of its operations further and provide passengers with maximum convenience when they enter Beijing. From December 28,  2017, six points of arrival in the Beijing-Tianjin-Hebei Region, including the Beijing Capital International Airport, Tianjin Binhai International Airport and Shijiazhuang International Airport has permitted foreign persons from 53 countries including to enjoy visa-free transit when they hold valid international travel documents, and a passenger ticket for connecting travel to a third country (region) with confirmed seats and a departure time within 144 hours.
For more details please visit Beijing Government's official website: http://www.ebeijing.gov.cn/feature_2/144hourVisaFree/.