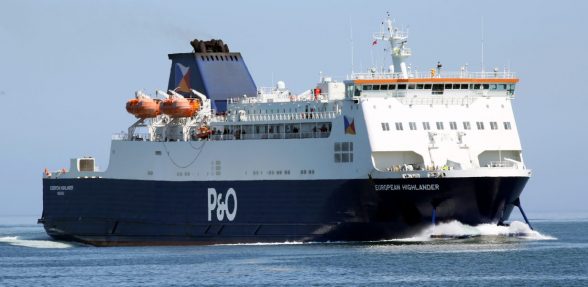 BY TIM HEDGLEY, GROUP TRAVEL EDITOR
WHEN traveling across to Scotland with a caravan I always try to look for the shortest crossing and the fastest one as well. We are blessed with two ferry companies covering the Cairnryan route so I decided to take a short trip over to the Ayrshire coast with P&O Ferries.
P&O Ferries operate the most frequent crossings between Northern Ireland and Cairnryan and with more sailings to choose from and lots to do on board it's a pretty good way to spend only a couple of hours.  And truthfully it is easy to forget that travelling to Scotland has never been easier and quicker than with P&O Ferries!
There have been quite a few on-board developments in recent years too, for example there has been new seating added and a very reliable Wi-Fi that actually works. There are also new food menus, improved kids play areas and so much more. So, you'll get where you want, when you want, on a newly improved P&O ferry.
I popped over to Cairnryan during the summer for a couple of days with my Caravan to sample a few touring campsites along the Ayrshire coast.
I boarded a 12-30 sailing during the week and my Caravan went free of charge, yes Free of charge thanks to P&O Ferries' mid-week caravan offer!
A few minutes later I was on board and heading for the Club Lounge.
WI_FI that works
Wi-fi at sea has for a long time, been a bit of a hit and miss affair, and I do have experience of logging on, on another vessel and being connected, but just not being able to actually get anywhere on the web because the signal was so poor. So bad was it that I finally gave up.
But P&O Ferries offers a free Wi-Fi service that really works well. A high quality and dependable Wi-Fi connection on-board and you remain connected all the way between Larne and Cairnryan. This service is totally free to all passengers and it works in the Club lounge too.  So on this route, you and your kids can be connected and peace will reign.
In fact the wi-fi was so good I was able to update my apps on my iPad and browse at the same time, so take it from me it was great.
With up to seven P&O Ferries sailings a day, no baggage restrictions and a journey time of just two hours, the Larne to Cairnryan route makes getting to Scotland even more convenient, and before you know it you heading into Lough Ryan.
On Board experience
If you're feeling peckish, the new on-board catering menu offers a variety of meals, to include a vegetarian option and a specially designed children's menu full of tasty favourites, as well as a great range of light snacks to suit all times of travel. I had the Chicken Curry with Basmati rice and Poppadum's. Tasty indeed.
Club Lounge
The Club lounge offers a range of complimentary newspapers and magazines, refreshments and Wi-Fi and it costs a mere £12 per person if booked in advance and £14 per person if booked on board.
If you want a space where you are able to get all the great service on board and some extra peace and quiet, then the club lounge is for you.   It's a very small price to pay for a peaceful lounge that adds a lot more luxury to your crossing. The keypad entry system keeps the club lounge out of the reach of uninvited visitors and ensures this upper-class area is for those who have paid for the privilege. The Lounge is situated close to the cinema, shopping facilities and food court area so you are well situated to really enjoy the shortest crossing over the Irish Sea.
Great Staff
It's obvious to the staff for some passengers it may be their first time sailing with P&O and they go out of their way to make you feel as welcome and as comfortable as possible.
Smiles from all the staff, greeting every passenger as they come aboard, a warm welcome is just what you want and it's just what you get.
On-board, there is a shop offering a wide range of souvenirs, books, toys and games and for those tempted there are perfumes to snap up at up to 40% off high street prices.
Or simply sit back and relax in the lounge with lots of seating areas. Or visit the cinema.
For young sailors there's plenty to keep them happy with the newly decorated kids play area and game zone. The children's entertainment room has a play area and a video screen playing all their favourite shows and the arcade room will keep the older ones happy. In fact there is so much to see and do by the time you have discovered everything on board your gliding towards the berth at Cairnryan.
With the completion of the newly improved A8, the main road network linking Belfast and other major gateways to the Port of Larne, it makes it even easier for passengers sailing across the Irish Sea to Scotland. The new link to Larne is fast and efficient and long gone are the long delays behind an articulated lorry on a single-track road to Larne.
P&O's great value fares start from £84 each way from Larne to Cairnryan for a car and driver.
Added Bonus
As home-grown holidays have really been in evidence this year because of last summer's good weather there has been a real increase in local touring.  Motorhomes and Touring Caravans are big business in the UK and their sales are on the up and up with staycations soaring.
One of the downsides of such a holiday is taking you motorhome or caravan across the Irish Sea, as it can be very expensive. So, if I told you of a way to take your mobile bedroom across the pond for free you would I'm sure be interested?
With P&O Ferries, on the shortest fastest crossing across the Irish Sea with the most frequent sailings between Larne and Cairnryan, you can take your caravan for FREE when you depart on a Tuesday, Wednesday or Thursday.*
The open roads of Scotland and the rest of the mainland await you and your caravan, and you will have the freedom to explore and enjoy all that this beautiful country has to offer.
When you choose to take your caravan on holiday with you it means that you can create a trip that is completely tailored to you, and with this offer you can save money at the same time!
Use the promo code ISCV1 in the fare finder on the left and book by 18th December 2019 for travel until 20th December 2019 and you can start planning your next trip, plus they have no restrictions on the amount of luggage you can bring along so you can pack everything that you need.
*Supplements apply to other daytime sailings. Must book 48 hours in advance, no amendments within 48 hours. Terms & Conditions apply.
Also, for those travelling by car you can currently enjoy 20% off when you booked by 31 January for travel from now until 19 December 2019.
For further information on all sailings and the latest P&O Ferries offers please visit POFerries.com or call 0800 130 0030.