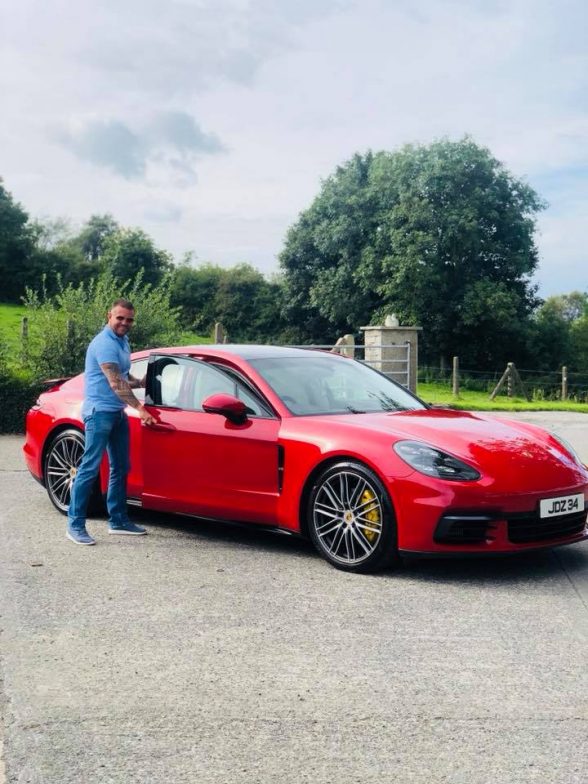 THIS is wealthy drug dealer Jim Donegan who was shot dead today in his flash red sports car by a lone gunman in west Belfast.
Donegan was sitting in the flame-read new £80,000 Porsche Panamera car this afternoon on the Glen Road when a hitman approached and shot him up five times at a close range from a handgun.
It is understood one theory detectives are working on is that Donegan was targeted by a violent dissident republican vigilante group who have shot dead a number of drug dealers in the west of the city in recent years.
Said a source: "Donegan lived the high life.
"He loves his flash cars, the big house and all the trimmings. He certainly didn't hide his wealth.
"He got married a couple of years ago and no expense was spared for his big day to Lauren."
Tonight, detectives have launched  a manhunt across west Belfast for the cold-blooded assassin who was dressed in a hi vis vest with the word 'SECURITY' emblazoned across the back
Donegan – who was well known to police – was sitting in his four-door red sports car with personalised registration plates 'JDZ 34'.
The distinctive sport car was parked on the Glen Road near St Mary's Grammar School while waiting to pick up his teenage son.
The school is closed on Wednesday and staff will provide counselling to any students affected by the daylight murder.
Police are hunting the lone gunman, aged in his 40s, who approached the driver's side of the car and shot Donegan a number of times at point blank range to the upper body.
Heavily tattooed Donegan – a gym regular with a liking for sunbed tans – died at the scene despite paramedics racing to his aid.
Local people reported hearing up to five shots after 3 pm this afternoon, Tuesday, December 4, just as pupils at nearby schools filed out for the day.
The shooting happened as dozens of children were making their way home at the end of the school day.
Police forensic officers are still at the scene and the PSNI have erected a large screen across the road.
There was disruption as buses were diverted. Traffic is being sent along Kennedy Way as the area has been cordoned off.
Detective Chief Inspector Peter Montgomery of the PSNI' Major Investigation Team said: "Police are currently at the scene of a shooting during which a man died this afternoon.
"I would like to appeal to anyone who saw a man in his 40s, wearing a high vis vest with the words 'Security' on the back heading in the direrction of Glen Road, as well as anyone who witnessed the shooting or was in the Glen Road area from 3 pm today, to come forward and speak to police.
"An incident room has been set up in Musgrave Police Station and anyone with information can contact detectives there on 101 quoting reference 741 04/12/18.
"Alternatively information can also be provided to the independent charity Crimestoppers on 0800 555 111, which is 100% anonymous and gives people the power to speak up and stop crime."
West Belfast SDLP councillor Tim Attwood said: "It is absolutely sickening that a gun was fired in the vicinity of both a primary and secondary school in west Belfast today.
"A number of pupils witnessed this fatality and are understandably very disturbed and frightened after this reckless act occurred nearby the school gates.
"There is absolutely no place for this in 2018; this madness belongs in the past and we cannot allow it to once again become our normality."
Gerry Carroll, People Before Profit, said: "News that somebody has been shot several times on the Glen Road is horrible and deeply concerning and should be condemned by everybody.
"It is especially worrying given the amount of children and young people in the area at that time, that somebody sees fit to pull a gun and open fire in the middle of the day."