AUDITORS have found  "significant failings" in how a controversial multi-million pound fund to tackle social deprivation in Northern Ireland was set up.
The Social Investment Fund (SIF) was created in 2011 by the Stormont executive.
It was seen by some as a DUP/Sinn Fein 'slush fund' to pump money into its local communities in return for votes.
The NI Audit Office has found there were a number of flaws in how SIF was designed and implemented, there was also a lack of transparency and record keeping.
The Executive Office said it accepts the findings and recognises there were "shortcomings" in SIF's early stages.
There has also been a renewed call for an independent public inquiry into the fund, and the findings have led to criticism from a number of Stormont's political parties.
Sinn Féin has defended SIF and said it had been "innovative" in its approach to allowing communities to have a say in deciding where money should be spent to improve their communities – the DUP has yet to respond to a request for comment.
SIF was to deliver projects totalling £80m by 2015, but its budget and timeframe had to be extended.
The audit office began investigating the fund in March 2017, and has just published a report that is highly critical of how it operates.
The report makes a number of findings that raise "serious concerns" about how SIF worked, it says.
There was no formal application process for groups to submit funding proposals, and in some cases there are no records of minutes from meetings where key funding decisions around projects were taken.
Guidance around the scheme from the Executive Office was "inadequate", there is "little evidence" that procedures were followed, there is no clear audit trail and a number of conflicts of interest were not declared, it adds.
The report also gives several examples of projects where it is concerned about the extent to which they represent value for money.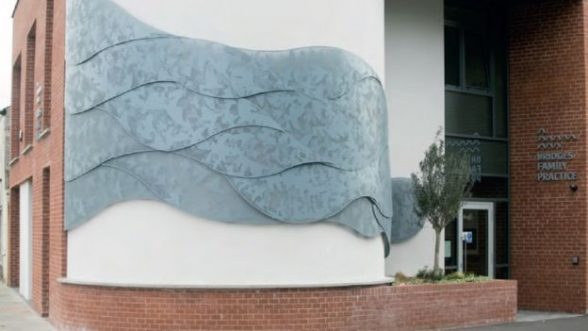 In east Belfast, SIF funding of £1 million paid for the construction of a GP surgery that the public sector is now also paying rent for.
GPs who run the surgery entered into a lease agreement with the site owner, Landmark East, an urban regeneration charity, which put £200,000 towards costs of constructing the building.
The rental payments, which will total £2.25m over 25 years, are being paid by the Health and Social Care Board.
The audit office said SIF funding was "unnecessary" in this case.
But the Executive Office said SIF funding ensured the building would be in an accessible location to both unionist and nationalist communities in east Belfast, and that there had been over 400 registrations since the surgery had opened.
Northern Ireland's auditor general, Kieran Donnelly, said his office's conclusions were "very concerning".
"One of the most disappointing aspects of this case is the non-compliance with the most basic standards of public administration," he told BBC News NI.
"Of course there are some parallels with the Renewable Heat Incentive (RHI) scheme."
The RHI scheme was set up to boost uptake of eco-friendly fuel systems, but its overgenerous subsidies left taxpayers with a potential bill of hundreds of millions of pounds.
Mr Donnelly, who gave evidence to the RHI inquiry, said in both RHI and SIF, there had been a lack of documentation in how key decisions were made and the design of both schemes was flawed from the start.
However, as the audit office is independent of government, it has not made any determinations on the political aspects of SIF or alleged links to paramilitary groups.
There was very public criticism of the Social Investment Fund in late 2016, after the head of an east Belfast group that received almost £2 million from the fund went on a foul-mouthed rant about the government to The Guardian newspaper.
The group was Charter NI – its then chief executive was well known thug Dee Stitt, the commander of the UDA's North Down brigade and a convicted robber.
It later emerged that Charter NI had a role on the east Belfast steering group, which it received £1.7m of public money through.
That led to calls from some political parties for all the money awarded through SIF to be examined in a a "root and branch" review.
Further political pressure built up after allegations that the assembly Speaker Robin Newton had been an adviser to Charter NI.
Mr Newtonw denied that, but apologised for not declaring a link to the group.