UDA thugs set fire to six vehicles at a car repair business as the organised crime gang tries to intimidate people out of their businesses.
The latest attack by the south east Antrim UDA happened at Woodburn Road, Carrickfergus in the early hours of yesterday morning, Thursday, November 1.
At approximately 12.05am police received a report that six vehicles at Dunlop Tyres premises had been set alight.
NIFRS attended and extinguished the flames.
The owner of the car repair business in Carrick has revealed that he had also been given a death threat.
The businessman, who asked not to be named, told the Belfast Telegraph that the UDA had given him 48 hours to get out of the town.
He said that he believed a similar threat had also been issued to a young woman in the Carrick area.
The car repairer, who is continuing to trade, said he had lost vehicles worth thousands of pounds in the arson attack at his business, which is located on the town's Woodburn Road.
Blaming the South-East Antrim UDA for the attack and intimidation, the businessman said: "It's the first time anything like this has happened.
"I've had no dealings with the UDA whatsoever."
He said that the names of the people involved in the attack had already been given to the police "but no one has been arrested."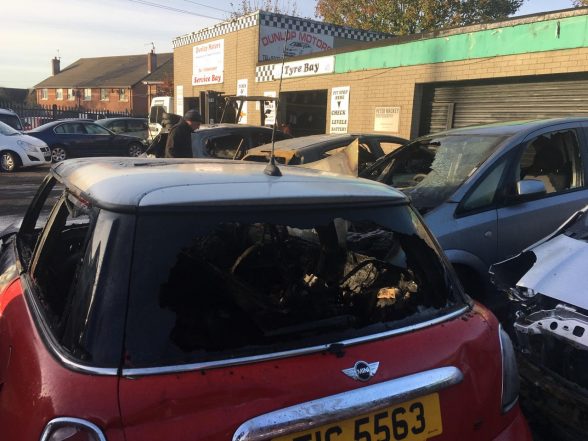 "The police have been no help," he said.
"They just took my name and told me about the UDA death threat."
Asked what he thought of the people who had targeted his business, he said: "They're scumbags. What else could you say about people like that?"
PSNI Chief Inspector Stephen Humphries said: "This was a reckless and dangerous act; we are lucky we are not dealing with a more serious incident, as the vehicles were close to petrol vapours.
"This type of criminality affects the whole community.
"The perpetrators have in fact stopped other businesses in the area from being able to trade today – taking away their ability to earn money and bring trade and people into the town.
"Everyone has a right to live and work in a safe and stable community.  No one has the right to take this away from anyone.
"Those who carried out this attack do not represent the people of Carrickfergus and I would ask anyone who has any information, or anyone who witnessed this incident, to contact the police on 101."
Loyalist factions have been blamed for a number of incidents in Carrickfergus in recent days.
There has been ongoing trouble in the town over the last number of years between rival UDA crime groups.
In March last, SEA UDA shot dead rival Geordie Gilmore in Carrick and a few months later blasted to death his pal Colin Horner in a Bangor car park in front of his young son.
A total of nine people are currently awaiting trial over the cold blooded killings.